Top 10 most popular health influencers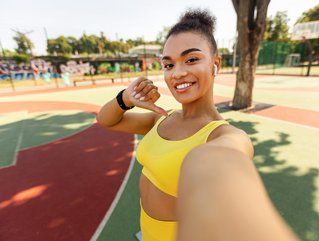 Health influencer
Mehmet Oz, Deepak Chopra, Jillian Michaels, Joe Wicks, Mark Hyman, Kayla Itsines, Kris Carr, Rangan Chatterjee & more are our Top 10 health influencers
10. Cassey Ho
Fitness instructor and creator of Blogilates
Cassey Ho is an entrepreneur, fitness instructor and social media influencer. She gained fame through her popular online fitness platform called Blogilates, where she provides workout videos, fitness tips and healthy lifestyle advice.
Ho's workout videos primarily focus on Pilates-based exercises, which have an energetic and upbeat nature.
In addition, Ho has authored books on fitness and healthy living, created workout apparel and accessories under the Blogilates brand, and launched fitness challenges and programmes to help people achieve their fitness goals.

LinkedIn: Cassey Ho
Twitter: @blogilates
9. Dr. Andrew Weil
Physician and advocate for integrative medicine
Professor at University of Arizona College of Medicine
Dr. Andrew Weil is a prominent physician and advocate for integrative medicine. He is a leader in the field of holistic health and has made significant contributions to the understanding and practice of alternative medicine.
Born in 1942, Philadelphia, Pennsylvania, Dr. Weil earned his medical degree from Harvard Medical School and completed his residency in internal medicine at the University of California, San Francisco.
Integrative medicine seeks to address the whole person - body, mind, and spirit - rather than focusing solely on the disease or symptoms. Dr. Weil emphasises the importance of lifestyle factors such as nutrition, exercise, stress reduction, and emotional well-being in achieving optimal health. His bestsellers include "Spontaneous Healing" and "8 Weeks to Optimum Health."

LinkedIn: Andrew Weil
Twitter: @DrWeil
8. Dr. Rangan Chatterjee
Physician, author and podcaster
Dr. Rangan Chatterjee is a well-known British physician, author, and television presenter. He is recognised for his work in the field of functional medicine, which focuses on addressing the root causes of illness and promoting a holistic approach to health. After obtaining his medical degree from the University of Edinburgh, Chatterjee has since become a leading figure in the movement to transform healthcare by incorporating lifestyle changes, personalised medicine and a patient-centred approach.
He gained widespread popularity through his appearances on the BBC One series called "Doctor in the House" and has also authored several books, including "The 4 Pillar Plan" and "Feel Better in 5," which provide accessible strategies and actionable steps for improving physical and mental health. Chatterjee encourages the importance of simple lifestyle changes, such as optimising sleep, managing stress, improving nutrition, and incorporating movement into daily life, to achieve long-lasting health benefits.

LinkedIn: Rangan Chatterjee
Twitter: @drchatterjeeuk
7. Kris Carr
Wellness advocate and author
Kris Carr is a well-known wellness advocate, author, and motivational speaker.
In 2003, Carr was diagnosed with a rare form of cancer called epithelioid hemangioendothelioma, which primarily affects the liver and lungs. She decided to take control of her health and make significant lifestyle changes to support her well-being and chronicled her journey in a documentary film called "Crazy Sexy Cancer," which aired on TLC.
Following the release of the documentary, Kris Carr became a prominent wellness advocate, focusing on plant-based nutrition, self-care practices, and overall well-being. She has written several best-selling books, including "Crazy Sexy Diet," "Crazy Sexy Kitchen," and "Crazy Sexy Juice," which provide guidance on adopting a healthy lifestyle and embracing self-love and self-acceptance.

YouTube: KrisCarrTV
Twitter: @Kris_Carr
6. Kayla Itsines
Fitness influencer
Kayla Itsines is a prominent fitness influencer, entrepreneur and author.
Kayla Itsines, born in 1991, in Adelaide, Australia, started her fitness journey as a personal trainer. She developed the BBG programme "Bikini Body Guide", which combines high-intensity workouts, resistance training and healthy eating guidelines to help women achieve their fitness goals and improve overall well-being.
Itsines gained a significant following on social media platforms, particularly Instagram, where she shares workout videos, transformation stories, and motivational content.
Itsines has also authored books, including "The Bikini Body 28-Day Healthy Eating & Lifestyle Guide" and "The Bikini Body Motivation & Habits Guide," which provide guidance on nutrition, mindset and sustainable lifestyle changes.

YouTube: @KaylaItsines
Twitter: @kayla_itsines
5. Dr. Mark Hyman
Medicine practitioner and author
Dr. Mark Hyman is a physician, author and advocate for functional medicine.
Hyman received his medical degree from the University of Ottawa School of Medicine and completed his residency training at the University of California, San Francisco. He has served as the Director of the Cleveland Clinic Center for Functional Medicine and has held leadership positions in various medical and health organisations.
Dr. Mark Hyman has authored numerous books, including bestsellers like "The UltraMind Solution," "The Blood Sugar Solution," and "Food: What the Heck Should I Eat?" These books explore the connections between nutrition, lifestyle factors, and health outcomes, providing practical guidance on how to optimise diet and lifestyle for improved well-being.

LinkedIn: Mark Hyman
Twitter: @drmarkhyman​​​​​​​

4. Joe Wicks
Fitness coach and author
Joe Wicks, also known as "The Body Coach," is a British fitness coach, author, and television presenter.
Wicks initially started his career as a personal trainer, offering fitness coaching and nutrition advice to his clients. In 2014, he began sharing short workout videos on social media platforms, particularly on Instagram and YouTube. These videos gained popularity, leading to the launch of his signature program, "Lean in 15," which combines quick and effective workouts with healthy, time-efficient recipes.
He has authored several best-selling books, including "Lean in 15: 15-Minute Meals'' and "The Body Coach Workout," which provide readers with a combination of workouts, nutrition plans, and recipes to support their fitness goals. Wicks has also been involved in charitable initiatives, such as the "PE with Joe" series, which provided free live workouts during the pandemic.

LinkedIn: Joe Wicks
Twitter: @thebodycoach
3. Jillian Michaels
Personal trainer and former host of "The Biggest Loser"
Jillian Michaels is a well-known personal trainer, author and television personality. Michaels became a household name when she joined the cast of "The Biggest Loser" in 2004. On the show, she motivated and guided contestants through their weight loss journeys, combining rigorous workouts with nutritional guidance and emotional support.
In addition to her television appearances, Michaels has authored numerous books on fitness, nutrition and healthy living. Some of her notable works include "Master Your Metabolism," "Making the Cut," and "The 6 Keys," which provide practical advice and strategies for achieving weight loss and overall wellness.
Michaels has also released a variety of workout DVDs and online fitness programs, offering a range of exercise routines and fitness challenges to help individuals achieve their fitness goals.

LinkedIn: Jillian Michaels
Twitter: @JillianMichaels
2. Deepak Chopra
Holistic health advocate and author
Deepak Chopra is a renowned author, speaker, and alternative medicine advocate. He is recognised for his work in the field of mind-body medicine, spirituality and holistic health.
Born in 1946, in New Delhi, India, Chopra initially trained as a physician, earning his medical degree from the All India Institute of Medical Sciences. However, he later shifted his focus towards alternative and complementary healing practices.
Chopra has written numerous books that have become bestsellers, including "The Seven Spiritual Laws of Success," "Quantum Healing," and "The Book of Secrets." His books explore various aspects of consciousness, spirituality and well-being, blending Eastern philosophy with Western science.
Chopra's teachings often emphasise the interconnectedness of mind, body, and spirit, and he encourages individuals to take an active role in their own well-being through practices such as meditation, stress reduction and self-reflection.

LinkedIn: Deepak Chopra
Twitter: @DeepakChopra
1. Dr. Mehmet Oz
"The Dr. Oz Show"
Dr. Mehmet Oz, commonly known as Dr. Oz, is a Turkish-American cardiothoracic surgeon, author, and television personality. He gained widespread recognition through his appearances on The Oprah Winfrey Show and his own television show, The Dr. Oz Show.
Born in Cleveland, Ohio, in 1960, he received his undergraduate degree from Harvard University and earned his medical degree from the University of Pennsylvania School of Medicine. He later specialised in cardiothoracic surgery, becoming a renowned cardiac surgeon.
Dr. Oz became a household name when he appeared as a health expert on The Oprah Winfrey Show in the early 2000s. His engaging and informative segments on various health topics, along with his charismatic personality, led to the launch of his own television show, The Dr. Oz Show, in 2009. The show focuses on providing health advice and discussing various medical topics, featuring guest experts and real-life stories.
In addition to his television work, Dr. Mehmet Oz has authored several books on health and well-being, covering topics such as weight loss, heart health, and alternative medicine. Some of his notable books include "You: The Owner's Manual," "Food Can Fix It," and "YOU: Staying Young."

LinkedIn: Dr. Mehmet Oz
Twitter: @DrOz