Sweatcoin: Digital healthcare to help users stay active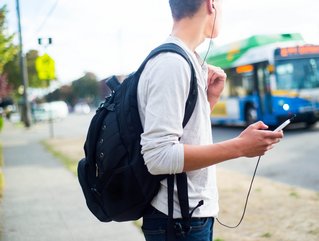 Healthcare technology with mental health benefits
Anton Derlyatka founded health technology company Sweatcoin to incentivise staying active. Now Sweatcoin is on a mission to support users mental health
Global health and wellness company Sweatcoin is a free step-counting app that gamifies movement and rewards users for their daily steps. Described as 'Air miles for steps', Sweatcoin has been downloaded by over 140m people across the globe, it aims to act as a behavioural nudge to users to move a little more each day.
Anton Derlyatka is the CEO and Co-Founder of Sweatcoin.
"I've been pretty active throughout my life, but sometimes I struggle to keep going. About eight years ago, during one of these challenging periods, I started wondering why staying physically active was so tricky. One thing led to another, and in 2015, I co-founded Sweatcoin, an app dedicated to incentivising people to become more physically active by rewarding users for the number of steps they take through in-app loyalty points (Sweatcoins)."
Healthcare technology helps users stay active
To track a users movement, Sweatcoin uses a unique verification algorithm pedometer to convert a users' steps into a digital currency called Sweatcoins, which can be spent on real goods and services from popular brands in our in-app marketplace.
"Our technology is based on the idea that attaching value to physical movement can be a way to reward people for their activity," says Derlyatka. "This concept forms an essential part of our financial prescribing model, which encourages and incentivises individuals to stay active and healthy.
"We want to encourage millions of people to walk more, as when the average weight of a population declines, mental health improves, and overall well-being skyrockets."
Insufficient physical activity is a global health problem that has led to a 'pandemic of inactivity'. Recently, a study by The Lancet predicted more than 1.3bn adults will have diabetes by 2050, with numbers worldwide expected to double across every age group. While Type 2 Diabetes can cause serious health issues if not treated, it is preventable.
"Sweatcoin supports those at risk of developing Type 2 Diabetes by working closely with the NHS on Diabetes prevention programmes. Hitherto, on average, only 20% of pre-diabetes patients complete Diabetes specific programmes," says Derlyatka. "However, the completion rate increases when Sweatcoin technology and its gamification and rewarded-movement model is paired with in-person meetings, lectures and activities. In our latest trial, completion reached 92%, with participants walking 45% more on average."
During the Decathlon programme, one in ten participants lost 10% of their body weight and the average weight loss per participant for this trial was 3kg.
"Traditionally, wellness programmes only cater to those who are already physically active or have had physical activity experience. However, losing weight, improving cardiovascular fitness and preventing long-term diseases requires building new, daily habits."
Sweatcoin targets those who might struggle with self-motivation and generates it via small behavioural nudges, rewarding users for their activity.
"We represent the difference between getting off the bus one stop early, or choosing to walk up, rather than stand on a moving-up escalator. These little daily nudges which contribute towards the daily growth of their in-app wallet-value, helps participants lose weight as it provides a more immediate reward than is possible for lifestyle changes."
Using digital healthcare technology to support mental wellbeing
Our technology is based on a unique verification Algorithm pedometer which converts the user's steps into a digital currency called 'Sweatcoins'.
"To avoid fraudulent activity, Sweatcoin uses a cellphone's inbuilt step sensor to track movement. An algorithm then checks the phone's readings for speed, consistency of movement and location to eliminate any false data," says Derlyatka. "The currency earned in-app can be spent on real goods and services, from toothbrushes, leggings, blenders or voucher codes for money off items at brands like Nike, Puma, Garmin or even Hotels.Com."
Sweatcoin also has a social network component, where users can post their achievements and compare their progress with other community members. On the app, users can enter sweepstakes and contests or donate to charitable causes like Save The Children.
"The Decathlon programme had a positive impact on the participants' mental health. It fostered a supportive and encouraging environment where participants cheered each other on and competed for prizes on the Sweatcoin app," says Derlyatka. "Each week, participants were given different targets, such as a number of steps to take, which helped keep them motivated and engaged. This gentle coaxing and friendly competition boosted their mental health by instilling a sense of accomplishment and creating achievable goals for everyone, regardless of their physical ability."
The psychological nudge element of The Decathlon programme not only created a positive environment for users, but also ensured participants were motivated throughout, increasing their overall mental and physical health.