Fish foot spas - how safe are they really?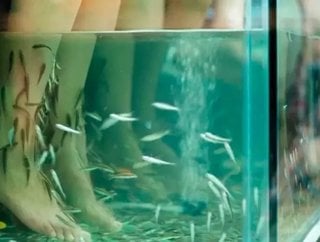 It was in 2006 that the first fish spa opened in Japan and since then, the unusual beauty treatment has experienced a colossal increase in popularity...
It was in 2006 that the first fish spa opened in Japan and since then, the unusual beauty treatment has experienced a colossal increase in popularity. It was not until 2008 that they became widely available and known about in the US, followed by the UK in 2010 but today there's barely a high street or shopping centre in the world without one.
For some reason, people just can't wait to immerse their legs in a tank full of Garra rufa fish and let them nibble and eat away at the dead, hard skin on the soles of their feet. Aside from removing unsightly dead skin, the doctor fish – as the Garra rufa fish are otherwise known – can also reportedly help relieve the symptoms of other skin problems such as eczema and psoriasis.
However, in October this year the Health Protection Agency (HPA) in the UK warned the fish spas could spread various infections and diseases. The media response to the warnings saw headlines such as 'Fish foot spas could spread HIV and hepatitis'. In some areas of the US and Canada fish foot spas have even been banned for fear of the spread of infection and disease.
The HPA warnings came after it published a report outlining good practice guidelines for the fish foot spa industry. While putting the report together, the HPA consulted health experts and professional health bodies to examine how infections could passed from person-to-person, if conditions like verrucas and athlete's foot could be transferred and what the risk was of passing on bacterial infections and blood-borne viruses such as hepatitis and HIV.
The advice given by the HPA as a result of its examinations states that people with cuts on their feet, ankles or legs should avoid using fish spas and the same goes for those with psoriasis. People with diabetes and weakened immune systems are also being advised not to have the treatment. Additionally, people are being told to wait for 24 hours after shaving or waxing their legs before visiting a fish spa.
Despite these warnings and precautionary advice, the HPA concluded that the risk of picking up an infection from a fish spa was actually quite low. Dr Hilary Kirkbride, a consultant epidemiologist at the HPA, said: "Provided that good standards of hygiene are followed by salons, members of the public are unlikely to get an infection from a fish spa pedicure, however the risk will be higher for certain people.
"This is why we feel it's important for salons to ensure the client has no underlying health conditions that could put them at risk, and that a thorough foot examination is performed, to make sure there are no cuts, grazes or existing skin conditions that could spread infection.
Although the negative publicity surrounding fish foot spas may have lead to a temporary questioning of the health and safety behind the treatment, it doesn't seems like it's enough to quash the incredible popularity of this newly found treatment.