From Ukraine to Myanmar, reports reveal attacks on hospitals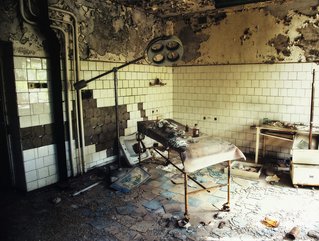 Hospitals are a casualty of war
Reports from the Centre for Information Resilience shows Russian army attacked Ukrainian hospitals & Myanmar's military Junta targeted medical facilities
In the modern world of varying opinions and deafening 24/7 platforms, there should be some things which we can all agree with - tailgating is aggressive, Die Hard is a Christmas movie and everyone deserves access to healthcare, especially in a time of conflict. Yet recent cases show that this is not a universal truth. Despite all the advancements brought to the healthcare industry, from AI to 3D printing to expanding pharmaceutical supply chains, health facilities are still a target for the most degenerate of human behaviour in times of war.
Satellite imagery shows Russian army deliberately attacked hospitals
According to a new study by the Centre for Information Resilience, the Russian army has "deliberately and repeatedly" attacked children's hospitals and maternity wards in Ukraine, particularly in Kherson. It reports 14 attacks in six months, from December 2022 to May 2023.
In its report, Kherson after occupation: Mapping Russian attacks on medical infrastructure, the team at CIR used satellite imagery, witness testimonies and social media posts to substantiate their claims.
Attacks on hospitals (and schools) during any conflict is one of the six grave violations condemned by the UN Security Council. Ironically, Russia maintains a permanent seat on the UN Security Council, alongside the UK, China, France and the USA. The Security Council's goal is to 'maintain international peace and security'. Under the Charter of the United Nations, all Member States are obligated to comply with Council decisions. This week, Ukraine's President Volodymyr Zelensky spoke at the UN, asking for Russia's veto power to be removed, due to its invasion of Ukraine and attacks on hospitals.
"We must protect life. The world must protect life," Zelensky told the UN.
Despite ploughing through the past two years of COVID-19, the global healthcare sector has rallied to support Ukraine since the Russian invasion.
Israeli NGO IsraAID arrived in Moldova (which shares a southern border with Ukraine) to distribute aid and will provide mental health support for vulnerable refugees. Plan International is also supporting refugees as they adapt.
"Children are confused," explained Anita Queirazza, Plan's global lead for child protection emergencies, who is supporting Ukrainian refugees in Romania. "It's really important that parents know how to support children, as they might display different behavioural reactions."
You can read our 'Top 10 healthcare moves & training initiatives in Ukraine' here to learn more.
Myanmar military junta bombed or burned down medical facilities
In February 2021, a military junta took control of Myanmar (previously known as Burma) in a coup. This was met with protests that were violently suppressed, which has led to a civil war.
The Centre for Information Resilience's Myanmar Witness project has collected and verified evidence of Human Rights abuses, including 16 attacks on healthcare infrastructure, which have been bombed or burnt down. Reports also show that healthcare professionals have also been targeted. Senior doctors who joined in protests wrote a letter to the medical journal The Lancet.
"Our duty as doctors is to prioritise care for our patients - but how can we do this under an unlawful, undemocratic and oppressive military system? Fifty years of previous military rule failed to develop our health system and instead enshrined poverty, inequality and inadequate medical care. We cannot return to this situation."
The Centre for Information Resilience will continue to collect data on this case and Healthcare Digital will report on it.
*********************************************
For more insights into Healthcare - check out the latest edition of Healthcare Digital and be sure to follow us on LinkedIn & Twitter.
Other magazines that may be of interest - Manufacturing Magazine. Check out our free upcoming virtual event, Manufacturing LIVE, 6-7th December 2023.
*********************************************
BizClik is a global provider of B2B digital media platforms that cover 'Executive Communities' for CEO's, CFO's, CMO's, Sustainability Leaders, Procurement & Supply Chain Leaders, Technology & AI Leaders, Cyber Leaders, FinTech & InsurTech Leaders as well as covering industries such as Manufacturing, Mining, Energy, EV, Construction, Healthcare + Food & Drink.
BizClik, based in London, Dubai & New York offers services such as Content Creation, Advertising & Sponsorship Solutions, Webinars & Events.