Top 10 healthcare moves & training initiatives in Ukraine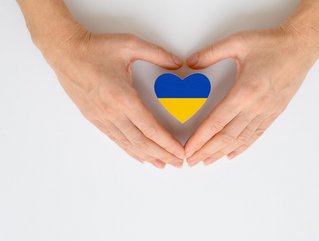 Canada's McGill University Health Centre, Ireland's Health Service Executive, Israel's IsraAID & Plan International are supporting the people of Ukraine
Since the invention of photography, each war has been cemented in time with an iconic photograph, capturing the horror and the hope of the age in one shot: the joy is apparent in The kiss in Times Square photo taken on Victory Over Japan Day (Alfred Eisenstaedt, 1945), while the scream of The Napalm Girl will go on forever (Nick Ut in 1972).
When Russia's war against Ukraine is over, perhaps the one image which will be remembered for decades to come is that of a dying pregnant woman being carried out of a bombed maternity hospital, in Mariupol. The unnamed mother-to-be later died, as did her child.
The world was disgusted and the international healthcare industry appalled that a hospital was targeted. While Ukraine's army fights alone, the Ukrainian healthcare sector has been inundated with offers of support from across the world.
Here's our Top 10 healthcare moves and training initiatives supporting Ukraine.
10. Canadian hospital provides war trauma training videos for Ukrainian doctors
Ukrainian doctors have been busy supporting wounded soldiers and civilians - but for those doctors whose regular business is in, for example, cosmetic surgery, treating bomb blast casualties is new ground.
The Centre for Global Surgery at Montreal's McGill University Health Centre has created training videos to help intermediate medical professionals acclimatise.
9. Ukrainian children brought to England for cancer treatment
Polish authorities, doctors in the UK and St Jude Children's Research Hospital teamed up to organise an evacuation for 21 Ukrainian children with cancer, alongside their close family members.
The group arrived in England from Poland and will be supported by NHS clinicians, where they will continue their care.
8. Protecting vulnerable women and children from trafficking
As Ukrainian men stay to defend their country, women and children seek refuge in unfamiliar cities. The disorientation of a refugee camp is the perfect ground for human traffickers to find new victims - but organisations including The French Foreign Legion are one hand to protect refugees.
7. Blood donation
After the 2015 terror attacks in Paris and the Manchester bombing in 2017, ordinary people rushed to donate blood to help victims - and in Ukraine, civilians are doing their bit.
In addition, 4,000 blood donation bags and 50,000 medical masks have been sent to Ukraine by Ireland's Health Service Executive.
6. World Health Organisation steps in regarding Ukraine's public health laboratories
Ukraine's public health laboratories have been advised by The World Health Organisation (WHO) to destroy high-threat pathogens housed there, in order to stop potential spills of disease.
Unfortunately, this has provided conspiracy theorists with more material to twist - while others fear a lab-leak could lead to another pandemic.
5. WHO keeps medical supply chains functioning
While up to six million Ukrainians are internally displaced, almost three million people have fled the country. WHO has also been hard at work supporting Ukrainian refugees and neighbouring countries to meet their needs by delivering items including oxygen, insulin, surgical supplies, anaesthetics and transfusion kits.
4. IsraAID arrives in Ukraine
President Putin's accusations of a Nazi-led Ukrainian government have confused many, as Ukraine's President Zelenskyy is Jewish. This claim was even further debunked when Israeli NGO IsraAID arrived in Moldova (which shares a southern border with Ukraine) to distribute aid. The organisation plans to provide mental health support for vulnerable refugees.
3. President Zelenskyy visits wounded Ukrainian soldiers in hospital
It's not unusual for comedians or political leaders to visit hospital patients to boost their morale, but for Ukrainian soldiers injured in the conflict, they got a two-in-one visit from the former actor turned President.
Volodymyr Zelenskyy visited recovering soldiers in Kyiv, where he took selfies and awarded medals to nurses and soldiers.
2. Captured Russians supported by Ukranians
The Ukrainian people are determined to support the wellbeing of Russian prisoners of war. In footage that went viral, a group of Ukrainians fed a tearful Russian soldier and allowed him to call his mother. A hot line has also been set up in Ukraine for Russian families to call, to find out if their son has been captured or killed.
The mental wellbeing of Russian soldiers and their families is being supported by the country they were sent to invade.
1. Psychological support for Ukraine's child refugees
Over the past few decades, mental health has been more openly discussed across healthcare. Now support is being organised for Ukrainians.
"Children are confused," explained Anita Queirazza, Plan International's global lead for child protection emergencies, who is supporting Ukrainian refugees in Romania. "It's really important that parents know how to support children, as they might display different behavioural reactions."
Healthcare experts know war damages the mind just as it does the physical body and both must be addressed.