Healthcare sector faces critical challenges from heatwaves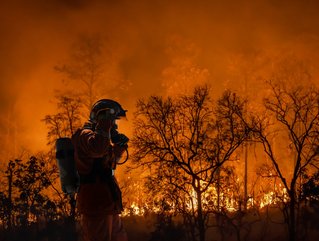 Wildfires
This year continues to break temperature records due to extreme heat waves. Research from IPE-Global & Lexica predicts grim future for healthcare sector
Heatwaves have broken records this year at both land and sea - with ocean surface temperatures higher than any recorded, according to Copernicus Climate Change Service. Firefighters battle outbreaks from Hawaii to Portugal and youngsters have been evacuated from the World Scout Jamboree due to extreme temperatures. The health impact of extreme heat is far-reaching.
Heatwaves put patients and healthcare professionals in danger
On the Hawaiin island of Maui, wildfires have damaged phone services and firefighters are working to save people and protect property. Tragically, officials on the island have confirmed that 93 people have died in the town of Lahaina.
Acting Governor Sylvia Luke has implored the White House to declare a federal emergency and provide support for its overwhelmed healthcare system.
"We are already in communication with other hospital systems about relieving the burden — the reality is that we need to fly people out of Maui to give them burn support because Maui Hospital cannot do extensive burn treatment," she said.
These wildfires are the worst in the USA for over 100 years and have been attributed to climate change, with fears that such fires will only become more common.
Meanwhile in England, research by the Care Quality Commission and the Climate Just research group found that 30% of hospitals and care facilities are in areas predicted to be at high risk from hotter summers by the 2050s. The NHS is already overstretched and understaffed, preparing for the future seems to be another insurmountable task.
Over in India, research undertaken by Abinash Mohanty, Sector Head of Climate Change and Sustainability at international development organisation IPE-Global, has made a link between heatwaves and gender-based violence.
"Climate extremes are becoming harsher and grimmer by ravaging lives and livelihoods, disproportionately impacting the poorest and most vulnerable communities and contributing to gender-based violence against girls and women," said Mohanty. "Although empirical evidence and data limitations still remain blind spots in quantifying the impact of climate change and gender-based violence, it is imperative for vulnerable countries like India to ensure that climate action plans should converge and address these challenges."
The healthcare sector can lead net zero across industries
New technologies are being used in the healthcare sector to decrease carbon emissions and reach net zero goals, yet the impact of climate change on healthcare could be catastrophic.
Lucy Symons-Jones is the Director of Net Zero at business consulting company Lexica. In July, she spoke to Healthcare Digital to discuss how the climate crisis is a healthcare emergency.
"Health services will have to grapple with a rise in mortality rates and poorer patient recovery from illness, in addition to medical staff struggling to work in overheated conditions or an increase in staff absenteeism due to illness, school closures or caring for relatives during extreme weather events," she said.
"The heatwaves of summer 2022 brought climate adaptation to the forefront of our minds. Many trusts were forced to cancel appointments due to IT systems failures and overheated AHUs and cooling systems."
According to Symons-Jones, the healthcare industry has the opportunity to lead the rest of the world in becoming more resilient in the face of climate change.
"One of the most exciting opportunities is that the healthcare service, given its scale and size, can be a testing ground for the clean tech industries of the future."
*********************************************
For more insights into Healthcare - check out the latest edition of Healthcare Digital and be sure to follow us on LinkedIn & Twitter.
Other magazines that may be of interest - Manufacturing Magazine.
*********************************************
BizClik is a global provider of B2B digital media platforms that cover 'Executive Communities' for CEO's, CFO's, CMO's, Sustainability Leaders, Procurement & Supply Chain Leaders, Technology & AI Leaders, Cyber Leaders, FinTech & InsurTech Leaders as well as covering industries such as Manufacturing, Mining, Energy, EV, Construction, Healthcare + Food & Drink.
BizClik, based in London, Dubai & New York offers services such as Content Creation, Advertising & Sponsorship Solutions, Webinars & Events.