Honeywell's Robert Robinson on healthcare digitalisation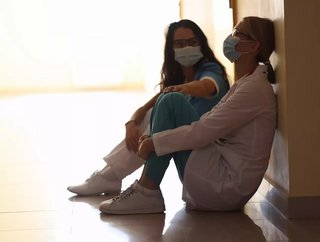 Robert Robinson, Vice President & General Manager for the Healthcare Solutions at Honeywell, discusses enhancing the patient experience with digitalisation
The Honeywell Healthcare Solutions business is a line of business within Honeywell Sensing and Safety Technologies, and it is fundamentally a technology business that designs and develops sensor based components and solutions to enable medtech companies and hospitals to deliver better healthcare outcomes. Solutions go into several systems, such as ventilators, respirators, CPAP machines and breath analysers. All of these solutions are designed to enable providers and hospitals to drive better patient outcomes.
Robert Robinson is the Vice President and General Manager for Healthcare Solutions at Honeywell. He's been with the company for seven years, starting out as a Product Manager before going on to work on the sensors.
"I've had significant experiences within Honeywell – and across the sensor portfolios, in general – to work my way up to where I am today."
Robinson has always been drawn to technology and initially began his career as an engineer.
"Through college, I had an experience of working on a hybrid electric vehicle a few years back," he says. "I was the control's team leader and built battery packs. That was how I encountered sensors the first time, falling in love with them and their capabilities."
This love has carried Robinson across multiple industries and led him into the healthcare space.
"30-40% of nurses will quit in the first three years of their working experience, particularly those in the ICU" - Robert Robinson, Vice President and General Manager for Healthcare Solutions at Honeywell.
Honeywell Healthcare Solutions save healthcare workers' time
Honeywell is enabling healthcare companies to support digitalisation across the global market in a range of ways.
"There's a number of things that we're seeing that are changing the healthcare landscape," said Robinson. "Nurses and providers spend 30% of their time directly interacting with the patients. We also know that many nurses and providers in hospital settings spend one to two hours per shift working on transferring information, or getting information to their counterpart who's coming on to take on the next shift. This includes writing data down on paper manually, but another statistic shows that, on average, a nurse will be interrupted 10 times in one hour. Because of this workload and the propensity for interruption, a vast swathe of nurses and providers are not tremendously happy with their working environment.
"In fact, 30-40% of nurses will quit in the first three years of their working experience, particularly those in the ICU."
A high turnover rate of employees is bad for business. So, Honeywell looks for ways that they can help companies, but from the perspective of digitisation.
"How do we enable companies to do some of these things automatically? How do we enable companies to do some of these things remotely," asks Robinson.
Of the times a nurse is interrupted across an hour, there will often be a call from a patient's room, 70% of which are unrelated to clinical issues. They may range from finding a remote control to needing a glass of water. But how does the nurse differentiate between a clinical emergency versus a room service request?
Honeywell has an upgraded nurse call solution system that is digitised and can sort through different requests, providing nurses with guidance to escalate each of these requests based on the clinical emergency.
"We enable digitisation in the hospital space by really providing solutions, clinical flow solutions, or workflow solutions that are able to drive efficiency through the process," explains Robinson. "By helping nurses and healthcare providers sort through data logically and categorise it, they're able to make smarter decisions faster and more efficiently across their daily operations in the hospital."
Enhancing the healthcare experience and improving operational agility through digitisation
If Honeywell can optimise the nurses' ability to address non-clinical issues, the nurse now has more time to focus directly on patient care. There are also a significant volume of errors that come from all of the nonclinical escalations that nurses have to deal with.
"Approximately 50% of medication-related issues in the hospital are driven primarily by error," says Robinson. "If we reduce the nonclinical escalations to nurses and providers, we also directly impact the errors that nurses see."
In one example, when a nurse is handing over a shift, Honeywell can automate that process. All of that documentation and data is streamlined, then there's very limited potential for error.
"Patients see a tremendous value in that," says Robinson. "Healthcare facilities can track the reduction of errors to see for themselves. This has a significant impact on the amount of time a patient stays in the hospital. It also has a significant impact on patients not returning back to the hospital because of errors, infections, or any type of issue that can result from those errors."
But this work cannot be done alone – Honeywell has had tremendous success over the past 30-plus years working with OEM partners, designing advanced solutions and smart technologies to help doctors, hospitals and patients. In any partnership, there needs to be a transparent, open collaborative engagement. But, between Honeywell and its OEM partners, Robinson values working with those who are looking for specific solutions to specific problems.
"What defines our success is when we see those problems and we can offer a Honeywell solution that solves the specific issue to drive value for that partner. That's what we call success."
In 2023, there are many exciting things that Honeywell is looking forward to.
"I'm excited about the projects that we're piloting and working on with Med-Tech companies and customers," says Robinson. "As we look forward to the next 12 months, there are a few things that we are expecting to do. One of them is to re-anchor our portfolio around not just Med Tech solutions, but also around hospital-based solutions. That is the key thing that we're going to be looking for as we approach the next 12 months."
So, expect new products, solutions and partnerships. Getting those results and seeing the level of productivity that they're able to provide to hospitals is important to Robinson and the Honeywell Healthcare team, as is building its team and existing partnerships.