How properly engineered ventilation keeps patients safe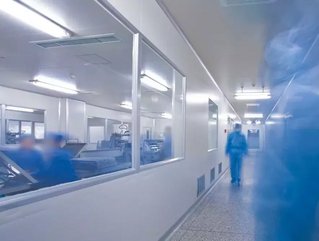 Kim Shinn, principal at TLC Engineering Solutions, explains the importance of good ventilation to prevent the transmission of COVID-19...
Our knowledge of the COVID-19 virus and the engineering controls associated with mitigating its transmission have evolved considerably since the pandemic hit the US earlier this year. We now know that it is highly unlikely for COVID-19 to travel through a code-compliant, multi-zone, hospital HVAC system (return ductwork, central air handling unit coils, final filters, and terminal units). There are no known instances of COVID-19 transmission through this pathway as of this writing.
The use of 100 per cent exhaust (where there's no recirculation via central air handlers) is not justified, except for rooms where aerosol generating procedures are performed and in the Emergency Department, where there are significant numbers of people under investigation. The use of central air systems with MERV 14-16 filters or local HEPA filtration have replaced most of the recommendations for 100 per cent exhaust.
Maintaining a space with an exterior wall or roof, such as most patient rooms, at negative pressure, where more air is extracted from the room than is supplied to it, can lead to infiltration of outside air through the building envelope, which can lead to serious health problems, most notably mold growth in the envelope construction.
The widespread use of individual room negative pressure relationships isn't justified, except for patient and exam rooms equipped with anterooms. There is limited protection afforded to healthcare workers once the door to an infected patient's room is opened, no matter how negative the pressure relationship. Increased exhaust requires an enhanced intake of outside air, which results in system capacity issues and higher operating costs. In many cases, failure to maintain pressure relationships and air balance can cause loss of temperature and humidity control.  
The current ASHRAE Standard 170 guidelines on Ventilation of Health Care Facilities have served us well and there is little evidence that going beyond those requirements yields cost-justified improvements in COVID-19 viral transmission mitigation. There is probably no safer place in a US built environment than a code compliant, well-operated and maintained hospital.
We have learned that the "normal" hierarchy of controls needs to be inverted in the case of this pandemic. Instead of PPE being the least effective, we have found that it is the most effective means of mitigating transmission. Elimination and substitution are simply impractical if not functionally impossible. Since the virus is transmitted person-to-person, it is impractical to use engineering controls to interrupt that pathway. The single most effective strategy is source control.
We advocate for a layered approach. This includes: 
⦁ Normal mode where Airborne Infectious Isolation Rooms (AIIRs) may be limited to patients receiving aerosol generating procedures
⦁ Small scale surge capacity mode where it may be necessary to create additional dedicated rooms or temporary patient observation rooms with HEPA filtration and and negative pressure
⦁ Large scale surge where an established dedicated ward or even a separate building with its own set of protocols may be needed. 
An alternative strategy to installing a HEPA filter unit in the ceiling and routing ductwork in the ceiling cavity, is to provide a ventilated headboard like the CDC suggests . This can be built on site. 
When patient numbers grow beyond small scale surge capacity, hospitals could consider these options: 
⦁ Cohort and Convert units, wings or floors where all patients in "hot" zones are considered infected
⦁ Using anterooms/vestibules to segregate "hot" from "cold" zones
⦁ Rather than converting individual rooms one at a time, use HEPA machines to create pressure difference 
⦁ Create one-way flow if possible, with PPE donning in one anteroom and removing in another. These should be large enough to accommodate two caregivers, working in a "buddy system" and there should be handwash available
⦁ If necessary, create positive pressure zones for staff respite inside the hot zone, using HEPA machines to establish pressure differences, and using anterooms or vestibules if practical
Kim Shinn, PE, LEED Fellow and BEMP is a principal at TLC Engineering Solutions. He can be reached at [email protected]