Humber River Hospital Sets New Tech Standards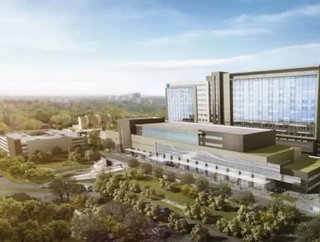 READ THIS ARTICLE IN THE JUNE EDITION OF HEALTHCARE GLOBAL The new Humber River Hospital is due to open in Toronto in fall 2015 and is being pitted at...
READ THIS ARTICLE IN THE JUNE EDITION OF HEALTHCARE GLOBAL
The new Humber River Hospital is due to open in Toronto in fall 2015 and is being pitted at Canada's most innovative hospital. The facility is going to be equipped with the latest technology and modern healthcare systems, making it not only the most futuristic hospital in Canada, but also an industry benchmark for all new build hospitals across the globe. The developers behind the new build, had technology and patient care in mind at every stage of the planning process. Once open to the public, patients at the Humber River Hospital will have the power to change their room temperature, control lighting, video chat with their nurses, physicians and family members and access their medical records via a bedside monitor.
The Humber River Hospital is going to be one of the world's first fully digital institutions and Barb Collins, Humber River's Chief Operating Officer and leader of the redevelopment project says that for patients, "the control of their environment and the participation in their care," will be the key-defining factor.
The new hospital is going to have 656 beds and will be replacing three existing sites to become Humber's main acute care center. Part of the plan during the development phase was to reduce 'sneaker time' owing to the sheer size of the development. By reducing the amount of time nurses and physicians spend walking to different parts of the hospital to deliver care, they can focus on delivering high standards of care and can spend more time with each patient. The hospital is going to be doing this in a number of ways utilising wireless technology and portable devices.
Instead of nurse alarms, patients can communicate directly with their carer via video link. Nurses will also no longer be required to record blood pressure, temperature and other vital signs on paper and then transfer them to a patient's record; all medical records will be automatically communicated from the device to the electronic chart. Considering the vast majority of patients at Humber will have their own room, the time saving involved is significant. And as Collins explains, "Now I spend the time talking to you about what that blood pressure means, not running up the hallway to record that blood pressure."
Introducing Technology To The Supply Chain
The provision of supplies will also be automated and thus more efficient. Food, medicine, waste, linen and other items such as medical equipment, beds and wheelchairs will all be transported around the hospital through a system of chutes and automated guided vehicles. These supplies will also be monitored using wireless technology, so nurses can locate equipment quickly and easily; it will also prevent a lot of loss. Not only will this save valuable time and money, it will also reduce the volume of administration associated with a hospital supply chain. Currently, there is a huge volume of paper work linked with medicine and medical equipment; this will be eliminated as all the information will be tracked and inputted in real time on the go. 
Safety & Efficiency
According to Collins, the main reasons behind employing new technology are safety and efficiency. High-tech, interlinked systems are not only there to monitor the movement of supplies but to ensure patient care is being delivered in the safest possible way. For example, medication errors are expected to be reduced owing to wristbands worn by patients with unique barcodes that will be scanned to confirm their prescription; the wristbands will also record the nurse or physician that administered the drug. Furthermore, wristband technology will also be able to monitor the amount of time nurses wash their hands for example, giving management data that can help prevent the spread of diseases and infections.
"The care should be faster, it should be more accurate, and it should allow a better link between that medical record and the practitioners caring for that patient," says Collins.
Keeping Risk To A Minimum
With any large change, come risk, however Humber River Hospital is aware of the associated risks, for example human error when using new technology for the first time. To overcome these challenges, the hospital is putting all of its staff through training on any new equipment, it will be holding open forums where staff can discuss any concerns and it will be operating 24 hour help lines so staff have the support they need during the transition. It will also be closely monitoring the success of its new systems very closely and will be implementing continuous improvement strategies to constantly review its processes.
The Humber River Hospital is setting a new standard for healthcare delivery across the world, and notably is changing the face of healthcare provision in Canada, which in the past has been recognised for its slow implementation of modern healthcare methodology. Humber River Hospital could turn that around and spark a new wave of innovation in Canadian healthcare.