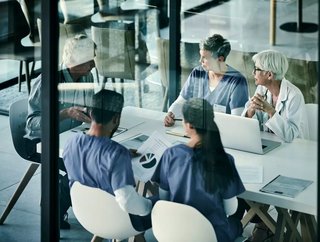 We take a look at the role the tech sector plays in public healthcare and hospital systems.
Patient backlogs, aging populations, increasing amounts of data, the COVID-19 pandemic and a workforce experiencing burnout are just some of the challenges the world's hospitals are experiencing. 
Switching to cloud-based digital systems provided by a third party, like  electronic health records (EHR) and e-prescriptions, is an obvious solution. According to Peter Springfield, Cloud Product Manager at Node4, all healthcare providers will need to make this change eventually. "Over time, as legacy technology gets older and the demands placed on it increase, storage systems often can't keep up" he says. "There comes a point for every healthcare organisation when existing IT simply won't meet its needs anymore. Instead, healthcare facilities need full, near-instant availability of data to make effective decisions and provide good patient care." 
Patient data must be readily accessible when needed, stored in a regulation-compliant environment, while remaining cost effective. But  how does a paper-based hospital with an overstretched workforce manage this process, while keeping data safe from cyber attacks? By finding a company that can provide the right solution, and working in partnership with them. 
Moving to the cloud
The challenge in healthcare, Springfield says, is that many organisations have siloed pools of data stored in separate repositories. "Often, these systems don't scale well and don't have the security protections necessary to meet today's requirements." 
"Cloud-based storage can scale as high as required. The best cloud vendors also assure high availability and good performance. And because organisations pay only for the capacity they use with cloud-based storage, costs can be lower. As a result, the cloud model also allows healthcare organisations to store and access all data associated with a specific patient, procedure or business unit in one place." 
Another option is to choose Storage as a Service (STaaS). "This is where a third-party provider owns and manages the storage infrastructure, while the healthcare facility can dictate rules on storage, retention and access, along with service level requirements. This structure means that healthcare facilities can access storage on-demand, paying only for the amount they use, without worrying about buying, managing and maintaining physical devices."
Most healthcare providers are choosing a hybrid model, which allows them to use the cloud for everything except the most sensitive data. "Because security and privacy are critical issues for healthcare organisations, the temptation is to keep everything on-premises" Springfield says. "While that can make sense for especially sensitive workloads and applications because it provides tighter controls, it may not be viable for the longer term, as the amount of data that must be managed and stored continues growing." 
Data security
Keeping patient data secure is not just crucial for the patients, but for the healthcare provider too. Ransomware attacks - where a hacker demands money in exchange for not releasing private data - have risen dramatically in recent years, particularly since the COVID-19 pandemic began.  In 2020 alone these rose by 55%, costing almost $21 billion in downtime. 
Healthcare providers' inhouse IT departments may not have the knowledge or the resources needed to combat sophisticated attacks, making it necessary to partner with trusted cybersecurity companies. 
"Healthcare organisations are moving away from doing everything themselves and doing a lot of outsourcing in the cloud" says Terry Ray, Senior Vice President at cybersecurity firm Imperva. "They may have been running Cerner as their electronic medical record system for 15 years for example, but many are now shifting to say, "why am I  running Cerner? Why don't I just pay Cerner to run Cerner? They can enter their data into Cerner's EMR and let it be their problem." 
"The field is getting larger and larger, and the enterprise and scope of what needs to be secured is getting bigger" he adds. "You can't have gaps in security. Organisations must look at everything." 
Virtual healthcare
While security and data storage are two typical areas where public healthcare providers lean on the tech sector, another has been emerging since the pandemic: telehealth. As well as providing access to doctor appointments during the successive lockdowns caused by COVID-19, telemedicine can help deliver healthcare to remote or rural locations that lack health facilities. 
Virtual care solutions are wide-ranging, from Vodafone supplying the connectivity for IoT devices that help elderly people living on remote Greek islands to monitor their diabetes, to TytoCare's portable device that enables doctors to travel to remote regions and examine the heart, lungs, throat, and body temperature of patients using artificial intelligence. 
Busy doctors' surgeries are using digital platforms to help them triage patients - such as eConsult, a digital platform used by the British National Health Service (NHS) in primary and emergency care to assess which patients need to urgently speak to a clinician. 
As with all tech solutions, security and data privacy are vital. "The potential for technology to improve healthcare is almost limitless" Springfield says "The key is remembering where it starts and ends - with data."
This article appears in the August issue of Healthcare