Supporting veteran mental health & reducing suicides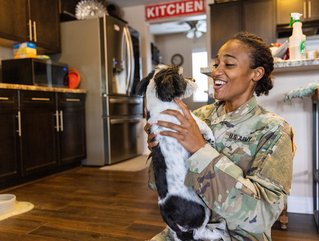 Veteran healthcare
Each day 22 veterans & first responders die by suicide. Eric Ranks, son of a US Air Force veteran, shares how 22 Salute supports veteran's mental health
Eric Ranks is an International best-selling author, Founder and Executive Director of The Veterans Connection™, and Co-Founder and CEO of 22 Salute™ Spirits & Coffee 'With a Purpose'™. During his upbringing as a military dependent, Ranks had the privilege of observing his father, a Clinical and Neuropsychologist in the United States Air Force, as he worked closely with veterans and mental health. These experiences profoundly influenced the trajectory of Eric's career journey.
"Throughout my life, I faced significant health challenges, including leukemia at the age of 5 and later struggling with depression and thoughts of suicide. After a divorce, my mental health worsened, leading to an accidental overdose on antidepressants. However, a supportive boss and friend played a crucial role in helping me through this difficult time," Ranks explains. "These experiences underscored the importance of reaching out and supporting others during their struggles. They ignited my passion for health and nutrition, which grew over the years. Witnessing the challenges faced by veterans with PTSD and mental health issues further solidified my belief in the need for greater support for our veteran community."
Here, Ranks tells us more.
Helping veterans accessing their entitled benefits
In 2012, Ranks established The Veterans Connection, a 501(c)(3) nonprofit organisation.
"Our focus was initially on helping veterans navigate the complex process of accessing their entitled benefits," he says. "It was disheartening to learn how difficult it was for veterans to obtain their benefits, often requiring the involvement of attorneys. Many veterans gave up before gaining access to the support they deserved."
Later in 2015, Ranks faced a life-threatening condition that led to a diagnosis of an autoimmune disease.
"Determined to manage my condition, I discovered the Ketogenic diet, which had a positive impact on my health. Inspired by my own journey, I started a Ketogenic Facebook group and collaborated with health and fitness leaders to share knowledge and help others achieve optimal health."
Fueled by this transformation, Ranks became a Certified Health and Keto Coach, empowering others to optimise their well-being and achieve their full potential.
Unfortunately, in 2019, Ranks experienced the sudden loss of his father, which deeply impacted him. Shortly after, he faced another life-threatening surgery to repair a ruptured oesophagus and then had to navigate the challenges of the COVID-19 pandemic.
"During this time I became more aware of the rising suicide rates within the veteran and first responder communities, motivating me to refocus The Veterans Connection on mental health and suicide prevention."
Driven by his commitment to making a tangible difference, Ranks co-founded 22 Salute Spirits & Coffee, a social enterprise that supports veterans and first responders.
"Through the sales of our South Texas Mesquite Smoked Coffee and Veteran-made Spirits, we contribute a portion of our profits to The Veterans Connection, directly funding mental health and suicide prevention programs.
"In addition to my advocacy work, I am honoured to be an accomplished author. In 2021, I co-authored the book 'Boundless Success with Eric Ranks,' which chronicles my health struggles and how I utilised my pain as a catalyst for supporting others. I also contributed to the International Best-Seller 'The Art Of Connection: 365 Days of Transformation Quotes by Entrepreneurs, Business Owners, and Influencers' which is proudly housed in The Library of Congress, a 2023 International Holistic Business Award Winner, and has been integrated into the curriculum of several schools across the United States, inspiring and guiding students on their personal growth journeys."
22 Salute: Hiring veterans and reducing suicides
22 Salute™ Spirits & Coffee 'With a Purpose'™ is a 5-time award-winning social enterprise with a Veterans first initiative, dedicated to reducing veteran and first responder suicides.
"This unique enterprise sells Veteran-made Spirits and South Texas Mesquite Smoked coffee, utilising made in America suppliers and is committed to hiring Veterans and working with veteran-owned companies whenever possible. Through the sale of multiple award-winning products and strategic partnerships, 22 Salute raises awareness by having products on retail shelves as well as in bars and restaurants to meet consumers with its message where they are. 22 Salute™ has a mission to give back by donating a portion of its profits to The Veterans Connection, a nonprofit focused on providing vital mental health programmes and resources, as well as suicide prevention for those who have dedicated their lives to serving our country."
Through leading a minority-owned and veteran-dependent business, Ranks has learned a lot of valuable lessons in balancing immediate needs with long-term goals.
"Even in resource-constrained situations, keeping a future-oriented perspective shapes effective decision-making," he says. "Emotion should be tempered when making choices.
Seeking guidance from experienced mentors is crucial. Learning from their successes and challenges provides invaluable insights. Simultaneously, fostering a culture of consistent support for others, even without explicit requests, establishes a virtuous cycle of assistance and invites unexpected support in return.
"Maintaining a learning mindset is essential. Every situation, positive or negative, offers an opportunity to grow. Leveraging the wisdom of mentors and cultivating meaningful relationships through effective networking can unlock unforeseen prospects."
Ranks believe that calculated risks should not be feared - but embraced.
"Growth often lies beyond our comfort zones. Remembering that failure is not a dead-end but a stepping stone towards progress, as long as you learn from it and move forward.
Avoid common pitfalls such as lacking clear career goals. A definitive vision guides informed decision-making. Prioritising work-life balance prevents burnout, which can hinder both productivity and well-being."
Assisting veterans and first responders with mental health support and suicide prevention
22 Salute Spirits and Coffee donates a portion of its profits to The Veterans Connection (TVC), a 501(c)(3) non profit organisation.
"TVC focuses on a four-phase approach to help improve Veteran and First Responder quality of life:
CONNECT - help veterans and first responders find meaningful connections within a community that want to help provide a feeling of belonging, safety, and accountability.
EMPOWER - strive to help veterans and first responders meet basic needs like food, housing, transportation, and childcare etc. to minimise excessive distress.
ALIGN - help veterans and first responders access vetted alternative healing solutions that develop and maintain a healthy mind, body, and spirit.
THRIVE - provide veterans and first responders with access to programs that can help toward career, vocational and financial growth.
"At 22 Salute, we are committed to supporting veteran-owned companies, ensuring that funds circulate within the veteran and first responder communities. We prioritise partnering with these businesses to promote economic empowerment and foster a network of support. Additionally, we proudly sponsor various events such as golf tournaments and social gatherings, further engaging with and giving back to the communities we serve."
As part of their dedication to the cause, the company also makes donations to other nonprofit organisations focused on veterans and first responders.
"By actively participating in these initiatives, we aim to make a meaningful and positive impact on the lives of those who have selflessly served our nation."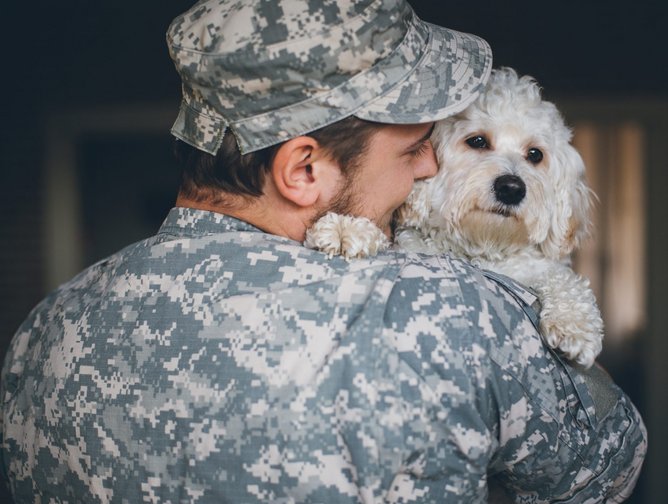 Veteran and dog
Manufacturing coffee and vodka to support veterans
"At 22 Salute, we take great pride in our partnerships that support veterans and honour their contributions," Ranks says.
One of their most notable collaborations is with a veteran and woman owned distillery in Frederick, Maryland, which received recognition as the 7th best distillery by Travel and Leisure Magazine in 2021.
"Our corn-based vodka is meticulously filtered over 22 times, symbolising the average number of lives lost to suicide daily in the veteran and first responder communities. This process creates an exceptionally smooth vodka that has earned five awards, including the prestigious Double Gold award."
Additionally, the 22 Salute Coffee is roasted by a Navy Veteran in Texas, who smokes the beans with Texas Mesquite wood during the roasting process. These specialty-grade beans are sourced from high-altitude farms in Honduras, offering three delightful options: Medium, Dark, and Texas Pecan.
"Within the next year, I anticipate 22 Salute's products will be widely available nationwide in numerous major retailers," says Ranks. "Concurrently, I foresee our nonprofit successfully matching 50 service dogs with veterans, launching our innovative grief and mental health app, and guiding 10 veteran families through our transformative 'Survive to Thrive' programme."