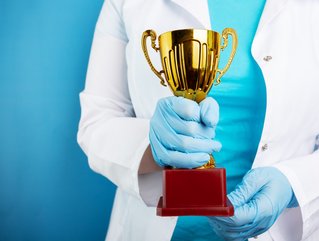 Healthcare awards
Discover our Top 10 healthcare awards, from Nobel Prize to BMJ to HIMSS and more, that celebrate the dedication and expertise of healthcare workers
During the pandemic, Britain indulged in a Clap for Carers, giving their healthcare services a two minute round of applause. Healthcare professionals were also offered discounts in shops and allowed to skip the queue and go into shops first.
But formal healthcare awards have been celebrating the challenging work of healthcare professionals and organisations for years - highlighting the work they do, publicly saying thank you and offering the next generation of healthcare workers some inspiration.
Here are our Top 10 healthcare awards that recognise the excellence of healthcare workers:
10. The Innovate Awards
The AHSN Network and NHS Confederation lead The Innovate Awards, which seek to 'celebrate outstanding innovation in healthcare and drive positive change'. The awards uphold the importance of driving forward healthcare practices and motivating the next generation of healthcare workers for improved healthcare outcomes.
9. Nightingale Awards
Top patient care, leadership, education and research are awarded at the Nightingale Awards. So far, 37 incredible nurses from 22 countries have been awarded the Florence Nightingale Medal, which acknowledges 'courage and devotion to victims of armed conflict or natural disaster'. Recipients are nominated The International Federation of Red Cross and Red Crescent Societies.
8. The C. Everett Koop Health Project Awards
The awards recognise the initiatives which endorse healthcare education, prevention and wellness across communities. Every year, the awards are presented by The Health Project's leadership to winning organisations, as part of the HERO Forum. Winners must document the economic impact of their programmes and explain what they did, if it worked and whether it was worth it.
7. The Galien Awards
The Prix Galien Awards were founded in France in 1970 and celebrate the work of scientists and healthcare researchers to better advance the treatment of human diseases. The awards are held in 15 countries, including Belgium, Canada, China, France, Germany, Greece, Holland, Italy, Poland, Portugal, Russia, Spain, Switzerland, UK and USA. Partners include Medable, Inc, Finn Partners and Moorhouse.
6. Our Health Care Heroes Awards
The Our Health Care Heroes Awards are hosted by Skills for Health, a not-for-profit organisation committed to developing an improved and sustainable healthcare workforce. The Health Care Heroes Awards praise healthcare workers and organisations who work with 'exceptional dedication, compassion and innovation in providing healthcare services' and recognises the hard work carried out daily.
India's Healthcare Excellence Awards aim to celebrate healthcare organisations and individuals for their contributions to the healthcare industry. There are 69,000 public and private hospitals in India and almost 2m beds. The broad categories are:
Medical and Dental Awards
Oral Health and Dentistry Awards
Pharmaceutical Awards
Medical Institutions Awards
Best Doctors Awards
Nursing Excellence Awards
Best Clinics Awards
Best Hospital Awards
4. The Gairdner Awards
The Gairdner Foundation was established in 1957 and aims to fulfil James A. Gairdner's vision to:
Recognise major research contributions to the treatment of disease
Alleviate human suffering
The awards celebrate the world's most accomplished healthcare researchers whose work is improving the health and well-being of people around the world.
3. HIMSS Davies Awards
Presented by the Healthcare Information and Management Systems Society (HIMSS), the awards recognise healthcare organisations that have shown 'outstanding implementation and use of health information technology to improve patient care and outcomes'. Winners must have shown sustainable improvement to clinical care outcomes and accomplished Stage 7 validation on one of the HIMSS Maturity Models.
2. The BMJ Awards
Each year, up to 350 teams enter The BMJ Awards, which is an opportunity for a worthwhile healthcare team to receive recognition for its 'Professionalism, commitment, creativity and hard work'.
Now celebrating 13 years, the awards aim to promote excellence in healthcare and showcase knowledge and experience that will inspire another generation of healthcare workers.
Presented by The BMJ (also known as the British Medical Journal), the awards celebrate healthcare professionals who have made impressive contributions to healthcare or medical research.
1. Nobel Prize in Physiology or Medicine
One of the most prestigious awards, recognizing outstanding contributions to medical research or discoveries in the field of physiology or medicine.
Some of the recipients were featured in our Top 10 vaccines article. South African-American virologist Max Theiler created a vaccine for Yellow Fever in 1938. Theiler received the Nobel Prize in Medicine for his discovery in 1951. Dr. Baruch Blumberg discovered the Hepatitis B virus in 1965, winning the Nobel Prize for his discovery and creating the vaccine in 1969 - this was also the first anti-cancer vaccine.
For more insights into Healthcare - check out the latest edition of Healthcare Digital and be sure to follow us on LinkedIn & Twitter.
Other magazines that may be of interest - Manufacturing Magazine.
*********************************************
BizClik is a global provider of B2B digital media platforms that cover 'Executive Communities' for CEO's, CFO's, CMO's, Sustainability Leaders, Procurement & Supply Chain Leaders, Technology & AI Leaders, Cyber Leaders, FinTech & InsurTech Leaders as well as covering industries such as Manufacturing, Mining, Energy, EV, Construction, Healthcare + Food & Drink.
BizClik, based in London, Dubai & New York offers services such as Content Creation, Advertising & Sponsorship Solutions, Webinars & Events.