Why Wayfinding Can Lead to a Brighter Patient Experience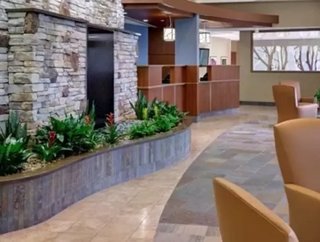 When a national standardized hospital patient satisfaction survey was formally endorsed in 2005, the healthcare industry was granted an effective vehicl...
When a national standardized hospital patient satisfaction survey was formally endorsed in 2005, the healthcare industry was granted an effective vehicle to make meaningful comparisons between hospitals on issues important to patients. Quietness, cleanliness and ease of transition of care are among the basic topics covered, all of which are achieved only in a hospital setting designed for a pleasing overall aesthetic.
Wayfinding – how patients and staff are able to easily and quickly find care areas – is one of the most important factors contributing to a positive environment. A hospital's improved wayfinding can have a strong impact on its patient satisfaction scores. However, it is also important to consider the challenges involved in cost, time commitment, and return on investment.
Creative Options
As part of a total construction project, the cost for wayfinding is figured through an in-depth budget exercise to determine the appropriate percentage based on industry standards. The time commitment to the wayfinding plan should ideally be tied into the overall design and construction process to avoid becoming an after-thought following completion. When included in the initial design planning, wayfinding elements, such as lighting, wall space, background color and niches for artwork, can be incorporated at a much lower expense as opposed to adding on later. Informing the design team early about wayfinding ideas will help involve everyone to plan for these elements.
Consistent branding at all entry points is essential to successful wayfinding. Creative options abound to replace signage everywhere with a home-like element: colors, art, plants or other symbols can be added to key decision points. To help patients find the right offices, color blocking and floor striping are useful tools. Color blocking gives each department or space its own color so entry points and decision-making points have a guiding consistency. A floor pattern forming a stripe or path straight from the front entry to main elevators reduces the scale of an otherwise intimidating distance.
Color palettes should be selected based on usage with an overall approach, rather than room-by-room. Materials should be standardized, such as wall paint and doorframe colors, for consistency throughout the facility. The results can provide a cohesive environment, calming for patients.
The Role of Artwork
A genuinely calm, soothing atmosphere also is greatly enhanced by the presence of artwork as part of the wayfinding plan. Significant studies have been made over the years with positive evidence highlighting artwork's advantageous role in healing. Viewing calming images of nature specifically targets the threat of stress. Landscapes, for example, are a great choice, and are proven to provide positive distraction.
With artwork, a hospital can involve the community in an exciting way by engaging local artists. A local gallery curator can help link healthcare leaders with the local art culture and send out a call for submissions. By also inviting staff members who dabble in photography or art to also submit a human resource aspect is also integrated. Artists are then selected and commissioned to create pieces specifically for the space. Often the building is a neutral palette, allowing the artwork to be the leading color highlight of the overall design. Local artists often are best equipped to capture a region's particular spirit and nuances.
A replacement hospital in rural Kansas commissioned Lawrence Group to select and specify furniture, artwork and signage. Iconic Kansan images such as sunflowers and wheat sprays were chosen to designate different departments throughout the facility. The community had such a positive reaction that the hospital was able to move toward being a single source for ancillary medical services. The hospital's goals and vision were clearly understood, which resulted in a well-coordinated facility.
For a cancer center in Illinois, several pieces by local artists were commissioned for the lobby area, family waiting and quiet room. Criteria were set for the media used and the art community was contacted to submit concepts. A committee composed of a local gallery curator, a local artists group, the design team and a center representative made the final selections. In this case, commissions were paid to the artists. The initiative helped establish a strong community connection and spur public fundraising for half of the cancer center's building fund.  
Art made from nature's elements such as water, stones and plant life also is effective in relieving stressors and relaxing patients. The calming sounds of running water in a waterfall pool and the viewing of indigenous plant life from the exterior brought indoors can be standout features. When placed at key decision points like intersections, these features help to gently spark people's memory and guide them throughout the space.
The challenges in cost, time commitment and return on investment of a hospital wayfinding plan can be overcome when creative options such as color, lighting and artwork are incorporated. Favorable patient responses to a positive wayfinding experience can impact survey scores and go a long way in helping a hospital to outshine its competition.
Parking and Access
As hospitals improve and grow, many, because of a landlocked site, are faced with a lack of parking due to limited room to expand. The result can be a wayfinding nightmare, with the distance between parking and the hospital entry stretching well beyond what is realistic for patients and visitors. Patients find it easy to get lost while navigating to the main building and, on their return, are unable to find their car in a large parking structure or lot. Language barriers, especially in urban areas, can be another challenge in communication.
A new vision of clarity can be reached by updating the existing parking infrastructure. A lighting concept in one hospital parking structure is a sustainable solution with an LED lighting system that self-adjusts based on the level of sunlight and the presence of activity. Color blocking on each floor of a parking structure is both helpful and bright. Auditory cues in the elevator announce the color of each floor.
A solution for language barriers is to integrate signage and wayfinding elements throughout parking areas. Multiple languages on touch screen signs can be used, as well as having translators posted at various areas. Along with a shuttle service from parking lot to main entrance to alleviate long distances, volunteer navigators, escorts and greeters can extend a hand in leading patients to the next destination and put a friendlier, human face on the hospital experience.
Julie Steffens is a senior associate for Lawrence Group's healthcare studio with over 15 years of experience. Her responsibilities include developing and implementing interior design master plans with comprehensive furniture and finish standard programs.