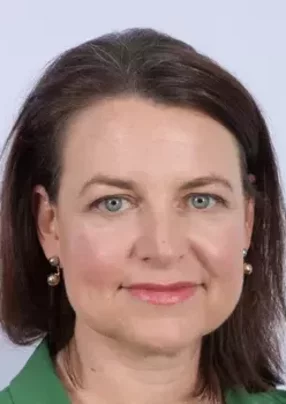 Rebecca Cortiula
Senior Managing Director for Australasia, Varian Medical Systems
Having recently been acquired by Siemens Healthineers, MD Rebecca Cortiula explains how she's bringing Varian forward in Australasia
Global oncology company Varian, now a Siemens Healthineers company, is dedicated to creating a 'world without the fear of cancer'. Headquartered in Palo Alto California, USA, it has 10,000 employees globally.
Rebecca Cortiula is the Senior Managing Director for Varian Australasia, based in Sydney. She is responsible for improving access to radiation therapy for cancer patients in Australia and New Zealand.
"Some of the big changes I've seen are in automation and the reduction in manual and repetitive tasks within hospitals," says Rebecca. "I used to work in the laboratory system. The industry has moved from people in lab coats manually running tests to machines that can run multiple tasks within one system."
Patients are also more engaged in their healthcare today. Access to large amounts of healthcare information means they can take a more active role.
"We're ensuring that patient feedback is central to decisions around care," explains Rebecca. "There is a multi-disciplinary component to that, where physicians with different areas of expertise have to come in. They make decisions on the best treatment options for a patient, taking patient preferences into account along the way."
Building a world where cancer doesn't hold the fear it does today
Remaining agile in such an environment is vital, so Rebecca is always looking to learn from new ideas and approaches. She undertook years of study prior to entering the workforce, first studying biochemical science at The University of Technology Sydney. Now Rebecca is studying a Master's degree in Health Economics.
"My kids think I'm way too old to be at uni," laughs Rebecca. "Continued learning and continuing to add value to the business and to customers – that is what motivates me. We are very fortunate in Australia that we're able to access continued education. The landscape in healthcare is changing and a growth mindset is a major competitive advantage."
"It helps you be comfortable taking personal risks and striving for higher stretch goals. That generally leads to higher motivation and development, which means lower stress, lower anxiety, lower chances of depression and a higher performance overall. It helps you come up with new ideas and novel solutions for patient care."
By 2050, some experts think it will be possible to make cancer a manageable disease, similar to diabetes. "A cancer diagnosis will no longer hold the fear it does today - both for the patient and for their families. There's a lot of emerging treatments that have the potential to deliver better treatment outcomes and improve both the convenience and the quality of life for cancer patients.
"It requires a multidisciplinary approach: radiation therapy, surgery, pharmaceuticals, in-hospital care, outside of hospital care. That continuation of care is really important for the patients and relies on the whole healthcare ecosystem working together and understanding where we fit into that continuum of care for the patient."
So, what does the future hold for the combined businesses? "Varian's approach is still centered around intelligent cancer care and driving progress for cancer care for the next 30 years and beyond," says Rebecca. "I see us accelerating our use of software automated processes and helping oncology professionals collaborate and develop more precise and holistic cancer treatments. We'll see greater cooperation between research institutions oncology practices. Multi-disciplinary teams working together with a whole of care approach, so that no matter where the patient is located, they can get access to the best possible quality care. "
Concentrating on continuing to reduce future morbidity and mortality, and really giving people healthy life years, remains our key strategic focus.