AI-based BP monitor "more accurate than traditional devices"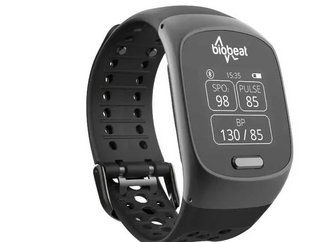 Biobeat's cuffless blood pressure monitor showed more reliable results during clinical trial...
A clinical trial has found that a cuffless blood pressure monitor has a higher rate of accuracy than conventional monitoring devices used by doctors. 
Biobeat, a manufacturer of wearable healthcare tech, has created a wireless, cuffless device suitable for use outside of the doctor's office that uses a type of monitoring called PPG (photoplethysmography-based monitoring). 
When measured against a standard cuff-based monitor, the cuffless device detected changes in blood pressure more accurately over time, for patients with both normal and high blood pressure, and not only when the blood pressure was stable.
The study involved measurements from 1,057 candidates, with 491 receiving a second measurement after a short five minutes of strenuous walking. The candidates averaged 66 years of age, had an average BMI of normal to high (mildly overweight), and 9.1 per cent were previously diagnosed with hypertension.
The trial's results showed that the mean value of the differences in systolic and diastolic measurements for all subjects was less than 5.0 mmHg. In the findings published in Nature.com, researchers said the readings "indicate that Biobeat's novel PPG-based device can accurately and reliably detect and follow changes in blood pressure over time for patients with both normal and high blood pressure, and not only when the blood pressure is stable."
Researchers also said there are known discrepancies between measurements taken at home and those taken at the doctor's practice, such as "white coat hypertension", when a person becomes anxious at having their blood pressure taken which causes an abnormally high reading. For this reason expanding the use of home blood pressure monitoring is important.
"Patients with hypertension require a holistic approach to care, necessitating frequent home-based and ambulatory blood pressure monitoring to provide consistent and accurate patient readings" said Prof. Arik Eisenkraft, Chief Medical Officer of Biobeat. 
"The findings from this study demonstrate the accuracy and reliability of Biobeat's PPG-based device for home and ambulatory measurements. Additionally, the cuffless PPG-based monitor is a viable option for out-of-office blood pressure monitoring, even in challenging clinical settings, allowing for replacement of cumbersome cuff-based automatic blood pressure monitoring devices."
The device has been designed so that it can be easily used on a day-to-day basis. "This study proves the efficacy of our PPG-based device, which is also simpler to place and use than traditional cuff-based devices" said Arik Ben Ishay, CEO of Biobeat. 
"As a wearable device, the design also improves patient compliance without disrupting daily routines. These findings represent an evolution within the healthcare continuum, sparking a change in the way blood pressure will be monitored in the near future, in pre-hospital and in-hospital settings, as well as long-term home care scenarios."
Biobeat's other products include a disposable short-term chest-monitor that uses AI to monitor blood pressure, pulse, temperature and cardiac output. Aggregated patient health data is viewed by medical staff via Biobeat's secure HIPPA and GDPR compliant cloud-based patient management platform. This uses algorithms to provide alerts on patient health status and potential deterioration. 
The company's wearable devices are already being sold in more than 20 countries, including the US, Germany, France, Belgium and Italy, where hospitals and pharma companies are using them and providing them to their patients.