GlaxoSmithKline joins forces with F1 group McLaren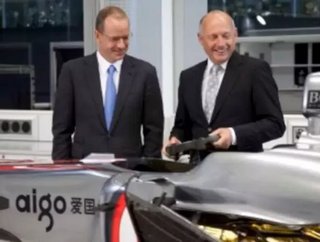 The global drug company GlaxoSmithKline (GSK) has today announced its newly agreed partnership with the F1 racing group, McLaren. The long term strateg...
The global drug company GlaxoSmithKline (GSK) has today announced its newly agreed partnership with the F1 racing group, McLaren.
The long term strategic partnership will initially run until 2016 and will see McLaren share its extensive knowledge of innovation and high-tech research with GSK, which has been developed through years of working in the Formula One racing industry.
McLaren will also help to deliver a high class and efficient performance across the global GSK brand, particularly in its Manufacturing, Research and Development and Consumer Healthcare departments, using its aptitude in the areas of engineering, strategy modelling and analytics.
To read the latest edition of Healthcare Global, click here
GSK will be working specifically with the McLaren unit responsible for Grand Prix decision making and analysis of the team's performance, otherwise known as 'Mission Control'.  
The two companies will also come together to build a brand new facility which focuses on developing engineering skills and processes within the UK workforce.
Due to open in 2013, the McLaren GSK Centre for Applied Performance will be situated at the Group's Woking headquarters in the UK.
Employees from both GlaxoSmithKline and McLaren will be able to use the Centre to work together on projects and pool resources and their individual knowledge of the healthcare and racing industries.
The CEO of GSK, Andrew Witty, said of the collaboration: "I am delighted to announce this partnership with McLaren which brings together two British companies whose continued success hinges on the ability to innovate and rapidly respond to change and competitor activity. 
"McLaren has an unparalleled reputation for innovation built on rigorous analytics and fast decision making. 
"This partnership is another example of GSK looking outside its sector for inspiration and fresh perspectives on how we can achieve our strategic goals in an ever more challenging and fast changing business environment," he added.
Meanwhile, the Executive Chairman of the McLaren Group and McLaren Automotive, Ron Dennis, commented: "This all-new collaboration between McLaren Group and GSK – McLaren's first ever such association with a major pharmaceutical corporation – represents a strategic partnership that engages two great British companies at a variety of levels across a number of disciplines in a multi-faceted and ground-breaking way. 
"Specifically, our intention is that GSK will harness McLaren's world-beating Formula One-bred technology, processes and operational dynamism, in order to enhance its performance across a wide variety of its divisions in a way that none of its competitors can match. 
He added: "In today's challenging economic conditions, we firmly believe that innovative associations such as ours will play an increasingly significant role in ensuring that the UK remains globally competitive in the field of scientific innovation."