Latest investments: Wingcopter, AstraZeneca, LTI & more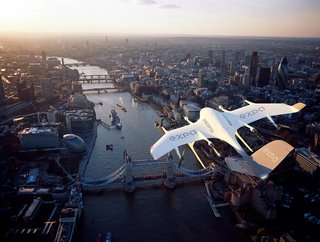 Our regular round-up of the latest investments, acquisitions and partnerships in healthcare
Wingcopter receives investment from Uber co-founder's accelerator
German drone technology company Wingcopter is to receive backing from Expa - a global network of startup founders supporting entrepreneurs, founded by Garrett Camp, who established Uber in 2009. 
Wingcopter develops and manufactures autonomous delivery drones, as well as operating a drone-delivery-as-a-service infrastructure.  In healthcare, the drones are being deployed to deliver vital blood transfusion supplies and COVID-19 vaccines in different parts of the world. 
"Just how Uber revolutionised the way people get from point A to point B, Wingcopter is providing that same level of innovation to the transport of goods including urgently needed medicine and medical supplies, groceries, or freshly prepared food, and even has the power to automate e-commerce" Camp said. 
 "Given the team's track record and impressive technology stack, Wingcopter will have a deep impact on supply chain transformation, logistics and on-demand delivery" he added. 
AstraZeneca acquires Caelum Biosciences
AstraZeneca has acquired Caelum Biosciences, producers of treatments for AL Amyloidosis, a rare, life-threatening disease thought to affect around around 20,000 people in the US and Europe.
The biotech firm are behind CAEL-101, a drug candidate that could potentially treat the condition by improving the heart and kidney function in patients. 
AstraZeneca's Alexion group has acquired the remaining equity in Caelum Biosciences, having first entered into a collaboration with them in 2019.   At the time Alexion Pharmaceuticals acquired a minority equity interest and an exclusive option to acquire the remaining equity in Caelum. Earlier this year AstraZeneca bought Alexion, and a new group focusing on rare diseases called Alexion, AstraZeneca Rare Disease was formed. 
Marc Dunoyer, Chief Executive Officer at Alexion, said: "With a median survival time of less than 18 months following diagnosis, there is an urgent need for new treatments for this devastating disease. CAEL-101 has the potential to be the first therapy to target and remove amyloid deposits from organ tissues, improve organ function, and, ultimately, lead to longer lives for these patients."
Lifebit raises $60m to expand
British precision medicine software company Lifebit Biotech has raised $60 million in a Series B funding round. 
Lifebit builds enterprise data platforms for organisations with complex and sensitive biomedical datasets.  Through the use of AI and other solutions the company's software makes biomedical data findable and actionable. 
The Series B funding round, led by  investment firm Tiger Global, will be used to further Lifebit's expansion and grow its team. 
Dr. Maria Chatzou Dunford, Lifebit CEO and former bioinformatics researcher, commented on the investment: "We believe all biomedical data that can be used to save lives, should be used. People are dying because of how this data is being handled, and making distributed highly-sensitive biomedical data usable while keeping it secure in-place and combining it with other data has never been possible. Until now. 
"It's great to see how excited our investors are to support our mission and our first-of-its-kind transformative technology. With this new strategic backing, we will continue to expand our global presence, with a specific focus on customer success and accelerating the growth of our team."  
LTI partners with eClinicalHealth
Global tech consultancy LTI has announced a strategic partnership with Scottish clinical trial experts eClinicalHealth to help decentralise clinical trials. 
eClinicalHealth have developed the cloud-based Clinpal patient engagement platform for clinical trials.  This new partnership will  see LTI help deploy this platform, leveraging analytics and AI to enhance patient engagement and enable faster clinical studies.
Archana Ramanakumar, EVP & Global Delivery Head for Life Sciences, Media, Consumer & Technology at LTI said: "At LTI, we are on a journey to drive digital transformation for various aspects of clinical trials. Our endeavour with the eClinicalHealth partnership is to accelerate and streamline the enablement of decentralised trials, to reduce patient burden and drive acceleration of clinical trials."