The lowdown on cuffless blood pressure monitoring technology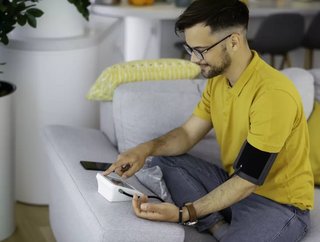 Valencell President and Co-founder Dr. Steven LeBoeuf assesses the pros and cons of various cuffless blood pressure monitoring technologies
Hypertension has been dubbed the "silent killer", because it has no obvious symptoms, leaving many  people unaware that they are at risk before it's too late. According to the WHO, over one billion people around the world have high blood pressure. In the US alone, it was the primary cause of death for more than 494,873 people in 2018. 
Dr. Steven LeBoeuf believes that new advancements in emerging technology such as smart watches, arm bands, earbuds and even hearing aids will substantially improve health outcomes. 
"These devices will soon enable users to track their blood pressure daily, seamlessly and painlessly, enabling early diagnosis, intervention, continuous health management, and hence better health outcomes at substantially lower costs" he says. 
We take a look at the strengths and weaknesses of the main methods used today. 
Pulse transit time/pulse arrival time
Pulse transit time refers to the time it takes a pulse wave to travel between two arterial sites. The speed at which this arterial pressure wave travels is directly proportional to blood pressure. It requires two sensors, typically ECG and PPG sensors, either contained within a single device or across multiple devices. The Apple Watch is an example of this. 
Strengths
This is the most common cuffless blood pressure approach
It's heavily researched
Some devices are FDA approved  
Weaknesses
Requires two spaced-apart sensors
Requires frequent calibration
It's extremely sensitive to motion
Non-autonomous  and  non-ambulatory
PPG sensors
This method uses optical and inertial sensors to detect blood flow patterns and dynamics. These sensors are widely used in hundreds of millions of wearable devices today. Valencell's device is a PPG blood pressure monitor.  
Strengths
There's a variety of forms and sizes, so it can be worn on almost any body location. With only one sensor, it also has high wearability. 
Can be calibration-free
Reasonable motion tolerance
It's robust to diverse environments
Autonomous and enables ambulatory monitoring
Supported by years of R&D
Weaknesses
Some development is still required
Not yet FDA approved
There is minimal published research to prove it is effective across populations
Radio frequency
This touch-free device uses radio waves to measure mechanical motion and electromagnetic signals from the body's organs, as well as blood flow. Engineers at Cornell University are behind some of this technology. 
Strengths
Low power consumption
Does not require direct contact with the skin or body 
Weaknesses
There is minimal published research showing efficacy across populations
It's extremely sensitive to motion
Difficult to integrate into wearables
Pressure sensors
This type of contactless, wearable monitor uses a combination of pressure sensors and optical sensors to measure blood flow and blood pressure, like those produced by Merit Sensor. 
Strengths
Well established science 
Potential for integration in multiple device types including smart phones
Weaknesses
This can only be used for spot checks, as it doesn't allow for continuous monitoring
It's not motion tolerant and is generally limited to reading from fingertip
Imaging
Using imaging technologies such as transdermal optical imaging, the blood pressure is measured by detecting blood flow information via a smartphone camera. These can also detect blood pressure through minor skin colour changes. 
Strengths
Contactless
Can be calibration-free
Weaknesses
Limited to specific environments
Extremely sensitive to motion and lighting
It's non-wearable
Non-autonomous and non-ambulatory
Substantial development is still required for commercialisation
Cuffless monitoring
Cuffless blood pressure monitoring is widely used across consumer, medical and other market segments. For consumer markets, these appeal as they offer blood pressure monitoring with multiple other measurements. 
The medical market is implementing cuffless monitoring to augment BP cuff readings as a replacement for blood pressure cuff or arterial lines in operating rooms, to reduce invasive surgeries. Wearables in combination with digital therapeutics to manage chronic conditions such as hypertension is an additional solution. 
LeBoeuf  says the next five years will have a bigger impact on hypertension management than the last 100 years across multiple dimensions, specifically the impact from a technology development perspective. It will also have a bigger impact on total lives saved, in terms of medical costs per % of GDP.