Saudi hospital to open with new medication dispensing tech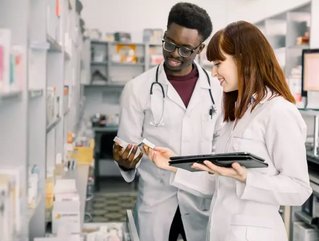 New digital services at hospital will support Saudi's healthcare infrastructure transformation...
Omnicell, a US-based pharmacy and medication management solutions company, has partnered with the Imam Abdulrahman Bin Faisal University Hospital in Eastern Province, Saudi Arabia. The company will manage a pharmacy automation system for inpatients, allowing pharmacists to schedule medication dispensing. 
The new partnership supports the hospital's digital transformation, as part of Saudi Arabia's Vision 2030 to reduce the Kingdom's dependence on oil and diversify the economy, which will see the digitisation of many services. 
Iman Abdulrahman Bin Faisal University Hospital is a new 500-bed education healthcare facility set to open in early 2021. As part of its strategy to set new standards in healthcare services, the hospital will deploy several of Omnicell's automation solutions. These include automated dispensing cabinets and a controlled substance dispenser to increase the safety of medication management, including controlled and high value medicines. 
There will also be an anaesthesia workstation, which will enable anaesthetists to have instant access to medication while in the operating room. 
Omnicell will also provide software, such as Anywhere RN, a mobile medication station through which nurses can remotely access medication, and a Unity Platform, a comprehensive inventory system to manage the supply and dispensing of medication via a single shared database. 
As well as supporting the work of pharmacists, it is hoped these solutions will reduce the burden on other healthcare teams, by ensuring they provide the correct medication at the right times, in the right dosage. 
"With the dynamic advances in pharmacy practice, and with the shift in focus to patient-centred care, automation has become integral in the workplace as it will spare more time for pharmacists to spend on counselling and other patient services" explained Dr Abdul Salam Al-Asseri, associate professor and chief of pharmaceutical care services at the hospital. 
"It is always my priority to ensure optimum patient outcomes in an efficient manner. As such partnering with Omnicell will provide a large scale of automated solutions which can help our pharmacists to focus more on patient care and to be deeply involved with the clinicians on the floor. My administration and I look forward to investing in this partnership as the hospital prepares to open its doors for the first time early next year."
This isn't Omnicell's first foray into the Middle East, as they've been providing technology to healthcare providers in the region for 17 years, including King Faisal Specialist Hospital and National Guard Health Affairs in the Kingdom of Saudi Arabia, and the Dubai Health Authority. 
Omnicell will begin to implement its systems at Iman Abdulrahman Bin Faisal University Hospital over the next few months, supported by a programme of staff training, ready for the hospital's opening in early 2021.
"Our solutions significantly reduce the potential for errors and minimise the administrative burden on healthcare professionals, freeing them up to spend more time on face-to-face patient care" said Ivor Matthews, Omnicell Sales Director International – Indirect Markets. "Both Omnicell and our partner Gulf Medical are thrilled to join forces with Imam Abdulrahman Bin Faisal University Hospital and support its commitment to healthcare digitisation, as set out in the Kingdom of Saudi Arabia's Vision 2030."