Wearable device could treat chronic migraine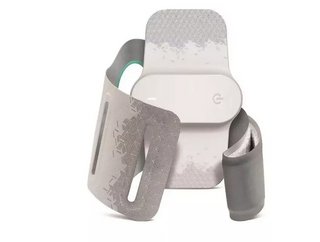 Nerivio® was named one of TIME's best inventions for 2019...
Theranica, a a digital therapeutics company that develops products for migraines and other pain conditions has developed Nerivio® to treat acute chronic migraines in people aged 18 years and over. 
Controlled by a smartphone app, the device uses Remote Electrical Neuromodulation (REN) to activate a mechanism in the brain that can treat pain and accompanying migraine symptoms. Nerivio is one of TIME magazine's best inventions of 2019.  
According to the Migraine Research Foundation, more than 4 million adults in the US experience chronic migraines , with at least 15 migraine days per month. While most medication for migraines has limited monthly usage before it stops being effective, Nerivio has been shown in clinical trials to be effective without risks of medication overuse. As a result it's received clearance from the US Food and Drug Administration (FDA) for this expanded treatment indication. 
Prof. Stephen Silberstein MD, the director of the Headache Center at the Jefferson University Hospital in Philadelphia and a member of Theranica's Medical Advisory Board explains: "The updated Nerivio indication is an important development for patients with chronic migraine". 
"When chronic patients find an effective treatment, they must limit its use every month to avoid loss of effectiveness and a risk of medication overuse headache. Availability of an additional treatment option such as Nerivio provides an important additional tool to address this patient population."
He added: "With over one thousand treatments by 130 chronic migraine patients across two open-label studies with Nerivio, the data is clinically relevant."
Nancy Harris Bonk, a migraine patient advocate and Chief Operating Officer of Chronic Migraine Awareness, Inc, commented: "It is so important for people living with chronic migraine to now have access to this effective non-pharmacological therapy."
"With migraine attacks occurring so frequently, we, people with chronic migraine, need to be mindful of overusing medications, and identify the right individual balance of therapies that allows us to carry on with our daily routines."
Nerivio can currently be obtained by prescription and is delivered directly to patients' homes. Each Nerivio is good for 12 treatments, after which it can be recycled, and the prescription refilled with a new dispensed device.