Wearable device uses radio frequency for Covid tracking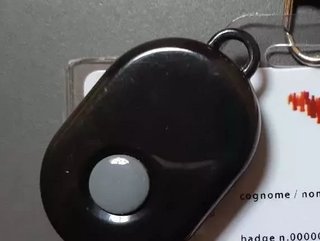 The Italian-produced wearable device saves info when social distancing hasn't been respected, to effectively track Covid cases...
Italian IT and communications firm Partitalia usually produces smart cards, RFID (radio frequency identification) tags and other forms of identity tags for a number of European firms, but earlier this year it started creating devices that track social distancing in response to Covid-19. 
The "Close-to-me" wearable devices are small and unobtrusive, designed to be worn around the wrist or the neck all day long without becoming uncomfortable.  
They devices track the wearers' movements by creating a 'radio bubble' around the person based on radio frequency technology. When a distance of one and a half metres isn't respected, it emits a non-invasive, acoustic sound and vibration. 
An alternative product using software is available for remote monitoring. By installing a gateway it is possible to download the entire history of each device it has come into contact with, if the distance has been less than one and a half metres. 
S.I.BE.G. srl, one of Coca Cola's bottling companies, purchased 550 of the devices to track social distancing between employees at its plants in Catania, Sicily, and Tirana, capital of Albania. 
"In March, at the peak of the Covid-19 emergency, the company set up a task force to define and implement appropriate safety measures, including the indispensable adoption of a system that would help us observe social distancing rules" explains Gaetano Russo, S.I.BE.G. srl Procurement Manager. 
"We needed a simple but effective device, something that would remind employees and everyone present in the plant to keep a distance of one and a half to two metres from each other. We needed something that was light to wear, an acoustically non-invasive device, but that performed this function. 
"Above all, we also needed software that could rapidly provide reports about contact between devices, to be able to reconstruct the history of the contacts in case of a confirmed case of Covid-19." 
They found that Partitalia's wearables met this criteria, with the added bonus of having a lower cost than many of its competitors. 
S.I.BE.G. bought the devices for their Tirana and Catania plants; the latter houses their headquarters with offices and production plant. Between 30 and 100 trucks of soft drinks are sent out from here every day to more than 30,000 sales points throughout Sicily. 
"We bought a total of 300 "Close-to-me" devices for the Catania plant and around 250 for Albania" Russo says. "At present at S.I.BE.G. Catania we used 200 for our employees, each of which is connected to a personal device that they bring with them to work, switching it on at the start of the shift and switching it off when they leave at the end of the shift. The other 100 are used for visitors entering the plant." 
Alfredo Salvatore, CEO of Sensor ID, the engineering company that designed the technology for Partitalia, described the product as key to keeping businesses open: "Close-to-me can be personalised and purchased either as a wristband or key-ring: it is non-invasive, designed above all to simplify procedures involved in re-opening businesses and can be implemented easily and rapidly."