Procurement & Supply Chain
Businessfriend Gives Social Media A Boost In Healthcare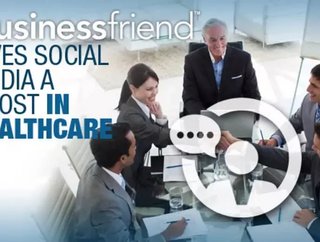 Written by Jamie Robinson Read This Article In the April Edition Of Healthcare Global The advent of social media has been compared to the popularizatio...
Written by Jamie Robinson
Read This Article In the April Edition Of Healthcare Global
The advent of social media has been compared to the popularization of the printing press, invented by Johannes Gutenberg more than 500 years ago. Both have forever changed the way we communicate, learn, educate, inform and interact with one another on a global scale, paradigm-shifting the processing of knowledge. Both revolutionary in their impact at the time, the printing press could only disperse information while social media supports and relies upon human interaction. Personally and professionally, social media allows humans to affect the database of knowledge: to challenge it, contribute to it, question it, popularize it and connect with it, building relationships through it.
The just-launched social and professional site Businessfriend is focused on our role as communicators – striving to enhance how we work and live today. Businessfriend is a fluid, all-inclusive channel that provides individuals with the tools to interact with people across the full spectrum of relationships – personal, professional and in between.
Healthcare & Businessfriend
Businessfriend connects professionals to their contacts via tools that centralize information. A side drawer on the website stores each tool, including the Bf Inbox (which can link to personal and professional e-mail accounts), Bf Cloud (a doc manager supporting more than 100 file types), Bf Calendar (to correlate business and personal appointments), a Digidex of contacts, note-taking application and video-conference ability.
For healthcare professionals, Businessfriend is an important tool that helps connect and centralize the often-blended personal and professional moving pieces in their lives. Utilizing inner and outer "circles," the site allows sharing in a controlled environment. Users can share more personal posts with an inner circle of friends, or share more professional information with a larger group of contacts.
"Those in the healthcare industry can connect with vendors, patients and peers to utilize the tools, save information for both patient and doctor, and keep communication open with partners and suppliers in a one-stop shop," says Businessfriend Marketing Manager Philip Diehl.
In a patient-professional relationship, of course, privacy is paramount in the healthcare sector. Businessfriend doesn't strive to replace confidential Electronic Medical Records or release private information, but the site can help with scheduling, reminders, questions and general information.
Additionally, the spirit of Businessfriend focuses on connecting the work and social life of each individual – to the extent that they choose. Through Businessfriend, a healthcare facility's employees can connect with colleagues, people within their fields and even clients in a controlled environment. This personalization and humanization of the professional online presence leads to the overall humanization of an employee's workplace.
For healthcare facility executives, Businessfriend organizes events, meetings, shared information and articles, and encourages collaboration between intra- and inter-office colleagues. Additionally, healthcare supply chain executives are able to utilize the website's calendar, doc sharing and more to set up vendor relationships, explore new products through company profiles and keep up with trends at similar facilities globally.
Taking Care Of BUSI
"Businessfriend allows you to engage with other platforms at the same time you engage with ours," says Businessfriend Communications Director Rhonda Marable. "We aren't asking users to 'switch' to Businessfriend and abandon other networks, but to acknowledge its value. It's unique in its functionality, with its unique utility drawers and multitasking in a way that no other site does."
Marable says, "productivity is the focus." The site has adopted the term BUSI to describe its functionality as Business Utility/Social Identity. Users and companies who want to expand their presence and connectivity on Businessfriend can purchase customized tools that facilitate marketing, hiring and more.
Currently, Businessfriend is working on building its reach through professional events and partnering with foreign businesses to expand its global presence. For the healthcare field, a global business utility means professionals can network with their suppliers, vendors, customers, partners and more through one site, anywhere in the world, all from one location.
The Network Of Social Networks
Businessfriend is building a correlative and complementary relationship with social media behemoths LinkedIn, Facebook and Twitter, says Marable.
"Every platform and certainly a business' own website can provide value," she says. "We are looking to enhance each social and professional opportunity for individuals to engage them and encourage them to engage with one another."
The diversity and infinite idea of the Internet as a tool is a mind-boggling concept, and this new site is looking to help each person create a unique, personalized presence with the ability to connect, to change, to inspire and create with others in Businessfriend's space. As described by Mashable Founder Pete Cashmore, connecting on our increasingly global, fast-paced world as a professional is a must.
"Those who insert themselves into as many channels as possible look set to capture the most value," Cashmore says. "They'll be the richest, the most successful, the most connected, capable and influential among us. We're all publishers now, and the more we publish, the more valuable connections we'll make."