Procurement & Supply Chain
Fabrice Muamba highlights a risk for all footballers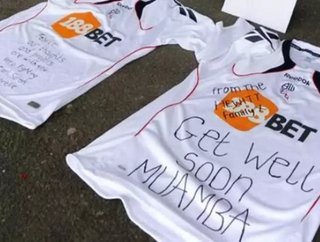 WrittenbyMatthew Staff Following the troubling scenes witnessed at White Hart Lane on Saturday, Fabrice Muambas ongoing fight for his life has unearthe...
Written by Matthew Staff
Following the troubling scenes witnessed at White Hart Lane on Saturday, Fabrice Muamba's ongoing fight for his life has unearthed a surprisingly common underlying issue.
Hypertrophic Cardiomyopathy (HCM), or Hocum as it's sometimes known, is a condition that is brought upon by continuous, strenuous exercise, making footballers and other athletes far more susceptible than the average man on the street.
Muamba's young age and seemingly athletic physique was strangely what caused his dramatic collapse in front of more than 30,000 spectators, and millions of armchair viewers worldwide, and he's not the first to have fallen to this concerning condition.
It has been revealed that in the past century, over 80 footballers have suffered the same fate at the hands of Hocum, including high profile footballers such as Marc Vivien Foe and Phil O'Donnell in the past decade.
+MORE HEALTHCARE GLOBAL
Sports physicians have stated that while only 0.2 percent of the general population are at risk from the disease, the cardiac arrests that have been seen in the 80 cases were a direct result of their occupation, bringing about a more comprehensive new system to try and prevent future incidents of this kind.
The screening of footballers' hearts is a new process that was first implemented in Italy, following the high profile deaths of Foe and O'Donnell, and this trend is set to spread much more rapidly over the coming months.
The scans will be looking to catch early signs of HCM, by looking at the shape and structure of the muscle in each individual, as it is this vital aspect that athletic males under the age of 30 are thought to be safe from, therefore left unnoticed.
The intense training and physical exertion that goes into being a professional sportsman means that their average heart muscles are thicker and put under more stress than a normal person's. However, in rare cases, the muscle can become so enflamed that the blood struggles to flow to the muscle, causing a cardiac arrest.
The symptoms of hocum are comparable to heart conditions usually found in an unhealthy person over the age of 80, making the process of high octane sporting activity extremely dangerous for the unlucky few, while the nature of the hard-to-detect illness often results in a sudden death.
Muamba currently remains critically ill in intensive care but is said to be stable, and there are still high hopes that the 23-year-old will recover, despite allegedly being without oxygen for up to two hours.
It is this severity of HCM that will no doubt force a huge increase in measures taken to protect young athletes in the future.