Procurement & Supply Chain
Pushing the agenda on sustainability in the medical industry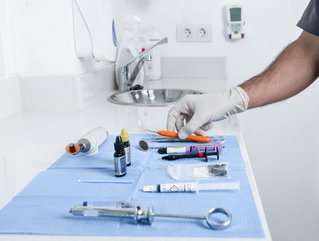 Tone Product Design co-founder Matthew Durbin looks at the difficulties the medical sector faces when it comes to sustainability
Our understanding of the impact the healthcare sector has on people's wellbeing, and its contribution to damaging and degrading the environment, has grown dramatically in recent years. According to a 2019 report by environment engineers Arup, called Healthcare's Climate Footprint, the sector is responsible for 4.4% of the globe's carbon emissions. And as early as 2008, NHS England identified equipment (medical and non-medical) as one of the key contributors to the carbon footprint of the UK healthcare system.
Many healthcare organisations around the world have started to act, and there's been a concerted push to improve material choices and design, to facilitate recycling and reuse, and to get closer to net zero.
But in a highly controlled and safety-conscious industry, reusing, recycling and disposing of medical devices is far from straightforward. For obvious reasons, patient safety and reducing the risks of healthcare-associated infection often trump environmental concerns. But it is possible to go back to the drawing board and come up with viable solutions that tick more boxes.
It is encouraging to see institutions such as The Royal College of Physicians recommend procurement of environmentally considerate products that maintain quality, safety and usability. They warn against selecting the cheapest short-term option, but instead recommend identifying and considering the 'whole lifecycle costs and environmental impacts' of a purchase, advising that the NHS should 'leverage its aggregated purchasing power' to positively influence the industry.
But, as medical device design has advanced, so too has it become more difficult to reprocess the materials used. And as requirements around cleaning, sterilising and disinfecting have become more complex and protracted, it's often seen as easier and more cost effective to simply throw the item away. As a result, we're seeing more single-use products come onto the market.
Why usability and sustainability sometimes clash
Small, portable electronic and electro-mechanical devices have seen huge improvements throughout the healthcare sector when it comes to efficacy and usability. Eliminating opportunity for error or misuse, for example, often involves cutting down on operational steps, which ups device complexity – posing more problems for the recycling potential of such items. Separating materials for recycling can be difficult, and if medical devices come into contact with potentially infectious waste and have to be incinerated or disinfected prior to disposal in a landfill site, recycling is all but impossible.
Designing for better disposal opportunities
Product designers need to be especially mindful when it comes to the reducing, reusing, processing, remanufacture, recycling, recovery and disposal of materials.
Such strategies may include designing for separation, waste management and recycling. Or designing for reuse and durability. But all these considerations need to be weighed up against the level of risk to the patient and the healthcare professional.
Considering the full lifecycle of medical equipment
Designers can use established tools, such as lifecycle analysis (LCA) of existing products to review their current environmental impact and target high-impact changes. Looking at materials, manufacturing techniques, packaging, distribution, use and disposal in a holistic fashion enables incremental gains to be made, which can significantly change a device's sustainability credentials. The LCA route enables us to get a clear understanding of the product's lifelong impact and compare the environmental effect, considering factors like material selection. It's by looking at every step, every seemingly minor detail across the whole supply chain that, when added up, the greatest impact is made.
Designing for reprocessing medical equipment
For medical devices, human factors engineering is a mandatory part of the approvals process, but it's often overlooked when it comes to end of product life – and more designers are now pushing for change in this area.
The correct design strategy for minimising medical device waste is somewhat dependant on product value. Lower-value products looking to reduce, recycle and dispose can design for separation, waste management and recycling, for example. For higher-value products there's an opportunity to develop with reprocessing and durability in mind or to take a hybrid route.
Hybrid design, where reusable components are coupled with disposable elements, provides the ability to reuse parts of the device – this is especially useful when considering devices where the largest component doesn't come in contact with biological mechanisms and is reusable without the need for disinfection. As designers, we need to consider the total life-cycle of these products, minimise non-renewable materials and consider alternative approaches.
For example, we recently designed a wearable drug delivery device where the disposable element didn't have any electronic components or batteries. This required a novel design solution that not only benefited the environment, but also aided the user and the business.
Right now, we're still largely in a 'take, make, waste' linear system, but by understanding the materials, and aligning with suppliers and partners that prioritise sustainability, medical device manufacturers can make a crucial difference by forming product design partnerships that meet the sustainability agenda.