Procurement & Supply Chain
The role of plastics in healthcare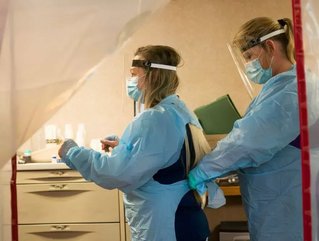 Why is plastic so vital in the healthcare sector, and can it be sustainable...
INEOS Styrolution supplies plastic resin to the healthcare sector, including areas like labware, surgical devices, medical packaging and mobile and digital health. 
Specific to COVID-19, their resins are being used in a wide range of devices like testing kits, ventilators, inhalers, and PPE such as face shields and sneeze guards. This meant that from the very beginning of the pandemic it was crucial to ensure that their supply chains remained intact so they could continue providing these vital supplies. 
"This was quite a challenge considering that most countries around the world were facing some type of quarantine or travel restrictions at varying points in 2020" explains Alexander Silvestre, their Global Healthcare Director. 
"Fortunately, through close collaboration with our customers, supporting logistics providers, and internal supply chain teams, we have been able to ensure that no medical Original Equipment Manufacturer (OEM) experienced a shortage of supply from our company in any part of the world."
It's fair to say plastics, the single-use kind in particular, are not thriving in the popularity stakes at the moment , even if the so-called war on plastic has been derailed by the pandemic. As a historically common raw material in the manufacture of medical devices and medical packaging, why is it so important to the healthcare sector? 
 "When selecting a raw material, medical device designers need to answer a number of questions" Silvestre says. "For example, does the material possess appropriate physical properties such as impact performance or heat resistance? Does it meet the aesthetic requirements of the finished part? Lastly, but most importantly, can it be safely used in the end application where it will not create any adverse effects when exposed to various drugs or fluids?"
"From blood analysis kits and petri dishes to diagnostic equipment housings and syringe bodies, plastics have successfully demonstrated their ability to meet desired physical properties and local compliance needs."
Silvestre says that most leading medical OEMs have developed sustainability strategies and goals that focus on sourcing sustainable materials while ensuring products brought to market are safe for use. "Depending on the resin, there are a number of initiatives focused on the use of recycle streams, reducing dependence on fossil fuels, an or implementing life cycle analyses" he says. 
INEOS themselves have announced a number of internal initiatives as well as 3rd party partnerships to develop sustainable product solutions. These include advanced recycling technologies that can convert polystyrene waste back into its base styrene material, so that it can be for further medical use. 
In June this year they published the initial results of their LCA (Life Cycle Assessment) studies regarding the advanced recycling of polystyrene (PS). To do this, INEOS worked with several universities and 3rd party agencies, and found that the footprint of the material produced via advanced recycling is less than that produced from traditional fossil fuels.  
Additionally within the EMEA region they are replacing part of their fossil-based raw material with a bio-based material. This is being produced using internationally accepted certification schemes and has been audited by a third-party provider. 
"The common use of plastics within the healthcare sector consistently demonstrates its high quality and valuable attributes to patient care" Silvestre adds.