5 minutes with Yoni Nevo, CEO of Sweetch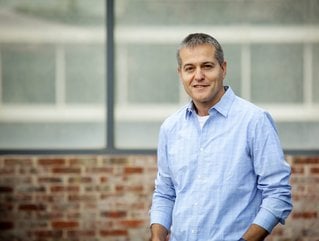 At behavioural science company Sweetch, CEO Yoni Nevo treats chronic illnesses with digital therapeutics solutions, using AI & emotional intelligence
Hi Yoni, could you please introduce yourself and your role?
"I am Yoni Nevo, CEO of Sweetch. Before joining Sweetch, I held senior positions in some of Israel's largest hi-tech companies, and later co-founded Cimagine, an augmented reality pioneer that I sold to Snapchat. Leading Snap Israel, I was proud to see our technology being used by more than one hundred million users every day. My 25 years of experience has helped shape my perspective on how technology, data and a great user experience can meet unmet needs.
"As the CEO of Sweetch, I ensure that Sweetch's precision engagement technology meets the needs of patients and healthcare companies, aiming to improve quality of life for hundreds of millions of people around the world."
Tell us about Sweetch...
"Sweetch is the first behavioural science company to leverage AI and EI (emotional intelligence) as part of our digital therapeutics solutions. We developed a proprietary engine called JITAI (just-in-time adaptive intervention) for people with chronic conditions that converts millions of data points from a user's various connected devices into fully automated, hyper-personalised recommendations.
"Sweetch is the trusted voice that engages every individual with the right message in the right tone, time, and context to achieve their micro-goals every step of their unique health journey. We enable healthcare ecosystem players like pharmaceutical companies, medical device companies, pharmacies, and healthcare providers to build continuous relationships with every patient living with a chronic condition, completely independent of human intervention. We enhance overall adherence to treatment programs to ultimately achieve better clinical outcomes and improved healthcare economics."
What have you learned about the healthcare industry since the pandemic began?
"The healthcare industry has changed drastically since the start of the COVID-19 pandemic. We have observed a distinct increase in the application of digital health solutions, especially those that are patient centric. Remote patient monitoring and digital therapeutics are becoming necessities in the COVID-19 era, decreasing congestion in hospitals and providing continuous care and communication between the patient and their healthcare providers. These innovative solutions are here to stay and will become the new normal for the medical community."
How can combining AI and EI (emotional intelligence) improve clinical outcomes for chronic disease patients?
"Outlining a health plan for patients and expecting them to actualise it on their own isn't realistic and doesn't lead to the effective treatment of chronic diseases. Managing a chronic condition is a daily journey across medication, physical activity, nutrition, sleep, stress and other treatment domains.
"According to the FDA, 30-50% of chronic disease treatment failures are caused by patient non-adherence, with the majority stopping their prescribed medication after just six months. It is very difficult for patients to feel motivated to stick to their health plans, or even simply to remember their tasks throughout their already busy days. Remote health can only be truly effective when patients comply with their health programs. To this end, human psychology and behavioural science must be combined with artificial intelligence to understand what makes every individual tick, to spur each person to action, across all their health domains, at any scale. Only prompts that are hyper-personalised by tone, time, and real-world context (mimicking humans' emotional intelligence) can effectively motivate each individual to achieve their micro-goals and long-lasting health improvements."
Sweetch was named a winner in the 2022 BIG Innovation Awards healthcare category. Tell us about how that felt?
"It was a great honour to be recognised for our innovation in healthcare and potential impact on millions of people with chronic conditions, selected alongside leaders such as Abbott, Gatorade, BAE Systems, Capgemini, Bizzabo and others. This award further reinforces our leadership position, after we were named by CB Insights on its DH150 List as one of the most promising innovators in digital health."
What do the next 12 months look like for you?
"We look forward to welcoming many more healthcare ecosystem players (pharma, medical device companies, pharmacies, providers and payers) to Sweetch so they too can engage millions of their patients and users with hyper-personalised recommendations, helping them increase adherence and achieve long-lasting improved health.
"We have some exciting product and customer developments that we will be announcing soon and, of course, are rapidly growing our talented team to continue innovating and supporting our customers, partners and patients with chronic conditions."