ABBYY's new no-code AI technology could be a gamechanger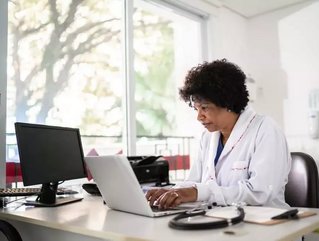 ABBYY has launched a new no-code AI platform to help healthcare organisations speed up digital transformation...
Healthcare staff are now able to build their own AI-powered robots to help them deliver care to patients, thanks to new technology from software company ABBYY. 
Vantage 2 is a new low-code/no-code AI platform that enables healthcare staff to simply pick and choose the AI tools they require to help them with revenue cycle management, medical billing systems and other administrative applications.
The platform's AI tools can read, understand and root documents, with the necessary cognitive skills for RPA robots, automation systems, chatbots, and mobile solutions. 
The company has also launched ABBYY Marketplace, the first open marketplace for people to try and purchase reusable AI skills instead of having to undergo complex IT change management. It offers a large online collection of reusable technology assets including cognitive skills to classify documents and data. These pre-trained skills can be used for preregistration, referrals, invoices and discharge summaries. 
This has the potential to be a gamechanger for healthcare organisations - as it enables users to digitise their operations without having to rely on IT departments or need advanced IT skills. 
Built on microservices and packaged into containers by open-source system Kubernetes, its cloud-first architecture and low-code/no-code interface makes it easy to adopt AI and machine learning, key technologies to digitally transform an organisation. 
Kenya Smith, Solution Marketing Manager for Healthcare at ABBYY, explains how simplifying operations is crucial to post-pandemic recovery. "Analysis shows that the impact of the pandemic on the healthcare system will be felt for many years to come. Providers must find new ways to streamline operations and become more cost-effective, which involves accelerating digitalisation through both community and hospital workflows. 
"However, healthcare leaders are reluctant to undergo expensive IT transformation projects which underlines the importance of easy-to-use low-code AI platforms to quickly improve efficiencies" she said. 
ABBYY Vantage 2 is available now to early adopter customers and partners; NICE, Pegasystems and PwC are among the customers already integrating Vantage 2 with their platforms.