AI software effective for insulin management, study finds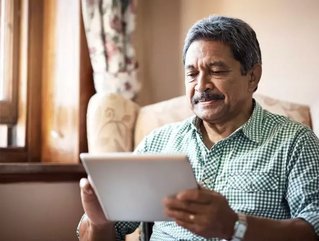 The AI programme had the same outcomes as clinician-led treatment...
Insulin treatment programs driven by artificial intelligence produce similar outcomes to treatment plans led by clinicians, a new study has found. 
The research was carried out by the NextDREAM Consortium, a group of participating clinical sites including Joslin Diabetes Center of Harvard Medical School. 
Over a period of six months, the study looked at the efficiency and safety of the DreaMed Advisor®, an automated AI-based decision-support system. This was compared to physician-guided recommendations. 
DreaMed Advisor® software provides patients with insulin management that's driven by cloud-based technology, using artificial intelligence to quickly analyse data. Software makers DreaMed Diabetes hope this could be the start of seeing AI implemented across healthcare, which they say will enable accurate analysis and free up doctors' time. 
The study concluded that glucose levels were similar in people with diabetes after 6 months of frequent insulin pump titration given at 3-week intervals, either by using DreaMed Advisor® or administered by clinicians with diabetes expertise. The levels were either around 70-180 mg/dL or in the very low range below 54 mg/dL, and no adverse severe events were reported. 
Additionally clinicians reported they were highly satisfied with the outcome, and 85% said they would like to continue using the DreaMed Advisor® as part of routine practice. 
The results were published in Nature Medicine , and is the first time the medical journal has published a clinical study that evaluates the effectiveness of artificial intelligence in medicine. 
The research points out that there are more than a million people in the United States with Type I diabetes. This figure is rising, but a growing shortage of specialists and the limitations of COVID-19 mean it's becoming harder to provide treatment reliably and safely. 
The study also says that an approach that enables people to manage their condition and frequently change their insulin treatment plan has been long sought after. Systems that can provide a virtual expert diabetes clinic, facilitating frequent insulin adjustments in a cost-effective manner, could be a solution. 
Prof. Moshe Phillip, the Director of the Institute for Endocrinology and Diabetes at Schneider Children's MC in Israel, and nextDREAM Consortium Coordinator, explained how AI could become a part of the way people with diabetes manage their condition. "This Nature Medicine publication is an important first step toward the implementation of AI-based decision-support technology as part of the standard way we manage the insulin therapy of people with diabetes" he said. 
"With the Advisor, healthcare providers will be able to use an easy and clinically effective decision-support tool that will give them more time to interact with their patients, while making regular clinic visits to the doctor more efficient. For people with diabetes, it will ultimately mean 24/7 access to personalized medical advice, a kind of 'expert diabetes physician in your pocket,' that will bring people with type 1 diabetes greater balance and an improved quality of life."