Air pollution & road accidents: the impact of e-scooters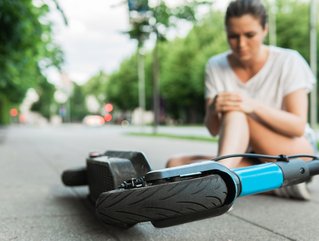 Public opinion on e-scooters is divided globally: they decrease air pollution but increase road accidents. Healthcare Digital takes a closer look
As the world races towards sustainable forms of transport, e-scooters offer a long-term solution for congested cities. They can decrease the level of air pollution and help commuters make more cost effective choices.
But since e-scooters first arrived in Santa Monica, California, in September 2017, rates of roach accidents involving the passenger, pedestrians and motorists have increased. Many in the healthcare sector are speaking out against e-scooters.
Here are the pros and cons of e-scooters and the impact on healthcare.
E-scooters provide transport for India's healthcare workers and decrease air pollution
India's healthcare workers travel across bumpy roads, winding rural pathways and noisy urban areas to see their patients - some are forced to walk.
But during the COVID-19 pandemic, the Tata Steel Foundation gifted 565 electric scooters to female healthcare workers in rural areas in order for them to complete maternal and neonatal care in rural areas across Jharkhand.
"TSF in collaboration with HSBC will give out 565 electric scooters to sahiya sathis and selected auxiliary nurse midwifery (ANMs) in three districts - West Singhbhum, East Singhbhum and Seraikela-Kharsawan - of the Kolhan region," said Sourav Roy, Tata Steel's corporate social responsibility chief. "If we get a good response, we would try to expand the project gradually, in association with National Health Mission (NHM) Jharkhand, to other blocks having problems in maternal and neonatal care."
But not all are convinced that e-cooters are a long-term solution.
"The e-scooter lobby seems to have convinced the government that e-scooters are sustainable and part of the future urban mobility solution. They are neither," said Richard Jordan, CEO at Super Soco UK and UK CEO at Green Mo UK. "Data shows that for some sharing schemes, the gCO2/km per passenger per journey was about the same as a petrol VW Golf, owing to the short lifespan and infrastructure required to keep e-scooters functioning."
In addition, as most e-scooters are manufactured in China and exported in huge freighter ferries, there is a carbon footprint behind them.
E-scooters behind an increase in road accidents
In London, the government is keen to lower the volume of air pollution, but the availability of e-scooters is causing other problems.
One hospital saw 196 patients in the emergency department, with injuries caused by an e-scooter collision across 2020.
Ash Vasireddy, a consultant orthopaedic trauma surgeon in London's Denmark Hill hospital, said he would never ride an e-scooter, despite the convenience they offer.
"Obviously e-scooters are much more prevalent now. The issue is people are travelling at a decent speed with minimal protection," explained Vasireddy. "When they come off they tend to land awkwardly and they do tend to have very severe injuries, some of which can be life-changing or life-threatening. Some can be life-changing injuries that mean people can't walk normally. I would never use an e-scooter. I'm always tempted, but I'm too worried about other road users. It's definitely a problem."
"The number of e-scooter-related accidents has predictably increased significantly in tandem with the rise in the popularity of these vehicles," continued Jordan. "Recent reports have found that the number of pedestrians injured or hit by e-scooters was four times higher in 2021 than in the previous year. Other data shows that e-scooters are 12 times more dangerous per mile than a bicycle. Private e-scooters are unregulated, non-type-approved, uninsured, and dangerous by design. If they were mopeds or motorcycles without registration plates, then the Police would rightly impound them, fine the riders and crush the vehicles."