Apple integrates US patient health records into its Health App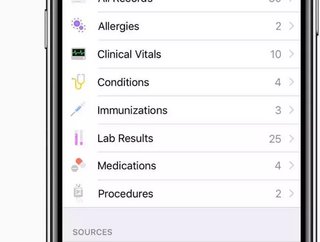 Technology giant Apple continually remains ahead of the curve – healthcare is no exception. To the delight of consumers, it has revealed its recent se...
Technology giant Apple continually remains ahead of the curve – healthcare is no exception. To the delight of consumers, it has revealed its recent service offering, where it has integrated patients' medical records into its Health App as part of the iOS 11.3 beta. The data is encrypted and protected with the user's iPhone passcode.
Collaborating with hospital providers and clinics across the US, the company has now enabled patients to see medical records from multiple providers within one core tech platform, covering allegies, conditions, immunisations, medications and more. Johns Hopkins Medicine, Cedars-Sinai, Penn Medicine, UC San Diego Health and many other participating hospitals and clinics are among the first to make this beta feature available to their patients.
Apple has also worked with the healthcare community to develop a consumer-friendly approach, creating Health Records based on FHIR (Fast Healthcare Interoperability Resources), a standard process in transferring electronic medical records.
 "Our goal is to help consumers live a better day. We've worked closely with the health community to create an experience everyone has wanted for years — to view medical records easily and securely right on your iPhone," commented Jeff Williams, Apple's Chief Operating Officer.
"By empowering customers to see their overall health, we hope to help consumers better understand their health and help them lead healthier lives."
See also
Apple's ambition to make healthcare a seamless, positive experience for consumers is slowly coming into fruition.
"Putting the patient at the center of their care by enabling them to direct and control their own health records has been a focus for us at Cedars-Sinai for some time. We are thrilled to see Apple taking the lead in this space by enabling access for consumers to their medical information on their iPhones," added Darren Dworkin, Chief Information Officer at Cedars-Sinai.
"Apple is uniquely positioned to help scale adoption because they have both a secure and trusted platform and have adopted the latest industry open standards at a time when the industry is well positioned to respond."
In the coming months, more medical facilities will connect to Health Records offering their patients access to this feature.
Those who are concerned that Apple will gain access to personal, confidential data need not fear. Williams informed CNBC that "Apple doesn't see the data unless the consumer chooses to share it," providing further advantages for the healthcare sector to collaborate with technology companies to develop digital tools in alignment with consumer demand.
This will also further encourage health providers to undertake increased data-sharing and minimise potential risks within fragmented clinical documentation, particularly when a patient moves from public to private healthcare, and vice versa.