Avenda Health's Brit Berry-Pusey uses AI for prostate cancer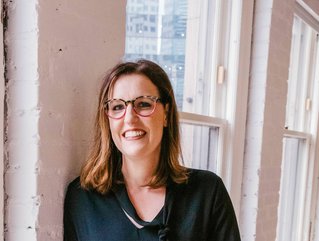 Brit Berry-Pusey
Brit Berry-Pusey is the co-founder and Chief Operating Officer of Avenda Health, which uses AI to combat prostate cancer. Here she tells us about her work
Hi Brit - please introduce yourself and your role.
"My name is Brit Berry-Pusey, PhD, co-founder and Chief Operating Officer of Avenda Health."
What led you to this industry?
"For as long as I can remember, I've always been driven to help others; working in healthcare gives you a clear path to do that. When deciding between medical school or graduate school, I had a mentor tell me that being a physician is a great choice and I could help thousands of people in such a role. But, if I became a scientist, my discoveries could potentially help millions or even billions of people, so I became a scientist.
"During graduate school, I learned that for discoveries in the lab to have an impact, it was necessary to translate those ideas to the clinic and to companies. I have spent my career helping great discoveries made in labs reach patients."
Who have you looked up to as a career role model?
"I've always found the patient to be a great role model. Whenever I have a tough decision to make, determining what is in the best interest of the patient never leads me astray. At Avenda Health, we are a patient-centric company, so we keep the patient in the centre of everything we do."
"Avenda Health is an AI healthcare company transforming the standard of care for prostate cancer treatment. Our two solutions include: iQuest and FocalPoint.
"iQuest is an AI-enabled patient management software that uses advanced machine learning to help physicians understand the extent of the disease and identify a personalised cancer margin to target for treatment.
"FocalPoint – powered by iQuest – is a tissue ablation device that can ablate the tissue identified by iQuest and leave the healthy tissue intact. FocalPoint can be used in-office with local anaesthesia, meaning little to no downtime for the patient.
"Our mission is to advance and personalise treatments to provide improved quality of life and longevity for patients with prostate cancer."
Tell us about prostate cancer treatment.
"Traditionally, localised prostate cancer is treated as a whole-gland disease – meaning that if you are diagnosed with localised prostate cancer, the entire prostate is radiated or removed. This whole-gland approach leads to urinary or sexual dysfunction in more than 50% of patients. Our goal at Avenda Health is to conduct more personalised treatments to preserve quality of life by identifying where the cancer is within the prostate and treating just the cancerous lesions and leaving the rest of the healthy prostate intact."
Prostate cancer is scary – what would your advice to men be?
"A cancer diagnosis is scary. Fortunately, the 5-year survival rate for a patient diagnosed with localised prostate cancer is greater than 99%. As a patient explores their options, it is important to understand what their priorities are. Is preserving sexual function a top priority? Is avoiding pads or diapers? Living to 100 years old? Not worrying about prostate cancer?
"Your priorities might be different than someone else's, so make sure you discuss your priorities with your physician. One's priorities can drive which treatment to seek. Don't forget: you have options."
How can AI help the healthcare industry?
"AI can help healthcare in so many ways, including by democratising care. At Avenda Health, we see a future where patients will get great care regardless of where they are treated. We are building tools using the power of AI to help physicians achieve consistently great outcomes using personalised plans tailored to the individual patient."
What does 2023 hold for you and the company?
"2023 will be an exciting year for Avenda Health. We anticipate FDA clearance and a commercial launch of our AI-software platform iQuest. In addition, we will begin enrolling patients for a large pivotal trial to show that FocalPoint powered by iQuest is a superior treatment option for localised prostate cancer compared to the standard of care."