Broadridge explores on transforming healthcare with AI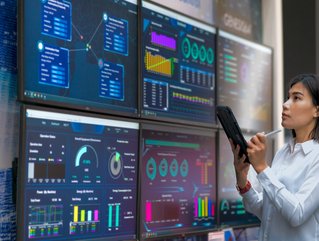 AI in healthcare
Sandy Rohrer & Joseph Lo from Fintech company Broadridge share insights on improving patient experiences with AI & how it can help patients after a visit
Broadridge is a global Fintech leader with more than 14,000 associates in 21 countries and US$5bn in revenues. The company provides the critical infrastructure that powers investing, corporate governance and communications. Broadridge focuses on delivering technology-driven solutions that drive business transformation for banks, broker-dealers, asset and wealth managers, public companies, healthcare providers and insurers.
Sandy Rohrer is the Vice President of Healthcare Product Management at Broadridge. She has more than 20 years of experience in product development and management and in her current role, Rohrer leads healthcare product and GTM efforts while utilising business and product management disciplines to increase growth expansions in the market.
Joseph Lo is the head of Enterprise Platforms at Broadridge, where he is responsible for advancing our platforms and empowering businesses to create transformative solutions that exceed customer expectations.
"For healthcare providers specifically, we help organisations digitally transform communications and create personalised experiences for patients, leading to increased engagement across the wellness journey, all the way from acquisition to renewal," explains Rohrer.
"Not only do we help healthcare organisations increase patient loyalty and market share, but we also simultaneously help reduce regulatory risks and operational costs," adds Lo.
Tell us about the role of generative AI in improving patient experience?
"Generative AI is an effective brainstorming aid and tool. For the patient experience, it simplifies and speeds up all sorts of processes – from helping patients schedule appointments to receiving treatment and managing their health information. It can even help healthcare organisations market their services to prospective patients. For instance, providers can leverage AI to better formulate advertising copy for newsletters and others forms of advertising that better reach their ideal audience, based on recommendations ChatGPT provides on those targets and what resonates with them.
"ChatGPT is tackling an astonishing range of language-based tasks without supervision. Its output isn't yet perfect, but its already helping doctors diagnose faster, as well as provide treatment recommendations to patients.
"Overall, generative AI will help save both doctors and patients time, as well as reduce errors and improve patient care, which are the core factors of the patient experience. While inherent scepticism is expected with any new technology, particularly in healthcare when it can literally be a matter of life or death, patients should be eagerly receptive on how this new wave of AI will positively impact their trips to the doctor's office," says Lo.
How do healthcare providers leverage ChatGPT and other AI platforms to support patients?
"ChatGPT, and other AI platforms, can be a wonderful aid to the healthcare field by helping providers work faster, more efficiently and even help reach diagnoses faster through pattern recognition – meaning, AI can quickly cut diagnoses that don't fit a patient's symptoms, and then narrow down a short list of possible ailments from there.
"AI is also improving customer service. As an example, I was recently appealing a health care claim with my insurer. While the call centre was unable to resolve my issue, the chat function helped me get to a faster, easier resolution. I didn't have to repeat the same information multiple times over the course of multiple phone calls. The history of interactions and information was all recorded, captured, and used for solutioning. This ultimately led to a better experience.
"The technology can also help alleviate administrative tasks so more time can be spent on creative and strategic work. For example, with this technology, healthcare providers can write their notes, and the AI can automatically summarise important information, such as suggesting next steps for care and treatments. Under a HIPAA compliant and secure environment, ChatGPT can be used by medical professionals to assimilate and pull unstructured data from patient records to better identify and understand trends through historical reference and key findings," says Rohrer.
How can AI help doctors deliver faster diagnoses with better empathy?
"ChatGPT and other generative AI models can help doctors develop more empathetic ways to convey a particular diagnosis, and also present data and actionable next steps that can help patients navigate ailments without losing hope.
"For instance, by asking ChatGPT how you can present a stage two cancer diagnosis with empathy, the AI would generate a response to lessen the shock by including statistics that paints a brighter picture; for instance, the high survival rate of the diagnosis, the percentage of patients' who see their cancer go into remission, and an action plan to fight against the disease. That instils more hope into the patient than simply saying, "You have stage two cancer," says Lo.
How can AI help patients after a healthcare visit?
"The curse of the doctor's handwriting still exists, and more often than not, patients are left struggling trying to figure out a particular prescription or post-visit next steps. Typed notes have certainly helped this issue, but doctors still revert to shorthand, often leaving patients confused.
"Generative AI can help transcribe the patient/doctor interactions into easy-to-understand notes. Going one step further, when the visit concludes, the AI can then not only synthesise notes into an easy-to-follow summary of the visit, but it can also include simple and actionable takeaways on what next steps are for the patient between visits. This go-forward plan can be something as simple as a nutrition plan to lose a few pounds, or something as extreme as a detailed plan, mapping out a patient's new journey with a set of recommended specialists for a particular ailment and the experience it will entail," says Rohrer.
Can you tell us about any of your partnerships?
"While we have various strategic partnerships in place, one great partner I can mention is GoMo Health. They are an organisation that specialises in many things – from behavioural science expertise to AI/chat capabilities and proven digital outreach techniques. When paired with our omni-channel communication solutions, our clients can deliver hyperlocal and personalised content from a centralised hub to grow their member base and generate ROI," says Rohrer.
What do the next 12 months hold for you?
"During the next 12 months, we will continue to iterate and enhance our products to best fit the market need when it comes to AI and generative technologies. We will continue to help our healthcare clients provide communications in the way that their members and patients prefer, which enables them to make better health decisions and stay better informed. We look forward to seeing how AI will improve things, like STAR ratings with better member satisfaction, reduce misinformation, and incorporate sound and compliant privacy practices. This is an exciting time for the healthcare industry, and we are ready to provide a truly positive impact with modern technologies and omni-channel communications," says Rohrer.