Healthcare leaders can face challenges & digitally transform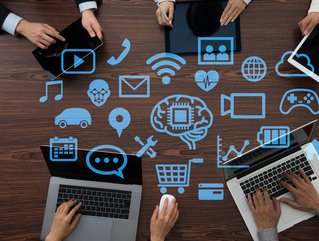 Healthcare leaders & digital transformation
Mike Fuller, Regional Director of Marketing at InterSystems, explores healthcare technology, integrated care & how leaders can digitally transform
Mike Fuller is the Regional Director of marketing for InterSystems and he plays a key role in the development and support of InterSystems business across Europe, the Middle East and beyond.
"I currently manage several international teams and am a passionate advocate for digital transformation through the power of data and analytics."
Fuller has spent over 40 years working within the computing and IT industries and started his career at Hoskyns, later part of Capgemini, in the early 1980s, where he gained experience in software design, project management and consultancy.
"I went on to hold various technical, sales and marketing roles at distributors, systems integrators and software houses in the healthcare, finance, retail and government sectors. I joined InterSystems in 2000 as European Director of Marketing, later transitioning to my current role."
Here, Mike tells us about integrated care, digital transformation and the adoption of digital technologies in healthcare.
What progress have we seen so far with the delivery of integrated care across the NHS and what are the main challenges the service still faces in achieving this?
"The concept of integrated care in the NHS has evolved over the years, dating back to the Health Act of 1999. The latest approach involves integrated care systems (ICSs) and integrated care boards (ICBs) facilitating data-driven transformation and seamless care integration. However, ICSs face the challenge of integrating care across boundaries while managing ongoing resource shortages, pandemic-related backlogs, elective care delays and budget constraints.
"The NHS ICS guidance for What Good Looks Like is broad and inclusive. It outlines goals, including environmental sustainability and social responsibility. A digital front door enhances service access, but comprehensive transformation is needed, addressing policy, process and practice, with shared risk and funding, facilitated by technology.
"In summary, while the vision of integrated care in the NHS is promising, challenges persist, requiring comprehensive transformation and technology support to achieve seamless care integration."
What are the main hurdles to digital maturity and transformation in UK healthcare today?
"The digital maturity report published recently paints an interesting picture of progress, with scores varying widely nationwide. Some areas remain blank, however, for example vendor compliance with clinical safety standards (DCB0129) and global standards, such as ISO 13485).
"Established shared care records can bleed money through debatable vendor charges for pay-per-use access to patient records from other vendor, intra-, or extra-region records. Consolidation of services and records onto one system does not guarantee the ability to cope with the new levels of complexity and scale needed by an ICS, and loses the leverage and competition required for a healthy market. Deciding between centralisation and decentralisation also diverts focus from the best approach for ICSs, who most often will probably require a mix of both.
"The continuity of patient care is dragged down by the lack of interoperability between new and existing IT systems, in terms of access, the context of data when it's captured then used and also legacy infrastructure on which both depend. Yet the highest hurdles to digital transformation are not all technical in nature. The source of data silos is often owing to the variations in care policies, processes, responsibilities, and funding that they manage.
"Furthermore, a rush to replace solutions without understanding incumbent solution capabilities can lead to the ICS running redundant functionality and with duplicate costs. Failure to revamp practices and workflows can result in 'paper behind screens', with excessive conversion of paper forms to electronic formats and automation of inefficient processes that worsen inefficiency and errors."
What role can partnerships play in helping to achieve the transformation of UK healthcare?
"Industry Analyst, KLAS notes that success doesn't come from better products, rather it is partnerships and a vision-led culture that deliver successful health transformation. Leaders must foster alignment among service stakeholders. As the Hewitt Review into ICSs puts it: "Local partners within every ICS need to put collaboration and cooperation at the heart of their organisations."
"This approach will enhance ICS-wide decision-making, broaden solutions, build trust and garner support for change. Strong relationships with solution providers and local authorities facilitate interdisciplinary discovery, agreement and implementation, while integrated care partnerships (ICPs) are increasingly uniting ICBs and relevant local authorities.
"Beyond this, there are also more ICSs forming partnerships with the voluntary sector to help build trust and engagement with communities and drive better health outcomes. Open Mental Health, a scheme which is part of the Somerset ICS, for example, brings together healthcare professionals, psychologists and charities like Age UK, Citizen's Advice and Rethink Mental Illness to drive better patient outcomes.
"To leverage these partnerships, ICS leaders will need to also look inwards, recruiting and retaining people who are passionate about working in healthcare and applying technology. These often relatively small teams of innovators need to champion transformation initiatives and seed collaborative working groups to nurture health and social care providers and cross-border partners."
How can the way ICSs use technology and data help to ensure the success of these partnerships?
"ICSs can ensure the success of partnerships by harnessing technology and data effectively. To meet diverse organisational needs, ICSs often rely on multiple vendor solutions. Therefore, interoperable systems and integrated data are crucial for integrated care. Building a data fabric, which allows for the use of different systems, facilitates phased change and accelerates transformation and innovation.
"Emphasising rapid time-to-value and agile innovation is essential for resource allocation and sustaining change momentum while enabling flexibility in ICS direction.
"Innovation should be continuous but needs governance, for example, using pre-trained generative artificial intelligence (AI), which has dramatically expanded AI's applicability in healthcare from image analysis to conversational computing and care decision benchmarking.
"Central to their digital journey is the collection of data to understand individual and cohort-wide patient needs, particularly for vulnerable groups. Recent research found 81% of healthcare organisations cite keeping pace with patient requirements as the chief driver of innovation within their organisation and 71% regard innovation as vital to their organisation's survival. Consumer expectations drive innovation in all industries, making data on behaviour and needs crucial for better service.
"Establishing a robust technology deployment infrastructure that is easy to implement, manage and scale is vital. The UK government understands this need for foundational information building blocks, such as unified electronic patient records in hospitals, and shared care records across the ICS, with patient portals for access and self-service. The June 2022 Plan for Digital Health and Social Care, emphasises core digital capabilities, including electronic health records, by March 2026, offering ICSs a chance to leverage funding for improvement."
What do the next 12 months hold for you and the company?
"InterSystems business has continued to grow at a healthy percentage despite the tough business climate, and I am looking forward to supporting the continuation of that growth especially in the healthcare market. We are seeing a rapid acceleration in the adoption of digital technologies in healthcare, and InterSystems is an innovative company at the forefront of this transformation because many of them involve getting different data from different systems to create one reality by unifying the data.
"This is the key trend that we are witnessing - the increasing focus on data-driven healthcare. Healthcare organisations are collecting more data than ever before, and they are using this data to improve the quality and efficiency of care delivery. InterSystems plays a vital role in this process by providing data platforms and interoperability solutions that enable healthcare organisations to collect, manage, and share data effectively."
*********************************************
For more insights into Healthcare - check out the latest edition of Healthcare Digital and be sure to follow us on LinkedIn & Twitter.
Other magazines that may be of interest - Manufacturing Magazine. Check out our free upcoming virtual event, Manufacturing LIVE, 6th December 2023.
*********************************************
BizClik is a global provider of B2B digital media platforms that cover 'Executive Communities' for CEO's, CFO's, CMO's, Sustainability Leaders, Procurement & Supply Chain Leaders, Technology & AI Leaders, Cyber Leaders, FinTech & InsurTech Leaders as well as covering industries such as Manufacturing, Mining, Energy, EV, Construction, Healthcare + Food & Drink.
BizClik, based in London, Dubai & New York offers services such as Content Creation, Advertising & Sponsorship Solutions, Webinars & Events.