How accessible 3D printing can improve quality of life
By ​​​​​​​Siert Wijnia, CTO and Co-Founder at Ultimaker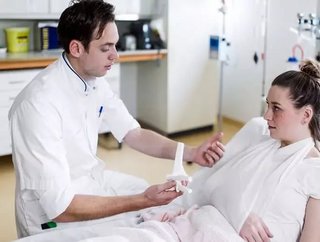 Recent updates to the Worldwide Semiannual 3D Printing Spending Guide from International Data Corporation (IDC) indicate that global spending on 3D prin...
Recent updates to the Worldwide Semiannual 3D Printing Spending Guide from International Data Corporation (IDC) indicate that global spending on 3D printing (including hardware, materials, software, and services) is set to grow to $12.0 billion in 2018 - an increase of 19.9% over 2017.
After discrete manufacturing, healthcare providers will represent the second largest industry sector, with an expected total spend of nearly $1.3 billion in 2018.
However, healthcare professionals have already made a huge impact on people's lives through 3D printing, without spending significant sums of money. The following are some inspiring 3D print initiatives for World Health Day, from life-changing printed objects, to simple, yet powerful solutions that help to make hospitalised time just a little bit better.
3D printing prosthetic limbs for refugees
In early 2018, the inspiring story of Doctors Without Borders provided significant food for thought. Pierre Moreau, the clinical coordinator of the 3D Project for Doctors Without Borders in Jordan, volunteered at a reconstructive-surgery hospital where war-wounded patients from Syria, Iraq and Yemen received treatment. As civilians, most of them had suffered amputations resulting from the regional conflicts.
In the video, Moreau explains some of the challenges associated with conventional prosthetics, including a high degree of time, cost, and skilled professionals. However, as the raw materials used to produce a prosthetic arm cost less than 30 USD, using 3D printing to create a prosthesis is significantly cheaper.
A prosthetic arm consists of a socket, forearm, and hand. The socket is the interface between the stump and the prosthesis. Both the socket and the hand are printed with a flexible type of plastic, called Polyurethane, to match the patient's anatomy, and give them a greater range of motion. The forearm is printed with a harder plastic material, for greater rigidity.
Ahmed is one of many patients who Pierre Moreau helped. At the age of 14, a barrel dropped from a plane, which landed near him and exploded, causing him to lose his left arm. After creating several prototypes, Pierre Moreau printed and post-processed a functional prosthetic arm, giving Ahmed the ability to look ahead and pursue his dreams again. In the future, he hopes the become an engineer and build houses.
Sick children, or makers of the future?
Dr. Gokul Krishnan founded an Innovation Pop-Up Space at Stanford Children's Health
together with the help of some of their patients, such as Ariana, who has been diagnosed with lymphoma and was hospitalised for several months. Children that are hospitalised are often bored and find themselves sitting around and waiting for their next treatment.
This Innovation Pop-Up Space gives these children - and their siblings - an educational opportunity to spend their time usefully and learn how to work with the latest techniques to create their own inventions. The unique space gives patients the chance to work with Ultimaker 3D printers, electronic building blocks, computers, cameras and other tools they can use to invent and build their own creations.
The children that have come down to the Innovation Pop-Up Space feel an increased sense of control over their lives. So-called Maker Therapy allows children to spend their time more productively, stimulate their creativity, and give them the opportunity to be more than a sick child, but true pioneers with unique new technical skills that they can benefit from for the rest of their lives.
Improved surgical planning with 3D printing
3D printing literally gives surgical planning an extra dimension. Up until now, surgical procedures are prepared by carefully analysing detailed CT-scans on screens. However, a 3D print of a complex fracture could provide an important added value, especially when planning trauma surgery.
Dr. Mike Bemelman (trauma surgeon), and Dr. Lars Brouwers (MSc and promovendus) are currently investigating the added value of the 3D printing techniques to improve complex surgeries and reduce the time and costs concerned with these treatments.
A 3D-printed anatomical model gives surgeons the opportunity to practice difficult surgeries up-front, and precisely bend titanium plates for implant before the actual surgery starts, reducing operation time. Consultation between surgeons and patients has also been helped by 3D printing: a patient can better understand the complexity of his or her specific situation when bone fractures can be seen and held from different perspectives, when compared to a 2D scan on a screen. Even though the work of Dr. Mike Bemelman and Dr. Lars Brouwers is still in the investigatory phase, the initial results seem promising. Smart software solutions are able to transform CT scan files in to a 3D-printable STL file in no time, without any interference from the hospital's IT department. This ease of use gives surgeons the opportunity to easily embed 3D printing into their existing workflow.
These are just a few examples of how accessible 3D printing has already made a huge impact on healthcare. As the technology advances yet further, there is ample opportunity for other healthcare innovators to adopt 3D printing, in order to continue to create solutions that improve the quality of life for those that need it the most