How patient innovation is transforming vision healthcare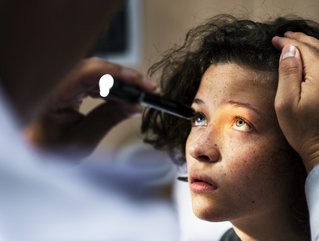 Eye healthcare
Jaume Adamuz, CEO & Co-founder of Biel Glasses, shares the development of visual impairment healthcare & how new technologies are helping patients
Hi Jaume, what is Biel Glasses, and what is your mission?
"Biel Glasses is a Barcelona-based company developing the first smart glasses device on the market to improve the quality of life of people with visual disabilities.
"Our product, Biel Smartgaze, has been developed by patients for patients. It transforms the lives of people suffering from visual impairments by aiding their mobility and helping them navigate their everyday environments.
"Biel Smartgaze glasses use 3D vision to enhance patients' sensory capacity through mixed reality. By detecting obstacles, terrain and lighting changes, our smart glasses improve mobility, granting patients greater autonomy to confidently and safely undertake daily activities. The technology also adapts to lighting and enhances the image, providing patients with the best possible visibility.
"We are constantly reimagining ways to improve our solutions to enhance the lives of those impacted by visual impairments. We are currently developing a 5G version of our product, including safe and accessible navigation, which we expect to launch in 2025.
"Our mission is simple: we believe that everyone deserves advanced and affordable solutions to help them make sense of the world around them. We want to ensure that as many patients as possible have access to our technology to reach their full potential."
What was the inspiration behind Biel Glasses?
"The inspiration behind Biel Glasses is deeply personal. Our son Biel was born with a visual impairment commonly known as tunnel vision. The condition made it extremely difficult for him to navigate the world safely and independently. He faced debilitating challenges such as falls, injuries and frequent disorientation, which prevented him from being able to join his peers in playing and exploring the world.
"As parents, we were concerned that Biel's condition was degrading his quality of life and discouraged to see that the existing solutions on the market did not effectively address his specific needs. Yet, we refused to accept that there wasn't an effective answer capable of meeting the challenges that our son faced.
"Determined to make life easier and richer for our son and those dealing with similar difficulties, my wife Constanza and I decided to take matters into our own hands. Using our professional expertise (my wife is a medical doctor, and I am an electronics engineer), we successfully created an advanced, affordable, and personalised solution to tackle the challenges associated with low vision. The result has been life-changing and empowering for Biel and many others who have been hindered by impaired vision."
How is patient innovation vital to improving healthcare, and what barriers need to be overcome to unleash the full potential of patient innovation?
"Our solution is one of many successful patient-driven solutions addressing market shortcomings. Patients have a unique vantage point, possessing a deep and intimate understanding of how health conditions impact individuals on a day-to-day basis.
"As parents of a young child with visual impairment, we came to know the exact challenges that our son – and others with impaired vision – face. We were well placed to develop a transformative solution using our firsthand insights and learnings from our son's challenges. This is precisely the power of patient innovation.
"We have been able to help tackle an issue affecting more than 70mn people living with mobility issues caused by low vision. By 2050, 474mn people will have moderate or severe vision impairment worldwide.
"Despite the promising potential of patient innovation, there are still barriers to overcome. As it stands, patient experiences and insights can too often be an afterthought rather than a starting point in the innovation process. To ensure that solutions meet the unique needs of patients, the voices and perspectives of patients must be championed throughout this process.
"Patient insight is key to creating tailored technologies that can help bridge the gap between developers and end-users and thus make the most meaningful differences to patients.
"Patient innovators must be empowered and recognised as problem-solvers capable of addressing the blind spots in our traditional innovation model. This will take us one step closer to building a healthcare system that places patient outcomes and experiences at the fore."
What kind of support did Biel Glasses receive in launching its solution to market?
"The path from idea conception to market can seem complex and daunting, especially for patient innovators who may need to become more familiar with the hurdles they could encounter whilst they look to launch their solution to market.
"As such, it was of utmost importance that my wife and I had access to valuable mentorship and guidance through EIT Health's Patient Innovation Bootcamp programme.
"The Bootcamp provided us with a unique combination of mentoring, training and guidance on how to develop a viable business model. Through our participation in the programme, we also gained incredible access to a broader community of innovators, investors and healthcare academics who shared our commitment to providing more efficient healthcare solutions. It was comforting and energising to be surrounded by other patient innovators who shared similar journeys. The experience helped us cement our vision and set us on the right course to effectively deliver our solution to patients.
"EIT Health's support was and continues to be crucial in championing the work of patient innovators. It has given us the invaluable opportunity to create a market-ready, cutting-edge product that improves the quality of life for many with visual impairments.
"By providing aspiring entrepreneurs like ourselves with the appropriate training and expertise, EIT Health really advances patient innovation in its pursuit of creating a more accessible and efficient value-based care system."