Medtronic's technology supports doctors' continued learning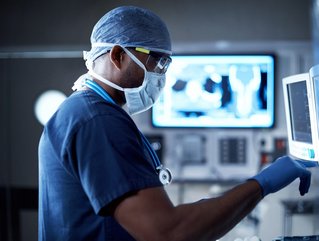 George Murgatroyd of Medtronic, a global leader in medical technology, knows that in order to care for patients, surgeons must have top technology
With over 90,000 employees worldwide and 49,000 patents in their portfolio, Medtronic develops precision engineering, surgical instruments, pacemakers, and diabetes pumps.
George Murgatroyd leads the Digital Surgery team, a part of the Surgical Robotics operating unit within Medtronic.
While Murgatroyd's team is passionately focused on digital aspects of healthcare, ‒ including digitisation ‒ his career journey didn't begin in healthcare, to the surprise of some.
"I studied philosophy at university, so I suppose I have a decidedly philosophical viewpoint on things, which helps," says Murgatroyd. "While doing my PhD, I started working in the NHS working on early healthcare EMR solutions, and I got to witness first-hand how antiquated a lot of the technology was, how paper-based most healthcare systems were, how disconnected things were...and how poorly physicians were served with digital tools."
For over a decade, Murgatroyd has been working on various digital and data initiatives and driving forward better ways to connect data, to develop digital solutions that augment and fully support physicians.
"I'm probably one of the few VPs in Medtronic that wears a hoodie day-to-day, but I guess that gives you a sign of some of the kind of tech change that's taking place," says Murgatroyd of his current work-from-home setup. "I do own a suit, but these days it's only worn at weddings!"
While such social gatherings are a far 2019 memory for many, doctors and surgeons have had an extraordinarily high level of contact.
"I've got so many friends who are doctors and are working, finding the situation incredibly tough, and COVID-19 obviously has heightened that and, hospital technology hasn't helped matters in this regard," says Murgatroyd. "There are huge constraints in budgets, unprecedented backlogs in elective surgery and very significant burnout with physicians."
"In many hospitals, the technology found in the operating room does not incorporate the same level of innovation that we see reflected in our day-to-day lives with Google and Amazon assistants. There's a significant opportunity for digital solutions to address these challenges. I think that's clear, and I think they spread across all levels of surgical experience."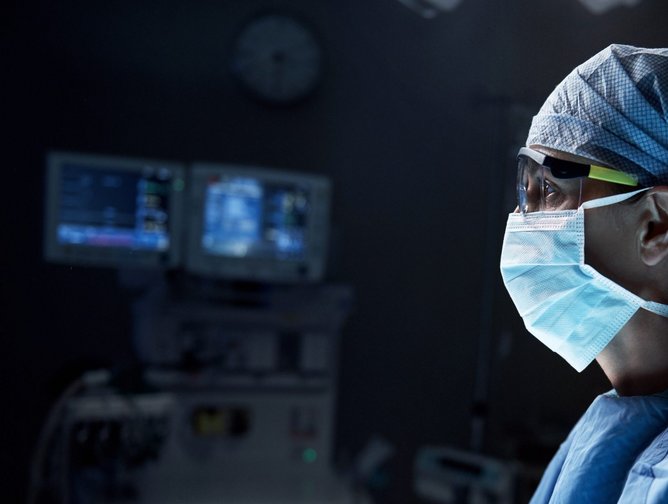 Technology to train surgeons
Murgatroyd knows that there are challenges in the training of surgeons.
"There are challenges in proactively supporting standards amongst more experienced surgeons, in sharing best cases, and really putting hospitals at the forefront of innovation rather than trying to catch up," he says.
"Medtronic sees this as an opportunity to bring digital technologies to market using a two-step approach. First, we identify the technology that delivers clear value to surgeons – something that truly provides seamless access to information.
"Second, and this addresses the issue of surgeon burnout, we ensure we develop technology that is purpose-built for surgeons that is easy to use. Such ease is absolutely critical for physicians using digital technology. But physician workflow hasn't been baked into a lot of the digital software applications that they use day in, day out."
An operating theatre is the most expensive real estate in the world, according to Murgatroyd.

"It's crazy – the investment made within an operating room – the surgeons, robotics, instrumentation, other medical devices – and yet the digital aspect is missing, and surgeons are still resorting to whiteboards."
Medtronic started talking to surgeons about key aspects of support that could enable improved performance but where existing technology was a blocker. Over time, it became abundantly clear that better access to footage of operations performed by surgeons was key.

"Surgeons operate by looking at a big screen. That screen is feeding footage from a camera that's put inside the patient. This is vastly different than open procedures, where surgeons would operate looking directly at the anatomy inside the patient."
Yet after the operation, that footage just disappears.
"Since it isn't recorded, it doesn't exist," says Murgatroyd. "So we have this world where surgeons are performing incredibly challenging procedures, some of the highest trained individuals in the world performing some of the most complex procedures. by looking at a screen displaying camera footage, but they can't review it after the case."
Touch Surgery™ Enterprise, the cloud-based video management and analytics platform from Medtronic solves that problem. Using this technology surgeons can easily record their cases and there are even added safeguards to protect patient information. When the camera is pulled out of a patient, Medtronic's edge computer automatically pixilates the footage, utilising an AI algorithm. "As soon as a surgeon finishes the case, they've then got the footage that they can share with colleagues, without risking identifying patients."
Through this footage, surgeons can review their work and use it to improve, as well as teach and, with anatomy alone not enough to identify any one person, they avoid triggering any patient confidentiality concerns.
"Think about the profound nature of being able to, within a click, share with a trainee or with a colleague something that's been surprising on a case. We've built this technology to help prevent the potential to miss learning or opportunities for review."

Supporting physicians with new technology to support patients
One of the outcomes of the global pandemic has been that it has impacted every single healthcare system worldwide. The COVID-19 pandemic taught Murgatroyd that healthcare has to incorporate digital technologies at its core.
"I think that realisation has been one of the really important things from the pandemic; that there are profound shifts in how healthcare will and can be delivered going forward. I think many of us have been talking about it for a very long time," says Murgatroyd. "We can't have hospitals, for example, that aren't connected to the cloud. We can't have patients that have to queue up to go and see physicians anymore. We can't rely on training our workforce using textbooks. We have to find different ways of delivering and connecting healthcare."
Medtronic has found one such way - and Murgatroyd is determined to keep the focus on making things easy for patients and physicians.