POCKETALK translating against COVID-19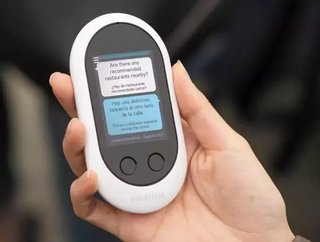 POCKETALKⓇ W- A.I. powered translating device donated to help on the front line during COVID-19 The original Pocketalk has provided communication sup...
POCKETALKⓇ W- A.I. powered translating device donated to help on the front line during COVID-19
The original Pocketalk has provided communication support to medical staff in the U.S. and Japan for some time. Now the global leader in removing language barriers and connecting conversations has announced they will donate pocket translators to medical professionals on the front line who are dealing with the COVID-19 pandemic.
 With the ability to translate 74 different languages on one small device, pocketalk will help to eliminate the need for a translator, cut down waiting time and prevents another person from being exposed to the virus. 
 "POCKETALKⓇ W" is a powerful pocket-sized translation device that can easily translate 90% of the world's languages in both text and audible. With the built-in data option, it can be utilized in more than 130 countries.   
 As worldwide sales increase to more than 700,000, pocketalk is the only translation device on the market that enables an authentic communication experience. 
Sourcenext who develop, manufacture and distribute the product is the largest distributor and creator of hardware, software and IoT products in Japan. Pocketalk's U.S. team headquarters is based in Palo Alto, California and the Europe team headquarters is based in Amsterdam, the Netherlands.
U.S. and Japan have been using the handheld device in healthcare organizations for some time, and with the Medical professionals having to communicate with patients during this global pandemic it is the only device in its field that can: 
Address 74 languages - 90% of the world's population

Be Handheld for ease and use.

Provide two-way communication at the touch of a button

Reduce the number of people on the front line

Reduce waiting times 

Reduce the potential exposure of others
The first line responders on the Diamonds Princess cruise line that was recently quarantined in Yokohama, Japan used pocketalk to quickly and effectively communicate with ill passengers. With the need to communicate with more than 50 different languages,  this handheld device prevented the need for several translators to board the cruise line and spread the virus further.
 "The health and safety of all people, especially first-responders putting themselves at risk for others, is our number one priority when connecting the world through conversation," said Noriyuki Matsuda, Founder and CEO of Pocketalk. "We hope that, through our donation, we are able to provide accessible translation services to those communities who need it most during this global health crisis."
To apply for a POCKETALKⓇ W donation, applicants must be employed by a healthcare organization in Europe. Please visit online to register your request.  https://pocketalk.jp.