Praveen Soti, of HealthEM.AI & Tredence, on using AI & data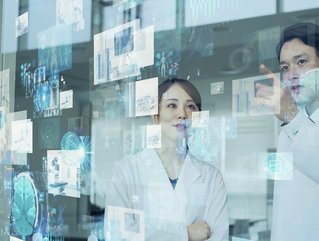 Healthcare data and AI
Praveen Soti, HealthEM.AI CEO & Tredence's CBO, on lowering the cost of healthcare, using AI & data solutions and what effective leadership looks like
Praveen Soti is the CEO of HealthEM.AI and the Chief Business Officer at Tredence. As the CEO of HealthEM.AI, he helps to steer the organisation strategically and operationally.
"The role is increasingly focused on evangelising the new value we can create so our clients can care for their members better," he says. "A big part of my role is to establish strong relationships with diverse stakeholders such as Chief Medical Officers, Chief Clinical Officers, and Chief Data Officers and strategic equations with our partners like hyperscalers to help co-create the future of healthcare."
This helps HealthEM.AI to understand the pulse of what their clients and consumers need and function as true thought partners.
"Consumers today want to be able to shop for low-cost care options (benefits, prescriptions, tests, procedures, etc.) by comparing prices based on out-of-pocket responsibility," he continues. "They require a simple digital front door which disguises behind-the-scenes complexity in the manner of Amazon or the airlines. HealthEM is focused on enabling this 'right' front door."
This approach of relentless client-centricity makes HealthEM.AI not just a high-performance organisation, but also one that creates an unequivocal business impact across the healthcare ecosystem.
Here, Soti tells us more.
Hello Praveen, what led you to the healthcare sector?
"Coming from the world of medicine, I have always been passionate about global health care. I blended technology and business leadership with medicine, recognising that this fusion would help to reinvent the evolving healthcare landscape from the inside out.
"Helping others drives me. The first patient I lost was a 13-year-old girl with a complex tumour. The family's lack of access to finances and treatment meant we could not help when she came to us, despite the outstanding care we provided. We did not have the technology to communicate and collaborate seamlessly with different clinicians or research all the treatment options available globally. This made me reflect on the tremendous difference we can make by harnessing technology to deliver care where, when, and how it is needed. It's about bringing care to patients, rather than taking them to the care."
Tell us a little more about what HealthEM.AI does.
"The CMS has set a goal of transitioning 50% of Medicaid and commercial payments and 100% of Medicare Advantage and traditional Medicare payments to risk-sharing models by 2030. This will be the only way to curb the rising costs of healthcare. According to a 2022 survey by the National Association of Accountable Care Organisations (NAACO), 80% of healthcare providers are participating in some form of value-based care arrangement. However, most providers are still poorly equipped and need a partner to guide them through this complex process.
"HealthEM.ai simplifies the intricacies of value-based care for providers and other risk-bearing entities so they can focus on enhancing patient outcomes through consistent, personalised care, harmonising technology with human empathy while leaving the heavy lifting of data processing and analytics to us.
"Data acquisition at scale and near real-time analysis are essential for the effective execution of value-based care. U.S. healthcare data is already at 2.5 exabytes, with wearables expected to generate 100 petabytes per year. 80% of the data is locked up in EHRs. Vast amounts of data are unstructured like medical images that have a wealth of information.
"HealthEM is an AI-enabled framework for enabling value-based care. Healthcare organisations are leveraging HealthEM.AI to enable AI-led care management, identify rich insights including gaps in care and engage with members to help close these gaps.
"Healthcare is finally embracing the technological modernisation that other sectors adopted decades ago. With Tredence's industry-leading expertise in data and AI, we are uniquely positioned to be the choice partner to deliver insights and innovations through HealthEM."
How do you use specialised AI and data solutions in your work?
"We have developed capabilities to consolidate rich patient data at scale from various sources such as health plans, providers, labs, pharmacies and more. We create an integrated, high-quality, real-time 360-degree consumer view accessible to clinicians at every touchpoint. Consumer views are enriched with AI-driven insights from cutting-edge models tailored for health care; we are leveraging healthcare-specific AI- and Generative AI-based large language models such as BioGPT and PubMeBert.
"We generate AI-assisted precision care plans that empower both patients and clinicians to collaboratively navigate the health journey with affordable choices. We are optimising all three levers of valued-based care- care quality, cost, and patient and clinician experience – through the effective use of data and embedded AI in workflows.
"There are two critical aspects to point out: First, all our AI models are developed on granular patient-level data integrated from various sources that bring in high precision, and second, we have taken the utmost care to implement explainable AI. Every AI-derived insight or recommendation is complemented by explanatory blurbs that clarify the underlying logic. This transparency fosters confidence in clinicians and strengthens the feedback loop, which, in turn, propels both adoption and innovation."
Finally, what are the tenets of effective leadership?
"There are many aspects that are crucial for effective leadership. My guiding credo is as follows:
Before anything else, a leader is an active listener. Listen carefully and patiently.
Be completely present so you can hear what is said and sense what remains unsaid.
To that end, it is important to create a conducive environment where team members feel comfortable to speak, especially those who are vulnerable to having their voices sidelined. This open and trust-filled environment will lead to success when you clearly communicate your goals and values and help develop a high-performance culture and team.
It is also critical to establish goals and a clear vision, bringing the organisation together towards a common purpose and to drive results through relentless execution.
"When all of these forces are in play and done well, you know you have been an effective leader."
*********************************************
For more insights into Healthcare - check out the latest edition of Healthcare Digital and be sure to follow us on LinkedIn & Twitter.
Other magazines that may be of interest - Manufacturing Magazine. Check out our free upcoming virtual event, Manufacturing LIVE, 6th December 2023.
*********************************************
BizClik is a global provider of B2B digital media platforms that cover 'Executive Communities' for CEO's, CFO's, CMO's, Sustainability Leaders, Procurement & Supply Chain Leaders, Technology & AI Leaders, Cyber Leaders, FinTech & InsurTech Leaders as well as covering industries such as Manufacturing, Mining, Energy, EV, Construction, Healthcare + Food & Drink.
BizClik, based in London, Dubai & New York offers services such as Content Creation, Advertising & Sponsorship Solutions, Webinars & Events.