Sowing Seeds of Social Networking in Healthcare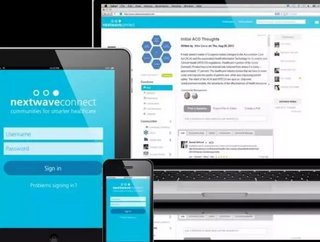 Social media has proven to be a tour de force in facilitating personal connections. Faced with regulatory, budget and care challenges, the healthcare in...
Social media has proven to be a tour de force in facilitating personal connections. Faced with regulatory, budget and care challenges, the healthcare industry is primed for leveraging a social mHealth app market to speed solutions for operating more efficiently, complying with regulatory and legislative requirements, and ultimately, delivering better patient outcomes. Next Wave Connect is the first social collaboration community to afford this opportunity to healthcare industry professionals and peers, across all types of healthcare organizations.
The Vision: Leveling Up
Healthcare icon Ivo Nelson envisioned Next Wave Connect as a forum for uniting healthcare professionals who were independently struggling with universal challenges presented by the many changes—regulatory, operational, and others—swirling throughout the industry. Ivo believed that social networking would take healthcare's face-to-face collaboration/sharing at conferences to a whole new level.
Social media enables us to maintain valuable connections and continue collaborations that tend to fade between meetings and industry gatherings, and end up relegated to impersonal and far less productive email. Next Wave Connect affords personal networking opportunities to everyone in healthcare, providing a venue where staff at all levels can build connections that help them do their jobs better to benefit their organizations.
Ivo's legacy of innovation in healthcare has left an imprint at Perot Systems, Healthlink (acquired by IBM), Encore Health Resources, and now Next Wave Connect. When Ivo approached me for my reaction to his novel concept, I thought, "Finally, someone who agrees that healthcare could really benefit from the power of social tools to crowd-source and problem-solve." After all, we're not shy about sharing clinical discoveries or best practices in electronic health records deployment, etc. at conferences and in journals.
Together, we understood that the real winners of Next Wave's business model would be patients and their families—with better, faster, cheaper, and safer access to higher quality healthcare. Providers with access to a steady stream of shared information and perspectives about healthcare's tough issues would develop answers faster—about patient care, business operations, and IT initiatives to name a few. They would not waste time reinventing the wheel, and members would leapfrog ahead by learning from others.
Network of Public and Private Communities
In the spirit of finding better solutions and more efficient processes—that save time, effort and money for hospitals, clinics, pharmacies, eldercare facilities, etc.—Next Wave Connect was introduced in October 2013, and crowd-sourcing answers arrived on the healthcare scene. So what makes Next Wave tick?
Next Wave members can create public communities that focus on major healthcare issues: Security & Privacy, Meaningful Use, Data Analytics, Accountable Care Organizations (ACOs), ICD-10, etc. Members log in, choose public Connect Communities to follow, and then collaborate with other members on everything from specific problems and challenges in their organization to industry breaking news.  

Members can create their own "by-invitation-only", private communities focused on topics that are proprietary to their organizations. They invite their "trusted circle" of peers to join the collaboration by following the community, posting comments and questions, and adding their own material to the library created in each community.
For convenience, the conversations from all Connect Communities a member is part of are posted directly to their "wall", the first thing they see when logging into Next Wave. From there, the member can navigate to a specific community according to their priorities.
Community Managers and ACEs
You could call Next Wave Connect Community Managers "virtual hosts" who ensure that members find each other to achieve positive outcomes. They answer questions, add interesting and provocative content, and generally help moderate and summarize discussions happening on Next Wave. They may also introduce industry experts to Connect Communities when members need help.
These industry experts are dubbed Advisory Council Experts (ACEs), distinguished healthcare gurus in various professional areas, from information technology to public health and more. They fill a number of roles that help members work through challenges they are facing by providing advice and guidance based on their own years of experience. ACEs also provide valuable content, comments, articles, and blogs that Next Wave members can follow, comment on, and share with other members.
Vendors, Associations and Other Partners
In keeping with the nature of a collaborative approach to solving challenges in our industry, Next Wave Connect makes room for involving the expertise that our partner organizations offer. After all, these people are working with us to address our needs, and have much to gain from doing so.
In order to facilitate productive connections between members and partner experts, Next Wave offers "Engagement Marketing." The timing of this process couldn't be better for our partners in light of the demise of traditional advertising and marketing tactics. We fast forward through television commercials. We give promotional emails three seconds to impress us. We toss direct mail appeals into the recycling bin. As a result, Next Wave's partners are looking for new ways to engage with their current and potential constituencies.
Enter the concept of Engagement Marketing. Next Wave partners can build their own public Next Wave Connect communities to demonstrate thought leadership, publish white papers and other compelling content, advertise webinars and conferences, and adjust company and product branding in real time as it evolves to keep up with the ever-changing marketing environment. 
Next Wave partners are also building private communities and inviting current and potential clients to meet and connect. Collaboration with customers is extremely helpful to partners as they strive to enhance existing products and services, as well as expedite creation and delivery of new ones, that will help the healthcare industry. Partners are using Next Wave Connect for ongoing collaboration with their healthcare advisory board members and other focus groups they've created.
One Resource, Infinite Possibilities
Next Wave Connect makes it easier for healthcare personnel to stay on top of the latest and most pressing issues in the industry through connections with industry peers and leaders. Instead of having to visit a myriad of websites—trade publications, companies, and associations involved in healthcare—one log-in at one site gives members access to unlimited choices and information that is not available anywhere else. Members can follow numerous Connect Communities and a multitude of industry expert ACE bloggers; collaborate publicly and/or create private communities; and help partners develop solutions for the industry's challenges.
With Next Wave Connect you can start conversations, crowd-source solutions, share messages, and interact across communities—that's what real life problem solving is all about. By building a group of collaborators who have various skills and experiences, you're much more likely to find the help you need to solve the problems you're working on.
Communication + Collaboration = Success
A closer connection between the healthcare professionals and partners fosters true alignment of our industry to improve the quality of healthcare. Next Wave Connect is a conduit for direct feedback, sharing best practices, and generating new ideas and concepts for products, services and business processes. It all adds up to success for everyone involved.
About the Author
Drex DeFord, a retired lieutenant colonel with the United States Air Force, has 25+ years of experience working with healthcare organizations, innovating information technology systems to their optimal efficiency. He is a past board chairman with the College of Healthcare Information Management Executives (CHIME), a former national board member of the Healthcare and Information Management Systems Society (HIMSS), and a fellow in the American College of Healthcare Executives (ACHE), CHIME, and HIMSS.
This feature was printed in our July edition of Healthcare Global magazine.