Technology innovation that helps save lives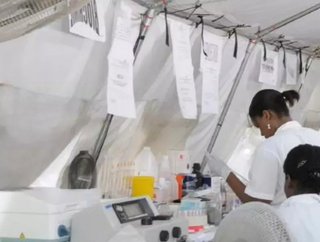 Todd Rigby, Director of Sales at Rajant Corporation, explains how innovations in tech are facilitating life-saving treatments and devices
With the worldwide Coronavirus pandemic putting immense pressure on hospitals, temporary medical sites are needed more than ever to ward off the extra challenges. Of course, with the new sites comes the urgent necessity for more hospital beds, staff, and equipment, which involves additional expenditure that can place excessive strain on department budgets in the medical sector. The overflow of patients during the pandemic has emphasised the need for additional equipment, as resources have been stretched thinly across the globe. 
The need to optimally utilise medical equipment is as critical as ever, especially as more of the temporary medical sites open up, which can be due to various reasons, such as accommodation for patients, virus testing, vaccination sites, and emergencies. It is equally essential that the new sites have sufficient equipment capabilities, technology, and connectivity ready to work effectively. This will ensure cost-effectiveness, equipment efficiency and, above all, help preserve the safety and wellbeing of hospital patients. 
Innovative technology crucial for medical treatment 
In recent years, smart technology has been the focus of medical innovation and research globally, becoming an integral part of modern healthcare by helping to identify conditions, patterns of health, and, most importantly, enabling life-saving treatments. Technology on this scale includes Artificial Intelligence (AI)-driven devices, wearables that can monitor a human's condition, predictive detection of abnormalities and infections quickly, as well as voice and large-scale data communication. 
Furthermore, camera-attached robots can help significantly during surgery operations, safely reaching invasive places in the human body that can greatly reduce the risk of operation failure. Technologically advanced equipment such as this can be extremely helpful in testing centres and can help to treat patients faster, more efficiently and safely. This can also lead to less support staff needed at testing centres, preventing critical staff shortages at busy times. 
With equipment being used in intensive situations, it must be reliable and with little risk of a breakdown in system connectivity, security compromises, or power faltering during treatment. However, all of this technology requires reliable communication with hospital IT infrastructure, and the more influential the technology is, the more demanding it is on hospital costs. Therefore, technology must be utilised to its total capacity with a fail-safe network solution that prevents any devastating consequence from occurring in the event of system failure. 
A mobile, wireless network to provide secure connections
To enable innovative and state-of-the-art medical technology to work to its maximum capability, a mobile network that can facilitate the demanding equipment is mandatory, especially for emergency tents and pop-out centres where mobility is essential. Wireless network provider Rajant Corporation understands this as it introduced its Kinetic Mesh® network, uniquely tailored to demanding situations such as medical environments. 
The fully wireless mesh is a private network made up of tiny nodes that can be rapidly deployed anywhere to connect with nearby tents and hospitals within the triage space. The BreadCrumb® nodes can connect with each other wirelessly to fill in gaps of coverage that would typically be out of reach. The network offers the choice to be set up as a standalone infrastructure for a tented shelter with an on-site server. Another option is to link with a point-to-point (PTP) or long-term evolution (LTE) standard back to distant hospital locations, providing network and equipment security. 
Providing crucial access to medical equipment with connectivity 
Not only can Rajant provide extra mobility and security with its network, but the Kinetic Mesh helps to securely provide online access to medical resources, patient records, digital imaging, and prescription portals directly from hospitals to pop-up tents and temporary emergency centres. This prevents unnecessary staff pressure for extra equipment that is already in high demand. This is achieved by Rajant's real-time Wi-Fi access and wireless backhaul offerings, which in turn provide connectivity for voice-over-internet protocol (VoIP) telephones and private Wi-Fi to connect tablets and laptops on 2.4 and 5 GHz frequencies.
Another advantage is the network's ability to be deployed with minimal data wiring.  For a stand-alone facility, you only need one or two connections to the local LAN. For facilities adjacent to a hospital, you can have remote nodes in the pop-up center, and one or two nodes on the hospital connected to the LAN.
Additionally, the network kit can help to prevent a loss of equipment due to security breaches or misplacement at temporary medical sites by enabling the ability to track and locate equipment using asset tags. Hence, hospital staff always know where their much-needed resources are.
How a wireless network can enable the functionality of life-saving equipment
Particular assets of the network kit are specifically designed to enhance modern medical technology and provide more functionality to treat patients. In emergency and pop-up sites, this is especially valuable to treat a large number of people quickly and effectively.
By fully utilising Rajant's ES1 BreadCrumb nodes, the applications can complete additional tasks, such as taking patients' temperature screening via thermal imaging with infrared cameras, supported by the network. Set up on a tripod or affixed to existing infrastructure around the temporary medical center, real-time heat-based imaging of incoming patients is streamed directly to a monitor for screening, allowing for enhanced safety and security. 
In addition to this use of thermal cameras, they can also be used on aerial drones. Supported by Rajant's DX2 BreadCrumbs, the cameras can be attached to any drone less than 200 feet above the ground. Capturing and transmitting body temperatures in a targeted zone for both employees and patients allows for seamless readings. It also adheres to Covid-19 regulations, keeping everyone in the vicinity risk-free. 
During a crisis, the complexities of setting up pop-up triage tents and handling limited resources remain. Deploying a responsive network that can provide secure, mobile, and rapid deployment of emergency care communications is critical to tackling these challenges head-on. As more technological developments are introduced, utilising a self-healing, highly secure network will ensure emergency teams and temporary set-ups remain effective for years to come.