Top 10 healthcare businesses transforming treatment with AI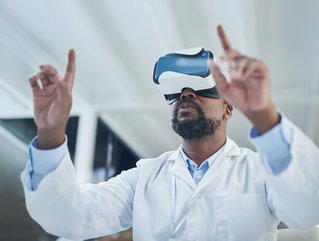 By 2026, the healthcare AI market is expected to hit USD$44bn. Here are our Top 10 healthcare companies using AI to expand their healthcare treatments
Artificial intelligence is being utilised across industries to improve products and services. AI can complete a complex job or make sense of vast amounts of data, in a fraction of the time it would take a human to do the same.
Healthcare is on board with the trend - here are our Top 10 companies which are using AI to advance the healthcare services they offer.
10. Babylon Health
Babylon Health's free smartphone app uses AI to ask users about their health concerns and match them to the best doctor to treat them with a video or voice call. The company can also offer users with a personalised plan to better understand their health.
9. Google Health
In order to effectively research the potential of AI-enabled tools, Google Health is in partnerships with other healthcare organisations across the world. Using computer vision AI, Google Health is creating tools to be used in the research of skin, hair and nails, in the diagnosis and treatment of skin diseases.
8. Novartis
Novartis is using AI to increase the speed and accuracy of its services, from diagnosis and drug discovery, to advanced drug development and everyday patient care.
The goal at Novartis remains to improve patients' lives and as such, this means examining the use of AI carefully before implementation and using it in a transparent way.
7. Insilico Medicine
Pharma.AI, Insilico's end-to-end AI-enabled drug discovery and development platform, faces chemical, biological and digital medicine challenges.
Research company Frost & Sullivan awarded Insilico Medicine with the 2022 Entrepreneurial Company of the Year Award, in the worldwide AI-enabled drug discovery industry, for its cost-effective discovery, research and development.
6. Cure Metrix
CureMetrix utilises the power of AI in its fight to increase cancer survival rates and advance disease detection.
The company knows that its dedicated radiologists can work with the most up-to-date technology in order to analyse mammograms. This in turn can alleviate the stress upon hospital systems and the financial costs for patients.
5. Deep Genomics
Suggesting that human biology is simply too complicated for humans to understand might have been an unpopular claim for a healthcare company, but it was an honest one. Deep Genomics knows that advancing drug development will rely on AI. Its AI Workbench can assess thousands of possibilities, in order to pinpoint 'the best therapeutic candidates'.
4. Voxel Cloud
According to Voxel Cloud, 30% of the world's data production is health-related: from medical images to liquid biopsies. Headquartered in Los Angeles and founded in 2016, the company could see AI's role in health data accelerating and the company works hard to provide precise medical image analysis.
3. Bayer
Global life-sciences enterprise Bayer also values the volume of health data which is being developed - and knows what to do with it. The company uses AI, as well as machine learning, to maximise its Real World Data (RWD). This information can then be shared to the appropriate source, for the benefit of the patient.
2. J&J
Johnson & Johnson have recently embarked on a new research collaboration, combining AI with genomics, to improve its healthcare solutions.
"Using AI and data science in healthcare will transform our society," said a representative. "By making use of these new tools and by collaborating with key opinion leaders, we hope to gain more understanding about the course of disease, so we can try to diagnose, treat, and ultimately attempt to prevent life-changing medical conditions."
1. Pfizer
Pfizer is fascinated by the potential of AI in helping scientists explore the possibilities of new medicines. Austin Huang, Associate Director and the Biomedical Data Science lead at Pfizer's Genome Sciences and Technologies group hopes that "the methods that companies like Google and Facebook use to study large, complex datasets can also be used to help predict disease and possible treatment outcomes in human health data."
So do we all.