Verizon's new extra-tough android phone excels in Hospitals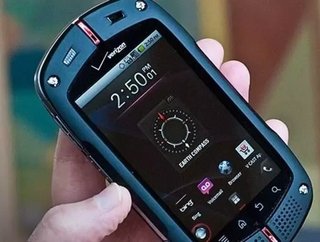 Verizon has answered the demand for a heavy-duty smartphone in the form of its latest and greatest Android design in the GzOne Commando. This new additi...
Verizon has answered the demand for a heavy-duty smartphone in the form of its latest and greatest Android design in the G'zOne Commando. This new addition to the Verizon family is built to cater to the everyday hospital worker who is constantly on the go, and is extremely hard on their cell phone on a daily basis.
This rugged MIL-STD-810G adheres to the military standard for durability, and was specifically designed for people at work in hospitals, construction, and other types of strenuous environments.  Both temperature and drop-resistant, the Commando can withstand extreme temperatures ranging from 185 degrees to -13 degrees for up to 96 hours.
Healthcare experts are taking to their blogs about this recent Verizon development, citing the phone's potential in the healthcare landscape specifically. Since smartphones already play such a pivotal role in telemedicine and rural healthcare, analysts are excited by the possibility of what this phone can do for those in the healthcare field.
 "The Commando includes high-security features for email, wi-fi 802.11 b/g/n connectivity and customized access to high-use applications. Designed to withstand challenging conditions, including healthcare environments, the Commando can download images and files, access applications and capture signatures", Verizon stated.
In terms of the phone's physical capabilities, its endurance is quite impressive. Also tuned to handle rugged environmental conditions, this phone is equipped to handled dust, salt fog, solar radiation, shock, humidity, vibrations and liquid immersion as well.
In terms of operability, the phone's security features seem to be unprecedented in the market today. Through Microsoft's EAS (Exchange ActiveSync) users are able to encrypt data in transit, remotely wipe-off information, enable device inactivity timeout and set a very difficult scheme of password complexity. The phone can also be used to connect team members and share digital signatures.
This phone can also serve as a Wi-Fi hotspot for other mobile devices, and operates off of the Android 2.2 Froyo operating system. Including eight different operating modes, including Earth Compass, Walking Counter, and Trip Memory, the phone can share information on social networking sites as well as keep track of your activities for automatic commands for the future.
 "The smartphone uses Android 2.2 and is shock-resistant, making it suitable for hospital use. The Commando can share 3G mobile hotspots with as many as five wi-fi-enabled devices", according to Verizon, of Basking Ridge, N.J.