How to improve patient care with remote monitoring solutions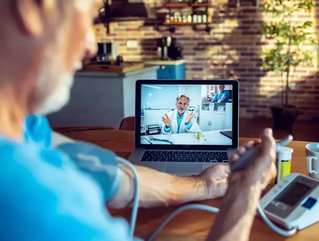 Mark Denissen, President and CEO at Anelto, writes about transforming care with remote monitoring solutions...
Remote healthcare has taken big leaps forward over the past year, spurred on equally by new technologies and the onset of the COVID-19 pandemic. The biggest winners: senior patients, who are now able to benefit from more proactive care and avoid trips to the doctor's office, clinic or emergency room. They can now use solutions such as remote patient monitoring (RPM) to track their vital statistics around the clock and share that information automatically each day with healthcare providers. Technologies such as RPM are helping to transform senior patient care, ensuring a patient's safety and well-being while allowing them to live independently.
According to a recent report from the CDC, three-quarters of patients 65+ have two or more chronic conditions that require monitoring. This "Medicare population" makes up 71 percent of total U.S. healthcare spend. When patients are feeling poorly, they often end up at their doctor's office or an emergency room or clinic. And in a COVID environment, that's the last place patients with chronic illnesses should be. 
There are other challenges the healthcare industry faces when treating patients with chronic illnesses, and RPM can help eliminate many of them:
At-risk patients need to be monitored 24/7
Proactive 24/7 real-time interventions can dramatically improve outcomes, but are difficult to achieve
Lack of budgets, staff, and experience with new technologies can stymie deployments
Ease of use is critical; ongoing patient education and support may be required
Less than 40 percent of chronic patients have basic, in-home infrastructure to support remote monitoring
Economic/cultural disparity causes a range of care
A Patient's Perspective
With RPM solutions, a patient's vital statistics, such as blood pressure, oxygen level, blood glucose, weight, temperature, and other metrics, are consistently monitored and delivered to healthcare providers in real time. Providers can then receive the results and make quicker decisions to what actions should be taken. 
Some RPM solutions can also track data over time and spot abnormalities in readings, such as trends seen in low or high blood pressure, low oxygen levels, or see how new prescriptions are working in real time. It can then connect the patient to the doctor to explore solutions.
This is an important shift in healthcare, as many seniors might struggle with frequent in-person visits. For example, they may not have reliable means of transportation to and from their point of care, they might face an extended time in a waiting room and risk exposure to other illnesses, or—despite going home with paperwork—they might not remember all of the doctor's orders once they leave the office. 
For RPM solutions to work, above all they must be easy for the patient to use. Studies have shown that when a patient that needs a higher level of care can track their vital statistics and communicate with their doctors from home instead of traveling to a health care professional, they are willing to use technology. In a recent study, 88 percent of Americans over age 40 said they are willing to adopt telemedicine solutions to receive care. Meanwhile, in a recent trial, more than 85 percent of patients that used an RPM solution indicated they would use it again if it was made available.
Patients that receive the most benefit from RPM solutions are those that require consistent monitoring of their vital statistics. When the patient is able to take these vital signs at home and have them delivered to their provider automatically, the paradigm of care is shifted from reactive episodic care to proactive preventative care. This allows providers and patients to work together in new ways to reduce the need for trips to the doctor's office or hospital.
A Physician's Perspective
RPM solutions allow doctors to proactively treat patients with chronic illnesses, providing them with the patient's most current vital statistics. RPM provides more than just data points sent once a day. It also offers context through a set of rich data that allows healthcare providers to:
Provide a variety of voice reminders to help patients with their care
Track patients' vital statistics over time and connect the dots to make diagnoses 
View the data in context and quickly spot trends and determine a course of action 
Act proactively to make an assessment allowing them to solve small problems before they become big ones
Communicate directly with a patient via the RPM device to gain additional information about their condition
Proactively care for patients so they don't end up at the emergency room, clinic or doctor's office
Intervene in the patient's care to get their health back to normal
RPM in Action
Two examples of RPM in use show how the technology is providing better care:
One patient experienced a spike in blood glucose levels (>500 mg/dl), triggering an alert. The virtual care team followed provider protocol by increasing medication and tracking the patient's condition every two hours. The blood sugar level was decreased to 300 mg/dl, and a trip to the emergency room was avoided. 
In another patient, a 2-3+ edema bilateral in the lower extremities was detected. The virtual care team followed protocol, increasing medication and having the patient raise extremities and lower sodium intake. The outcome was the edema decreasing to +1 within 24/hours, and an emergency room visit was not required. 
Technology solutions such as RPM are making a huge difference in patient care. When seniors can be monitored consistently from home rather than a healthcare facility, they have more say in their care. And when their healthcare solutions are easy to use, they're more likely to have a positive experience—leading to positive outcomes.