Medigate: How to ensure the secure adoption of telehealth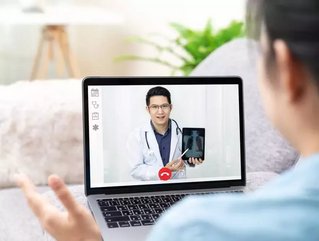 Medigate's CEO Jonathan Langer tells us how healthcare providers can ensure their telehealth services are secure...
Healthcare providers in the US are set to receive $249.95 million in federal funding in the second round of the COVID-19 Telehealth Program, building on the initial $200 million granted as part of the CARES Act.  
As providers ramp up their telehealth usage to take advantage of the funds, ensuring their systems and data remain secure will be crucial. Jonathan Langer is the CEO of Medigate, creators of a dedicated security platform that identifies and protects all Internet of Medical Things (IoMT) devices. Langer's team has been working with healthcare organisations around the US, helping them develop a roadmap for the next stage of the telehealth programme. 
Langer explains that in the rush to create new processes for remote patient care during the pandemic, many providers didn't have security programmes in place before launching their telehealth services. 
"The onset of COVID and new regulations have led to an explosion in the types of devices being used to facilitate patient care– both for telehealth and remote patient monitoring services" he says. "We're now seeing increased connectivity and transfer of critical information across a variety of networks, which has in turn created a wider net that needs to be protected and secured. 
"This is why device visibility is so imperative– you can't protect what you don't know about. And further, you can't use devices if you're not aware of their location or availability. To have a truly secure view of their devices, they must adopt technology that not only shows the devices on their network, but their security levels, locations and other critical information. It's not just about visibility, but having access to actionable information that will allow them to make better care, security, and operational decisions." 
Understanding the IoT ecosystem
By understanding their IoT ecosystem and how devices are behaving on their networks, providers can ensure patient data is kept safe. "When a doctor is using a tablet or smartphone to conduct a telehealth call, the network might simply see this as a device operating in its normal capacity and treat it as such– however, in reality, these endpoints are now transmitting extremely sensitive information that must be protected and assessed as risky" Langer says. 
"While there are a variety of protocols you can install once you have this information (such as zero trust and segmentation controls), the first step is identifying the difference between device activity and understanding how they're actually operating on your network." 
To enable this, it's vital that all levels of hospital and health networks work together, especially as remote care has become an essential part of healthcare over the last year. Langer predicts this will accelerate over the next few years. "The role of technology cannot be understated, but more than that, we must also take a critical look at the latest trends and consider– how will this better help our clinicians and patients?" he says. 
"Also, are we equipped to do this in a safe and secure manner? In doing so, we can continue to facilitate innovation and groundbreaking success, but also, layer the groundwork to ensure these initiatives are truly creating a more sustainable and productive healthcare ecosystem."