MVP Health Care & the rise of telehealth technology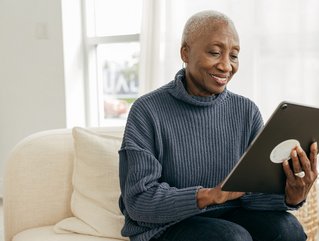 Dr. Carl Cameron, MVP Health Care Chief Medical Officer, explores the evolution of telehealth technology in COVID-19 & the Medicare Advantage Care Guide
Dr. Carl Cameron is the Chief Medical Officer at MVP Health Care. He has more than 20 years of experience as a physician and as a healthcare executive. In his role at MVP, he provides clinical leadership for the organisation and is responsible for all of MVP Health Care's clinical programmes.
"Throughout my career, I have led with a deep commitment to putting the health and well-being of our customers and our communities at the forefront of my work," says Cameron. "Our customers have entrusted us to help them receive the care they need, and I believe they deserve that. I take this responsibility to heart."
Like many that seek a career in medicine, Cameron's desire was to help those in need and serve others.
"I cherished the relationships I had with my patients when I was in practice and was able to have a positive impact on thousands of people's lives," he says. "At MVP Health Care, I can serve hundreds of thousands or even millions."
MVP Health Care is a nationally recognised, not-for-profit health insurer caring for customers in New York and Vermont. MVP makes health insurance more convenient, supportive, and personal by providing a wide range of health benefit plan options with attentive service and flexibility. MVP is committed to the complete well-being of the over 700,000 customers and local communities it serves.
The new Care Guides for Medicare Advantage patients
The first-of-its-kind Medicare Advantage Care Guide benefit helps customers better understand their conditions and navigate their unique health needs. This benefit is included as part of University of Vermont Health Advantage, a Medicare Advantage plan offered in partnership between MVP Health Care and The University of Vermont Health Network.
"Care Guides were formally introduced earlier this year," Cameron continues. "They seek to build a trusted relationship with each UVM Health Advantage customer by welcoming them to the plan, understanding their individual needs as they transition to the plan, and optimising their customer experience. The Care Guides explain the benefits of the plan so the customer can maximise them, minimise any disruption to care and improve the overall customer experience."
Cameron believes that health care navigation benefits like Care Guides will help with vaccine hesitancy and improve health outcomes.
"Health care benefits and medical information can be difficult to navigate, especially as we age. With frequently updated COVID-19 information and the threat of medical misinformation, vaccine hesitancy remains a concern for the Medicare population. About 40% of Medicare beneficiaries were already hesitant about getting a COVID-19 vaccine due to safety concerns and medical misinformation, and about 70% of Americans age 50 and older who got a first booster shot didn't receive their second dose.
"Health care navigation benefits like Care Guides can help with this issue and mitigate disruptions to care while addressing questions or concerns that customers may have around the updated vaccine and COVID-19. This can include reminders to get the next booster or a consultation to figure out next steps based on where a customer is in their vaccination journey.
"Care Guides make the health care navigation process simpler and more personal, with the goal of leading to better health outcomes. They also take complex health needs into consideration for additional support when making any vaccine decisions."
Telemedicine technology during COVID-19
Throughout COVID-19, MVP Health Care's greatest challenge has been adapting to the new circumstances.
"When COVID-19 emerged in the United States, people began consuming health care in a very different way than they did pre-pandemic. Because of that, MVP knew we needed to quickly adapt to meet our customers where they were, so they could stay healthy at home.
We quickly stood up several technology-driven programmes, including an urgent care telemedicine offering, a website to help people identify telemedicine options (regardless of their health insurance plan), and our own digital platform called Gia, which represents MVP's dedication to customer-centricity by offering services like 24/7 emergency care, primary care, mental health, social support, and in-person care if needed."
Since those early pandemic efforts, virtual care adoption has skyrocketed, which has led MVP to adopt new and innovative ways to provide better access to high-quality health care.
"One of MVP's biggest changes from the pandemic was to implement an evidence-based innovation platform to better understand our customer's unmet needs," says Cameron. "Post-pandemic, data has shown us that patient and consumer preferences within health care have changed dramatically, and people are looking for more convenience and availability.
"MVP has invested significantly in our virtual care options that are high-quality, cost- and time-effective, and thoughtfully integrated into a customer's full care continuum. Additionally, to better meet the needs of our customers, MVP has made significant partnerships with like-minded organisations that will lead to better health outcomes for our customers."
As a leading health services company in the Northeast, and especially in a post-pandemic environment, MVP has made significant changes in the way it does business to reflect the changing health care landscape.
"We have now adopted three key principles to guide our business model:
1. Embrace evidence-based innovation through data-driven decision-making.
2. Be our customer's champion by putting them at the centre of the healthcare system.
3. Drive growth opportunities through unique partnerships.
"Over the last three years, our organisation has evolved and our commitment to be the difference for the customer has strengthened, inspiring us to expand our ambition – beyond traditional health care to whole-person health. Our path forward will be built around collaborative partnerships with like-minded organisations driven by data and inspired by innovative approaches. Our customers remain our north star, and it is our obligation to make sure they have access to quality health care when and where they need it," concludes Cameron.