Top 10 telehealth startups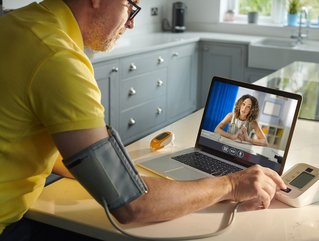 Doctolib, Noom, Kry, Livongo, Altibbi, Wheel, 98point6, Rocket Health, Think Biosolution & Ceiba Healthcare are our Top 10 telehealth startups
Many healthcare providers were forced to move to telehealth following the COVID-19 pandemic. A McKinsey study showed that its use grew 78 times through April 2020.
However, these Top 10 telehealth startups already existed to offer such healthcare - and they are growing more popular.
Founded: New York, USA, 2016
At Ceiba, the virtual healthcare technology company's vision is to upgrade healthcare technology infrastructure and install a higher quality of care coordination, to ensure better clinical outcomes and higher operational efficiencies.
Ceiba sees advancements being made across the healthcare industry and is here to speed things up, as well as save lives.
Founded: Dublin, Ireland, 2016
Over the past few years, the founders of Think Biosolution have been honing the technology they use to develop predictors for fitness and health.
The team works between Dublin, Ireland and Rochester, New York, with the aim of using IoT in its healthcare products for better patient care.
Founded: Kampala, Uganda, 2012
Rocket Health's co-founder and CEO, Davis Musinguzi, previously worked as a Digital Health Specialist with UNICEF. In 2012, he brought his skills into the startup and telehealth has truly taken off in Uganda. The company offers online medical consultations and delivery. It's growing in popularity across East Africa and eyes further opportunities in West Africa.
Founded: Seattle, USA, 2015
98point6's ambition is to make primary care accessible and affordable for patients. The startup uses technology alongside board-certified physicians to create better health outcomes with private, text-based diagnosis and treatment through an app.
The platform aims to encourage earlier medical intervention for those not appropriately engaged in their health management.
Founded: Austin, USA, 2018
The wheel was invented to do the work of many humans - and that's what Wheel's founders Michelle Davey and Griffin Mulcahey designed their platform to do. Wheel supports clinicians and healthcare organisations to move forward with their patients, to achieve the highest quality of affordable and sustainable virtual care.
Founded: Dubai, 2008
The AI healthtech company offers users medical guides, a medical encyclopaedia and information on surgeries.
"Altibbi is playing a critical role in organising digital healthcare services, improving quality and convenience for patients, and reducing costs of insurers and governments," said Jalil Allabadi, founder and CEO. "Building an end-to-end platform and strengthening our geographic presence have always been strategic priorities."
Founded: Mountain View, USA, 2014
Already a world leader in virtual care, Teladoc Health utilises health signals and personalised interactions to create better health outcomes.
With over ten years of expertise and data-driven insights, Livongo is ready to meet the expanding virtual care needs of healthcare professionals. In 2020, Livongo was ranked as Best in KLAS for Virtual Care Platforms.
Founded: Stockholm, Sweden, 2014
As Europe's biggest digital healthcare provider, Kry offers a pay-as-you-go healthcare service to help patients see a healthcare professional via video consultation. Kry aims to utilise modern technology to improve the way patients and healthcare professionals connect.
In the UK and France the company operates as 'Livi'.
Founded: New York, USA, 2008
As obesity around the world rates continue to grow, so do weight-loss programmes. But instead of concentrating on what a patient should and should not eat - Noom looks at changing the users behaviour.
Using artificial intelligence, mobile tech, and psychology, Noom is able to help users live healthier lifestyles by confronting their long-term habits which cause weight-gain. This also helps to create healthier habits which cross over into other aspects of the users health.
Founded: Levallois-Perret, France, 2013
Telehealth provider Doctolib is one of the most profitable French startups. Originally, the service offered appointment scheduling and it has since moved into telemedicine.
The startup has three core entrepreneurial missions - to improve the daily life of healthcare personnel, to support patient access to healthcare and to build a solid team of entrepreneurs.
Doctolib recently announced a raise of €500mn in equity and debt funding, which will be ploughed into Doctolib's recruitment drive.