Using technology to overcome language barriers in healthcare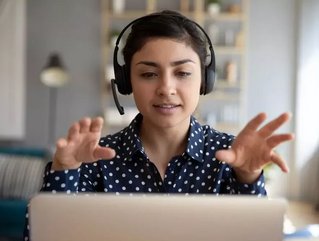 How CLI are helping patients with limited English to stay connected to their healthcare providers...
Certified Languages International (CLI) provides interpreting services for people who speak limited English, particularly to connect them to healthcare providers. It's a service that's become more necessary than ever during the pandemic, to ensure no one gets left behind with healthcare's shift to telehealth. 
CLI was founded by Bill Graeper in Portland, Oregon in 1996. Bill, an entrepreneur with a background in the telecommunications industry, recognised the need for high-quality telephonic interpreting services, particularly in the healthcare sector. The company is currently run by his daughter Kristin Quinlan. 
While they operate in a variety of industries, a key aim of CLI is helping people who may be vulnerable and have limited English skills, by enabling them to be active in everyday decisions to do with their healthcare. 
The company offers language translation over the phone, via remote video, document translation and language skills assessments. Around 65% of their business is with hospital or healthcare systems, such as pharmacies, ER and ICU, and continues to increase as the need for virtual telehealth visits rises. 
"The main goal is facilitating communication to help reduce health disparities in minority populations" Quinlan says. "Qualified interpreters handle all manner of day-to-day content, from appointment reminders to surgical consults. A CLI interpreter also recently served the sad - but important - role of helping a family say goodbye to a loved one passing away from COVID, and many others played an important role in accurately relaying critical medical information in a professional and caring manner."
CLI have developed their own proprietary software and workflow system that they say are unique to the industry, allowing patients and providers to connect through most devices. Their new VRI 2.0 enhances their remote video platform, so that healthcare providers can connect quickly to patients with limited English and an interpreter. This gives them the advantages of face-to-face communication, while patients can remain at home while the pandemic is ongoing. 
Kristin explains that COVID has had a significant impact on the people they serve. "With more than 350 languages spoken in US homes, and 20 per cent of the US population with limited English-proficiency, already disenfranchised communities are finding themselves disproportionately impacted by the transition to telehealth, due to the need for interpreters to join their appointments.
"It is immensely important for patients to receive the care they need in their primary language, and in the midst of a global health crisis, the right technology is key to ensure seamless language access in telehealth sessions when in-person visits are not always safe or viable" she adds. 
Prior to the pandemic healthcare interpreters would attend assignments in person. "The pandemic has rapidly accelerated the need for qualified interpreter-assisted telehealth sessions. CLI has trained large hospital clients to ensure quick and easy integration of their systems so interpreters can operate remotely in a safe way."
"COVID has quite dramatically raised awareness among healthcare providers for the need to offer this service, and CLI have been there to partner and make sure the voices of people with limited English are heard."