UVC light could be part of "theatre" of tech against COVID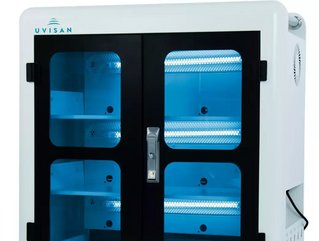 As the UK is set to scrap COVID-19 restrictions, Uvisan's Jarek Salek suggests deploying UV-C in schools to stop infection spreading
The UK government has announced it is scrapping most COVID-19 restrictions from July 19th, including the rule on school children having to self-isolate if someone in their household or "bubble" tests positive for coronavirus. 
Social distancing, wearing face masks and staggered start and finish times are also set to end once the autumn term begins in September. 
The plans have attracted plenty of criticism from doctors and scientists who have called the move to drop restrictions while infections are rising sharply "irresponsible", and warned of "potentially devastating consequences." 
It follows the latest government report on the COVID-19 response which states that "with a sufficiently high proportion of the population vaccinated, the country can learn to live with COVID-19 without the need for the stringent economic and social restrictions which have been in place since March 2020." 
Tackling COVID-19 in schools
Hygiene expert Jarek Salek says schools must not rely on vaccinations alone to stop the rate of infection, which has been rising steadily, in part due to the Delta variant. 
Salek is the head of engineering and technical operations at Uvisan, a company that manufactures medical-grade cabinets using UV-C light to kill pathogens. He says that schools and universities should implement stringent hygiene measures to combat COVID-19, suggesting a "theatre" of technological solutions. 
"As well as reintroducing masks in the classroom, schools and universities should be progressing with rigorous disinfection processes, which allow them to continue to use shared equipment and resources, in order to retain the same level and quality of learning" he says. 
"For example, using UV-C disinfection cabinets to decontaminate small, handheld items such as tablets, headphones and VR headsets, provides an efficient means of disinfection, as well as saving teaching staff's time manually wiping down all surfaces of the shared equipment.
"Entire classrooms, halls and bathrooms can be made safer using ambient UV-C lamps or air purification systems which will reduce the spread of Covid, as well as future-proofing facilities from future contagious illness outbreaks."
UV-C light 
Uvisan's cabinets use medical-grade UV-C lamps that can kill 99.99% of pathogens such as bacteria and viruses including the coronavirus within minutes. They can be used to disinfect electronic equipment such as phones, laptops, tablets and VR headsets, that are placed in the cabinets. The cabinets are also lockable, so valuable items can be stored inside. 
There have been numerous studies published since the pandemic began pointing to the effectiveness of UV-C light in destroying the virus. The most recent research was presented this month at the British Association of Dermatologists' Annual Meeting, and was undertaken by NHS Tayside and the Universities of Dundee and St. Andrews. 
Uvisan's cabinets are currently in use at around 20 organisations in the UK, including educational institutions and NHS trusts.