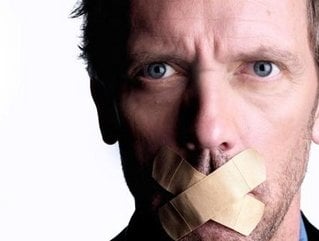 1 - House Probably the most popular and well known medical drama of today, House (or House
1 - House
Probably the most popular and well known medical drama of today, House (or House M.D as it is otherwise known) is still going strong in its seventh series and has just been commissioned for its eighth.
The programme follows the lives of genius doctor and diagnostician Dr Gregory House and his team of experts. Famed for his lack of bedside manner, House can solve the cases that no other doctor can, but with this unrivalled skill comes an addiction to painkillers and a messy personal life.  
British actor Hugh Laurie plays the character of House and it is a role that has led him to become the highest paid television actor in the world.
With a complex and gripping story line featuring a mix of drama, humour and sadness, the series is critically acclaimed and enjoys high viewer ratings across the globe. 
2 - ER
Big in its heyday, the key plot of ER plunged audiences into the fast-paced working lives of a group of doctors and nurses working in the emergency room in the Chicago County General Hospital. It was the longest-running medical drama in American television history, won 23 Emmy Awards and received 124 Emmy nominations.
3 - Scrubs
A comic spin on tradition medical drama, Scrubs is a sitcom based in the fictional Sacred Heart Hospital. With a mix of comedy and drama, it follows the lives of trainee doctors as they progress from interns into fully qualified doctors and surgeons and ran for nine seasons.
4 - Casualty
The second British programme to make the top ten, Casualty is Britain's answer to ER. It's set in the emergency department ofHolby City Hospital and has earned the accolade of being the longest running emergency medical drama in the world; still being broadcast almost 25 years after its pilot in 1986.
5 - Grey's Anatomy
Grey's Anatomy gives viewers an insight into the workings of Seattle's Grace Hospital and watches as its team of resident doctors struggle to balance their careers and their personal lives.  Key stars include Patrick Dempsey and Eric Dane, and Ellen Pompeo plays the lead of Dr Meredith Grey.
6 - Nip/Tuck
Diving into the cosmetic surgery side of the medical industry, Nip/Tuck ran for seven years before concluding in 2010 with its 100th episode. It focuses on plastic surgery practice 'McNamara/Troy' and the complex lives of its founders. Sean McNamara is trying to mend his rocky family life while Christian Troy a charming womaniser.
7 - Shortland Street
Shortland Street is one of the longest running soaps in New Zealand and enjoys huge popularity; showing five-nights-a-week 18 years after the first show. Set in a combined public and private hospital in Auckland, it documents the complex professional and personal lives of its doctors, their friends and family.
8 - Private Practice
Another spin off, this time from Greys Anatomy, Private Practice chronicles the life of renowned neonatal surgeon Dr Addison Forbes Montgomery as she leaves the original setting of Seattle Grace Hospital to join an upscale private practice in Los Angeles. The pilot of the show aired in 2007 as a double episode of Greys Anatomy.
9 - Holby City
A spin off from the UK's Casualty, Holby City indulges audiences with a sneak-peek into the drama of the Holby City Hospital wards, examining the team doctors that work there and the patients that visit them. Although it is a self-contained show, there are occasionally some crossovers of characters and storylines from Casualty.
10 - Hospital Central
In what could be described as the Spanish version of ER, Hospital Central started in 2000 and is still enjoying great popularity as it enters its 18th season. Set in Madrid's fictional 'Hospital Central', as you would expect it lays the lives of its doctors and nurses bare for the audiences enjoyment.