Top 10 Mobile Tablets For Healthcare Professionals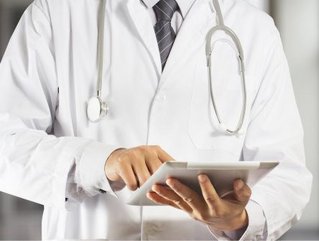 #1. ProScribe Medical Tablet PC The ProScribe by Barco has been described as 'the ideal mobile poin...
#1. ProScribe Medical Tablet PC
The ProScribe by Barco has been described as 'the ideal mobile point-of-care display for physicians and nurses who need to stay connected when moving from patient to patient' by experts at Medical Expo. The device has a durable touchscreen, specifically designed with a fast-paced, hospital environment in mind. It has wireless connectivity and allows medical professionals to access patient data anywhere, anytime and with minimum risk of downtime. Unlike other 'commercial' tablets such as the iPad or the Surface by Microsoft, the ProScribe has been built specifically with medical usage in mind – medical professionals were consulted during the development phase and it has a dust and fluid resistant screen and can withstand a one meter drop onto a concrete surface. 
#2. Apple iPad
The Apple iPad is three years old, and in such a short time it has revolutionized the healthcare industry. The iPad may not be as durable as a purpose built tablet, however it does have an advantage owing to the plethora of apps and software solutions it supports, making it the perfect tool for physicians and healthcare execs on the run. With the mass uptake of BYOD systems in the healthcare arena, more and more medical professionals are using iPads, thus making them even more useful.
#3. Microsoft Surface
To date, the Surface and Surface Pro have had mixed reviews from consumers, however Microsoft is taking strides in the healthcare arena with its device appealing to professional and business audiences, specifically those within the healthcare industry. The launch of its Windows 8 interface gives the corporation hope, with it already gaining positive feedback from healthcare users; the suite of cloud products is turning out to be a winner within the medical marketplace considering the mass uptake of cloud based EHR solutions in recent months.
#4. Samsung's Galaxy Tab
The Samsung mobile solution for the medical and healthcare industry helps to increase efficiency and improve service quality. Innovative mobile technology enables staff to deliver personalised, patient-centred medical services as well as reducing costs. Samsung's offering is unique as it not only has a fully functioning tablet in the Galaxy Tab, but it also offers its users m-EMR – professional software that gives professionals access to medical information systems. By allowing you to view medical records anytime, anywhere, you can provide your patients with accurate visual information on their status. Scheduling and communications are made simple, and with easy access to medical references you can contribute to a better care environment every day.
#5. Sahara Slate PC
For clinicians who prefer using handwriting to enter patient notes, the Sahara Slate PC i500 offers dual mode input with both Active Digitizer input and touch screen technology. The lightweight and portable Sahara Slate features a 12.1" screen for easy review of full size patient forms and confidential health information without the need for scrolling.
For ultimate flexibility, the Sahara Slate PC i500 Tablet PC can be used in conjunction with a full line of unique accessories including a ruggedized carry case, VESA mounting options, magnetic stripe reader, and docking station. These accessories enhance the functionality of the Sahara Slate PC i500 for use in Blood Banks and as augmentative communication devices.
#6. MediSlate MCA
The MediSlate Mobile Clinical Assistant (MCA) i1040XT was developed to endure the harsh rigors and needs of the clinical environment. The MCA reference design developed by Intel researchers, after significant ethnographic research, workflow studies and conversations with healthcare professionals worldwide. As a mobile data collection tool, the MediSlate is an indispensable tool for verifying patient identification and scanning labels from medications and blood vials. The MediSlate features an integrated suite of data and image capturing technologies including 2D barcode scanner, 2.0 megapixel camera, and a 13.56MHz RFID reader built into its ergonomic handle.
#7. Motion's C5v Medical Tablet PC
Deliver mobility and reliability at the point-of-care with the Motion C5v Tablet PC. The industry's first Mobile Clinical Assistant (MCA), the C5v Tablet PC was designed specifically for healthcare environments in partnership with Intel Health and based on input from thousands of clinicians worldwide. Lightweight, rugged and fully-sealed to ensure compliance with infection control protocols, the C5v is built for demanding healthcare environments. Get a handle on patient care with the Motion C5v Tablet PC. It's highly portable. It's lightweight. And, it's ready to work for you. 
#8. Teguar's Intel Atom
From the hospital to home care, the Teguar TA-10 Medical Tablet PC is designed to handle the toughest healthcare conditions. With a tempered and very strong front glass for superior display protection, users get the best medical computer tablet viewing experience available. And now with up to the Intel Core 2 Duo CPU, this rugged medical computer offers uncompromising levels of power, security and manageability. Extended battery life, a hot swap battery feature, superior performance and advanced remote management capabilities ensure that both clinicians and IT personnel can feel confident that the TA-10 Medical Computer Tablet is available and patient data secure – freeing up valuable time and resources to focus on patient care. This is a great device for mobile clinical assistance in hospital or doctor's office.
#9. Advantech Medical PC
The new MICA-101 has the same integrated features and ergonomic design as its predecessor, but the new release has been enhanced to provide better imagery, faster storage, and better power, making it even more robust. MICA-101 mobile clinical assistant is suitable for EMR, HER, and Nursing Information Systems (NIS). It is a fanless system that is lightweight, portable and quiet to use, and it streamlines workflow while increasing productivity.
#10. Arbor's Antibacterial Medical Tablet
Arbor has devoted to develop embedded products for applications such as automation, POS and digital signage. Through its professional technology, ARBOR provides complete solutions for all applications from board to system. The medical computer line is suitable for different medical and healthcare applications including portable size clinical assistant and multi-function medical station.